LaMelo Ball Definitively Calls Himself a Better Passer than 5 NBA Players, including LeBron James: 'I Got a Top 1, Me'
LaMelo Ball has just one NBA season under his belt, but feels like he's one of the best NBA players already. The 2020 NBA Rookie of the Year undoubtedly has a unique skill set. Ball believes he is the best in the league at one particular skill, which is a bold statement for any rookie to make.
LaMelo Ball says he's the best passer in the NBA
Ball sat down with GQ Sports for its Actually Me segment. The series allows athletes to go undercover on social media and respond to comments made on social media platforms like Twitter, Instagram, and Tik Tok.
The Anaheim, California native responded to a question on Quora, which grouped him with five other NBA players. Ball's task was to rank each player based on their passing abilities. The other players were LeBron James, Nikola Jokic, Trae Young, Chris Paul, and Ben Simmons.
"The first one seems right…LaMelo Ball," he replied. He proceeded to put the reigning MVP Jokic second, followed by James.
He couldn't quite determine the order of the rest of the players but made it clear that it didn't matter.
I got a top 3, thought. Well, I got a top 1…me

LaMelo Ball
Ball chuckled after making the statement, but his demeanor suggests he truly believes he's the best passer in the league.
Ball showed flashes of greatness in his rookie season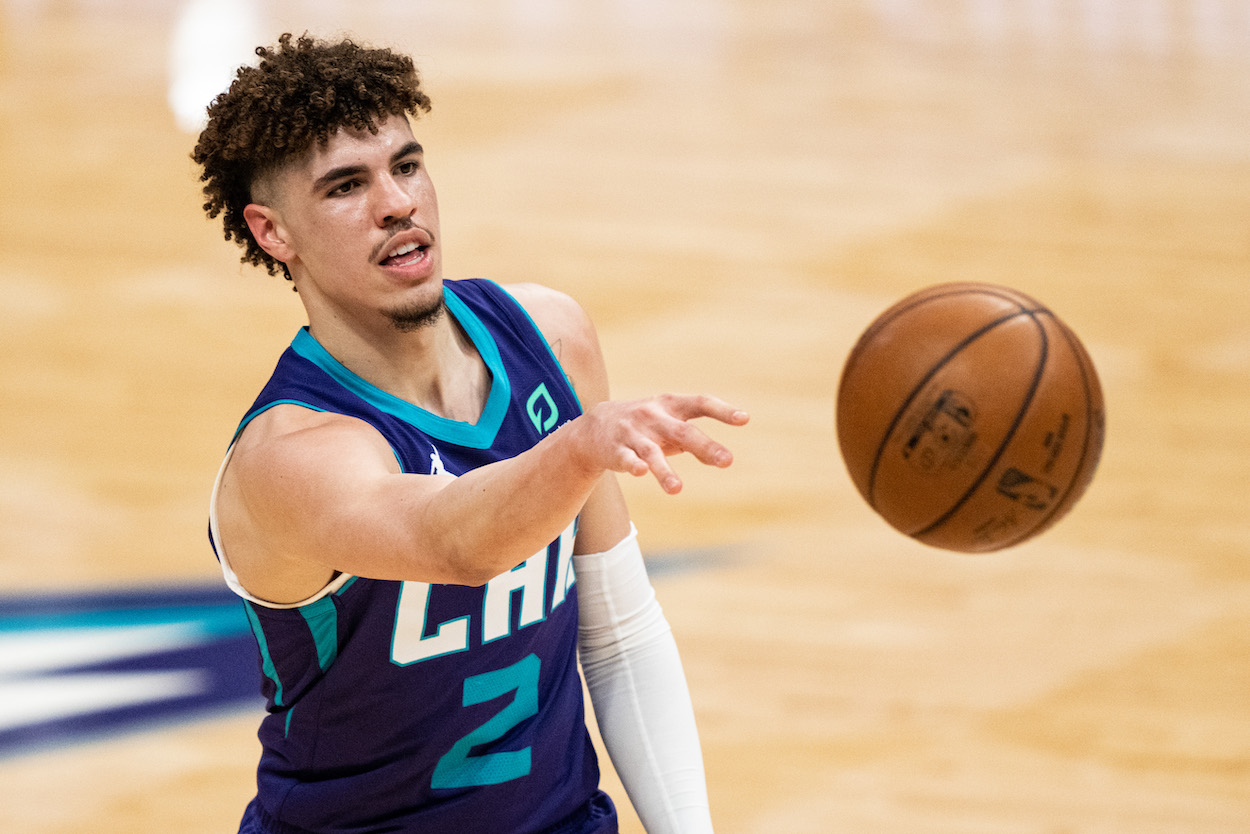 The Charlotte Hornets selected LaMelo Ball with the No. 3 overall pick in the 2020 NBA Draft. After missing the start of the regular season due to injury, he stepped on the floor looking to make up for the lost time.
The Chino Hills High School star averaged 15.7 points, 6.1 assists, and 5.9 rebounds in 51 games. He finished the season 17th in the league in assists and ninth in steals per game. Ball also became the youngest player in NBA history to record a triple-double.
Ball is now 20 years old, and his best basketball is still ahead of him. Offensively, he can do it all. He's a gifted passer and a capable scorer. He will need to improve as a defender, but it's hard to nitpick a player so young.
One of his greatest attributes is confidence. He certainly does not lack in that department. He knows he belongs on the floor with the best of the best and aims to prove it whenever he's on the court.
LaMelo Ball says he's better than his brother
Ball had another entertaining answer to an online question. The question read, "Is LaMelo Ball better than Lonzo Ball, or is his play style just drastically different?"
In typical LaMelo Ball fashion, he chose himself as the best player of the Ball brothers. "Imma go with LaMelo Ball is better," he said confidently. "It's just a fact, that's it."
The two brothers battled in the 2020 season when the Hornets played the New Orleans Pelicans. Lonzo Ball scored 12 points to go along with six assists and three rebounds. His younger brother recorded 22 points, five assists, and four rebounds.
Ball out-dueled his older brother, staking his claim to be at the top of the pecking order in the Ball family of hoopers. The two have somewhat similar play styles, but they possess different skills. Both are exceptional passers, but LaMelo Ball is more fluid scorer, while Lonzo Ball is a better defender.
At 23 years old and 20 years old, respectively, the Ball brothers will continue their battle for years to come.
All stats courtesy of Basketball Reference