LaMelo Ball Doesn't Look Up to LeBron James the Same Way Other Players Do
Given LeBron James' lengthy 18-year NBA career — and the media coverage dating back to his teen years — many current NBA players grew up hoping to be as good as King James when they made it to the league. When young athletes dream of turning pro, they look up to the best in the sport. But that doesn't seem to be the case with Charlotte Hornets rookie LaMelo Ball.
LaMelo Ball's unique path to the NBA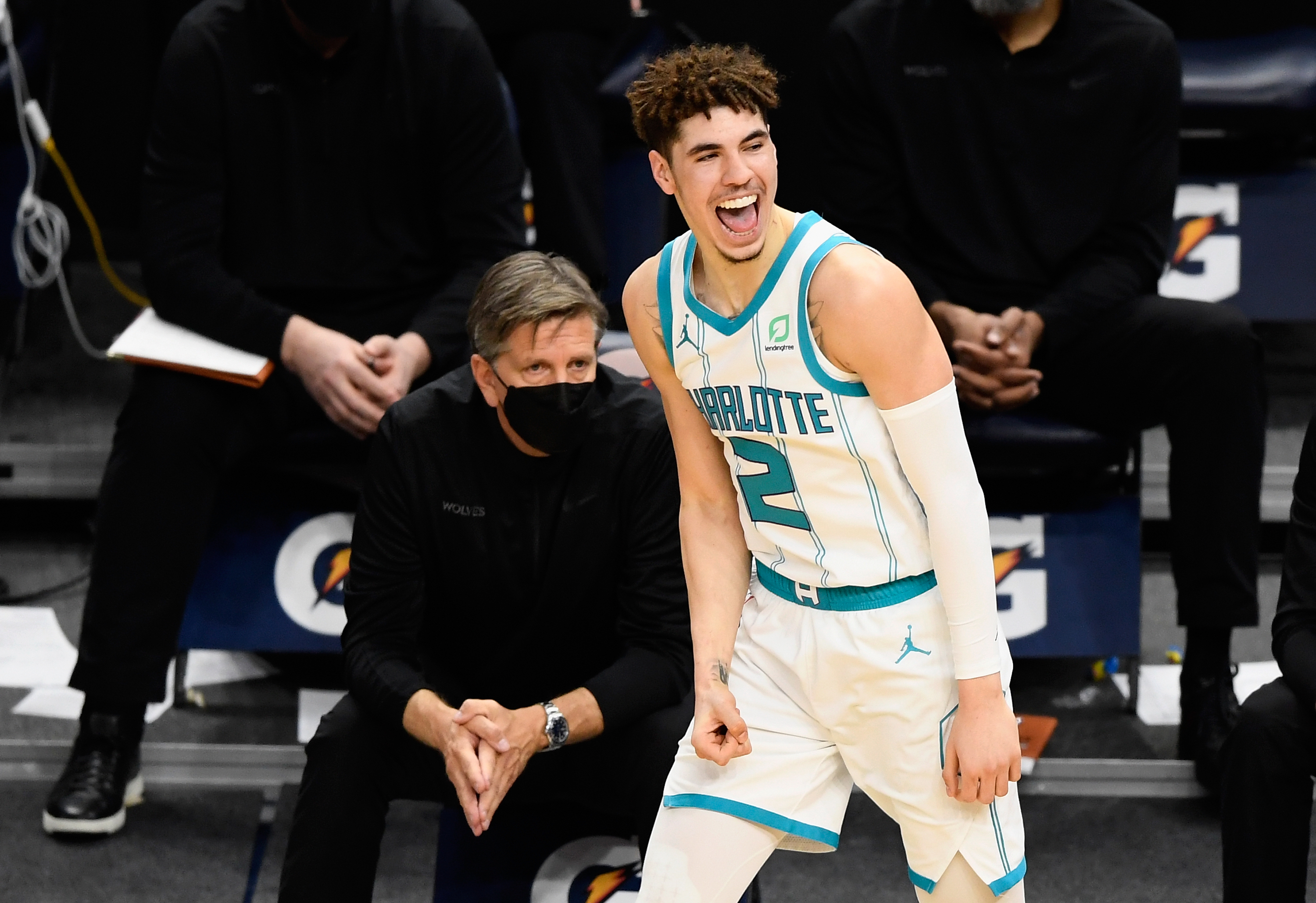 Like James, Ball was in the national spotlight years before he was selected in the NBA draft. Unlike James, it wasn't entirely because of his own ability, but rather because of older brothers Lonzo and LiAngelo — particularly Lonzo, who was the second overall pick in the 2017 NBA draft.
The brothers' father, LaVar, has also helped raise the family's profile through his unique attempts at marketing his sons. This included the Balls' Facebook Watch reality series, Ball in the Family.
LaMelo decided to skip college and spent a couple of years playing professionally overseas. In 2020, he entered the NBA draft, and the Hornets took him with the No. 3 overall pick.
LaMelo Ball wasn't excited to face LeBron James for the first time
RELATED: Cam Newton Helped LaMelo Ball Feel at Home in Charlotte For $3 Million
Leading up to the Hornets' first game of the season against the Lakers in LA — LaMelo's first chance to play against the man most players look up to as teens — ESPN reported that the 19-year-old point guard "[didn't] expect to feel any added excitement competing against the 18-year veteran."
When asked about that a couple of days before the game, LaMelo responded to reporters via video conference: "I mean, nah." That nonplussed response doesn't mean LaMelo was putting down the player known as King James.
He acknowledged that "it will be cool" to play against the four-time NBA MVP. But the 19-year-old keeps his focus the same regardless of who is on the opposing team's roster. He told reporters he prepares for every game with the same approach: "going in to try to get a win."
Ball's unique pre-NBA life made him less enthused about playing James
RELATED: LaMelo Ball Is on a Hall of Fame Level in Andrew Bogut's Mind
A major reason for LaMelo Ball not being as excited as other players about his first matchup with James involves his unique life before making the NBA. He admitted to reporters that he "grew up a little different."
Lonzo, who excelled during his career at UCLA and became a top pick in the draft, modeled his game after James. But LaMelo says his basketball idol was his dad, LaVar Ball. LaMelo says he "was big on family and stuff like that. Not really with the basketball." LaMelo hoped his family would be able to go to Staples Center — 35 miles away from his hometown of Chino Hills, California — to see him play an NBA game in person for the first time.
LaMelo says "it would kind of be like going in the past." His family always watched him play when he was growing up. But the Balls had to watch LaMelo's first game against the Lakers without being in the stands. The contest came before California allowed spectators to attend amid the ongoing coronavirus pandemic.
LaMelo didn't seem too disappointed. He said, "They'll be cool watching it on TV" because "chilling at the house" is more comfortable. It's how he prefers to watch games rather than watching live.