LaMelo Ball Just Drained a Game-Winning Floater to Beat the Defending NBA Champions and Has the Charlotte Hornets Quietly Rising in the East
LaMelo Ball strode across the lane, faded left, and hit a right-handed floater to help his Charlotte Hornets beat the Milwaukee Bucks on Jan. 10. That shot gave the team its second win over the defending champs in three nights.
The difficulty level on Melo's game-winner was incredibly high. And it showed what the Hornets' franchise point guard can do when it matters most.
It also showed — or should have shown — the rest of the NBA that Charlotte is for real.
LaMelo Ball has the Charlotte Hornets heading toward the top of the East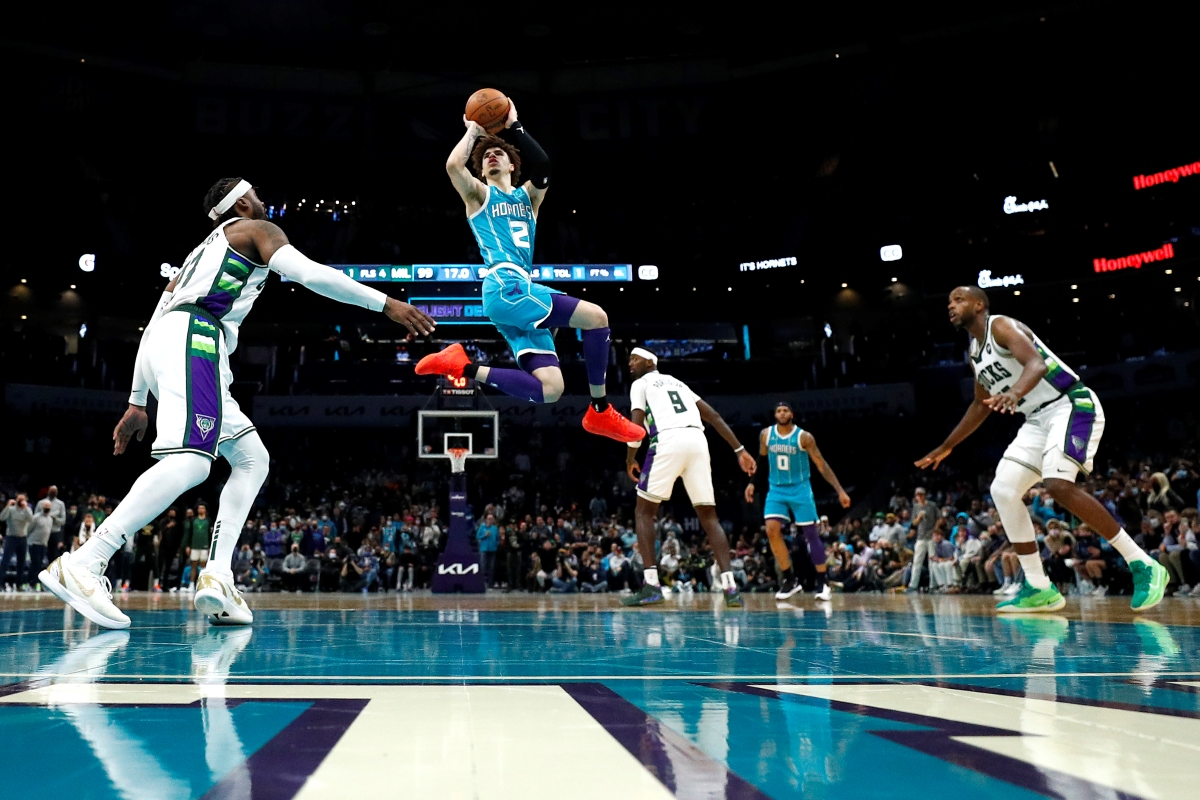 The Hornets are eighth in the Eastern Conference standings on Jan. 11. Charlotte is 6-4 in its 10 with three straight wins, two of which came over the aforementioned Bucks.
The team had another three-game win streak around Christmas, beating Denver on Dec. 23, Houston on Dec. 27, and Indiana on Dec. 29.
Not exactly the cream of the crop in NBA. Still, the Hornets only trail Cleveland by one game for sixth in the East and the Philadelphia 76ers by two games for fifth. Charlotte gets its shot at Philly on Jan. 12, then has winnable games against Orlando, the New York Knicks, Boston Celtics, and Oklahoma City.
A 4-2 record in those games — certainly not out of the realm of possibility — puts LaMelo's team at 26-21.
There are only six teams at least five games above .500 in the Eastern Conference at the moment.
After finishing 10th in the standings last year and losing a play-in game, Ball is leading a much-improved team that has an 84.3% chance of making the playoffs, according to ESPN's BPI Playoff Odds.
And make no mistake, it's the second-year point guard's team to lead.
Melo's game-winner shows what the league has to fear
Charlotte is second in the NBA in scoring at 115.2 points per game, only 0.5 points behind the league-leading Utah Jazz. The team is also second in 3-point shooting percentage at 37.7% and third in assists at 27.1.
Ball is averaging 19.4 points, 7.3 rebounds, and 7.6 assists as a consistent triple-double threat. From the point guard spot, he's tied for the team lead in rebounds and leads the Hornets in assists by a wide margin.
Shooting was supposed to be his weak spot early in his NBA career, but the 20-year-old is shooting a more-than-respectable 37.9% from deep on 7.3 attempts. (To repeat: the team is second in the NBA points, second in 3-point shooting, and third in assists. Not a coincidence).
And he has a knack for clutch moments, as the game-winner over Milwaukee showed. The play was supposed to be run for veteran guard Terry Rozier, but it broke down, Ball took over and won his team the game with a spectacular shot.
"That's the beauty of Melo — that he can be the playmaker or the creator to go score on his own," coach James Borrego said via The Charlotte Observer. "And we need the ball in his hands. He's a special kid, special player not afraid of the moment. And I trust him down the stretch."
Even his defender on the play, Bucks veteran guard Wesley Matthews, had nothing but praise.
"It was a hell of a play, hell of a move," Bucks guard Wesley Matthews said. "We knew they like to do a lot of slip action and he is a hell of a talent. He makes tough shots and he makes tough shots look easy. A one-foot runner, high pick over the top from right to left. Sometimes you just have to tip your hat. That is just a hell of a play by a hell of a player."
The Hornets are poised to be a playoff spoiler
Is Charlotte going to compete for an NBA title this season? Most likely not. But are they going to be a tough out for whoever they face in the playoffs?
If back-to-back wins over the defending champions show anything, then they're going to be a pesky and annoying bunch, at the very least.
Ball is already doing things most point guards his age never have. He's proving to be one of the brightest young stars in the NBA.
If they don't win a series or two this year, at the rate Melo is developing, and with how good of a scorer and facilitator the second-year guard is, it's only a matter of time.
All statistics courtesy of NBA.com.