LaMelo Ball Gets a Glowing Kobe Bryant Comparison From Mitch Kupchak
Fresh off his NBA Rookie of the Year campaign, Charlotte Hornets star point guard LaMelo Ball keeps earning praises every bit as flashy as his no-look dimes.
While Miles Bridges' Most Improved Player candidacy is one of the most notable storylines out of Charlotte, the youngest Ball brother has elevated his play in his sophomore season. But casual fans might not understand the 2020 No. 3 overall pick's tendencies as a perfectionist.
Those characteristics and other intangibles prompted Hornets general manager Mitch Kupchak to draw parallels between Ball and Los Angeles Lakers great Kobe Bryant.
Mitch Kupchak compared LaMelo Ball's determination to Kobe Bryant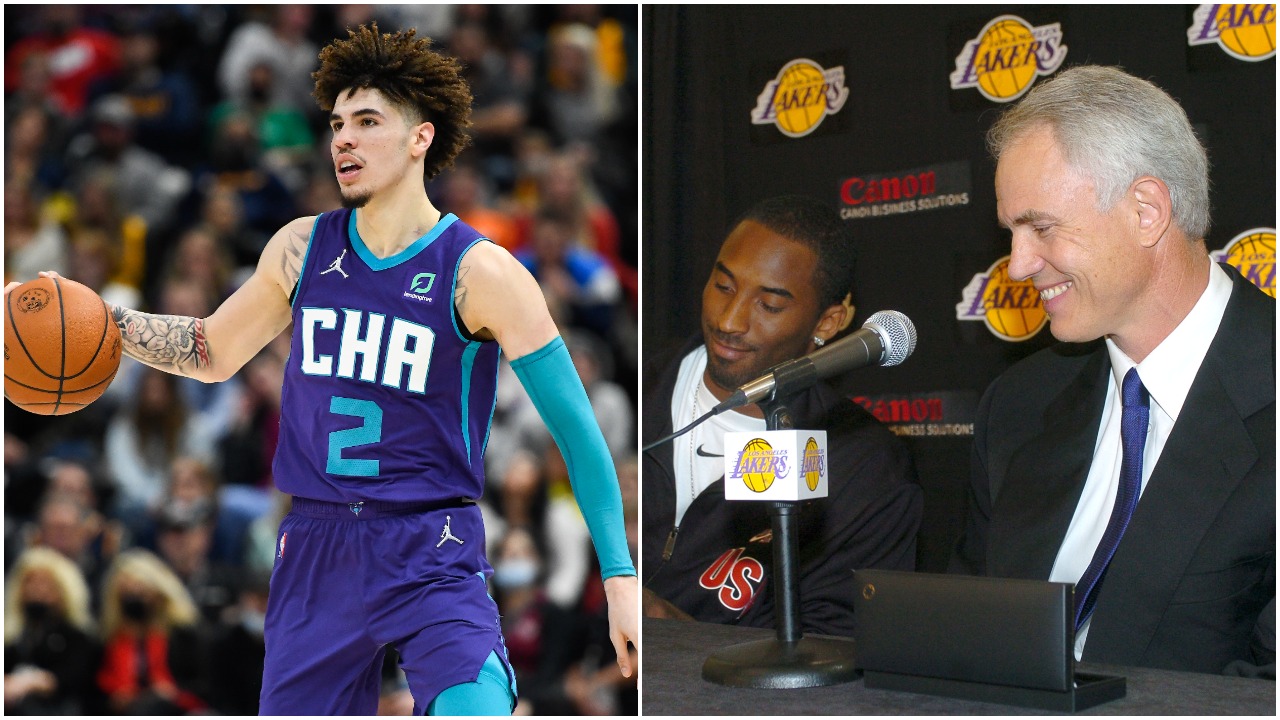 Before Kupchak joined the Hornets organization, he had quite a successful run as Lakers GM, when he watched Kobe Bryant blossom into one of the greatest players in NBA history.
Kupchak's unique window into the daily rigors the Black Mamba went through gives him added perspective as far as LaMelo Ball is concerned. While Kupchak refused to outright say (h/t Sports Illustrated) Ball has the same drive as Kobe, he did note that the Hornets star is not shaken easily.
"Whether it's making a bad pass or two because maybe [LaMelo] tries to stretch the limits of the pass, he'll do it a third time. If he misses two or three threes, and there's two minutes left to the game, he'll take another one. He doesn't get rattled, and he has great confidence in his abilities."

–Mitch Kupchak, via Sports Illustrated
Interestingly, the Hornets directly contributed to a Lakers dynasty when they traded Bryant's draft rights to LA in 1996 for veteran center Vlade Divac.
There will be no such move from Charlotte this time around, not with Kupchak pulling the strings and witnessing Ball's Kobe-esque growth.
The work behind the scenes matters more than the notoriety
Both LaMelo Ball and Kobe Bryant entered the NBA with sizable national profiles. But exposure and notoriety mean very little when they aren't backed by a dedication to excellence.
Kobe made plenty of headlines when he decided to enter the draft out of high school. However, it's easy to forget he spent most of his rookie season on former Lakers head coach Del Harris' bench. His four airballs in a playoff game against the Utah Jazz provided an ultimate lowlight.
Rather than allow failure and frustration to interrupt his growth, Bryant took those things to heart and harnessed them to become a better player. He made the All-Star team in his second season and ultimately dominated the sport as one of the best 2-way guards in NBA history, doing so by way of an endless hunger and sheer force of will.
Time will tell how Ball's career progresses. In the meantime, his journey looks somewhat similar to Kobe's.
Ball gained national fame with his long-range exploits at Chino Hills High School and the AAU circuit. He made headlines by playing professional hoops overseas, first in Lithuania and then for the Illawarra Hawks of the National Basketball League.
The 20-year-old's stock seemed to fluctuate throughout the draft process before the Hornets placed their trust in him. So far, he's rewarded that trust with excellent play. But the extra repetitions and insistence on getting things right behind the scenes inform that strong play.
Fame and fortune at a young age did not prevent Kobe Bryant from committing to the grind and becoming a Lakers legend. Similarly, Kupchak's description of Charlotte's cornerstone player seems to inform Ball's yearning to keep improving as a basketball player.
Can Ball help lead the Hornets back to the playoffs?
LaMelo Ball's increased production is not necessarily translating to more wins.
Ball has seen a jump in scoring (15.7 to 19.9 points), assists (6.1 to 8.2 dimes), and rebounds (5.9 to 7.6 boards) thus far. Though his field-goal percentage is down, his 3-point percentage is up significantly (35.2% to 39.1%), resulting in the same true shooting percentage as his rookie season.
Additionally, Ball's player efficiency rating (PER) is up, while his 3.9 offensive box plus-minus dwarfs last year's mark of 1.2 points per 100 possessions. Not to mention, his turnover percentage is down, despite him averaging more giveaways this season.
But while Ball is shining, the Hornets are struggling as a team. At 16-17, Charlotte is currently the No. 8 seed in the NBA. However, the team's 14-19 expected win-loss record ranks 22nd in the NBA, and head coach James Borrego's group is dead last in defensive rating.
Still, improvements from the likes of Ball and Bridges only figure to serve the Hornets well in the long run. With LaMelo showing Kobe Bryant-like confidence and declaring his loyalty to Charlotte, this organization is one to watch closely, both this season and in the years to come.
Stats courtesy of Basketball Reference.