LaMelo Ball Has Made a Believer Out of Both Draymond Green and His Mother
Point guard LaMelo Ball was one of the bigger question marks going into the 2020 NBA draft. Because Ball chose to forgo college basketball and play in Australia, commentators weren't sure how to assess his potential. Yet this season with the Charlotte Hornets, Ball quickly proved himself a star-quality NBA player.
Basketball analysts weren't the only ones to misjudge Ball. His fellow NBA players also admitted they'd been wrong about the kind of player he is. One of the first opponents to publicly announce his support for Ball was Golden State Warriors forward Draymond Green. Let's look at how Ball made a believer out of both Green and his mother.
LaMelo Ball's rookie NBA season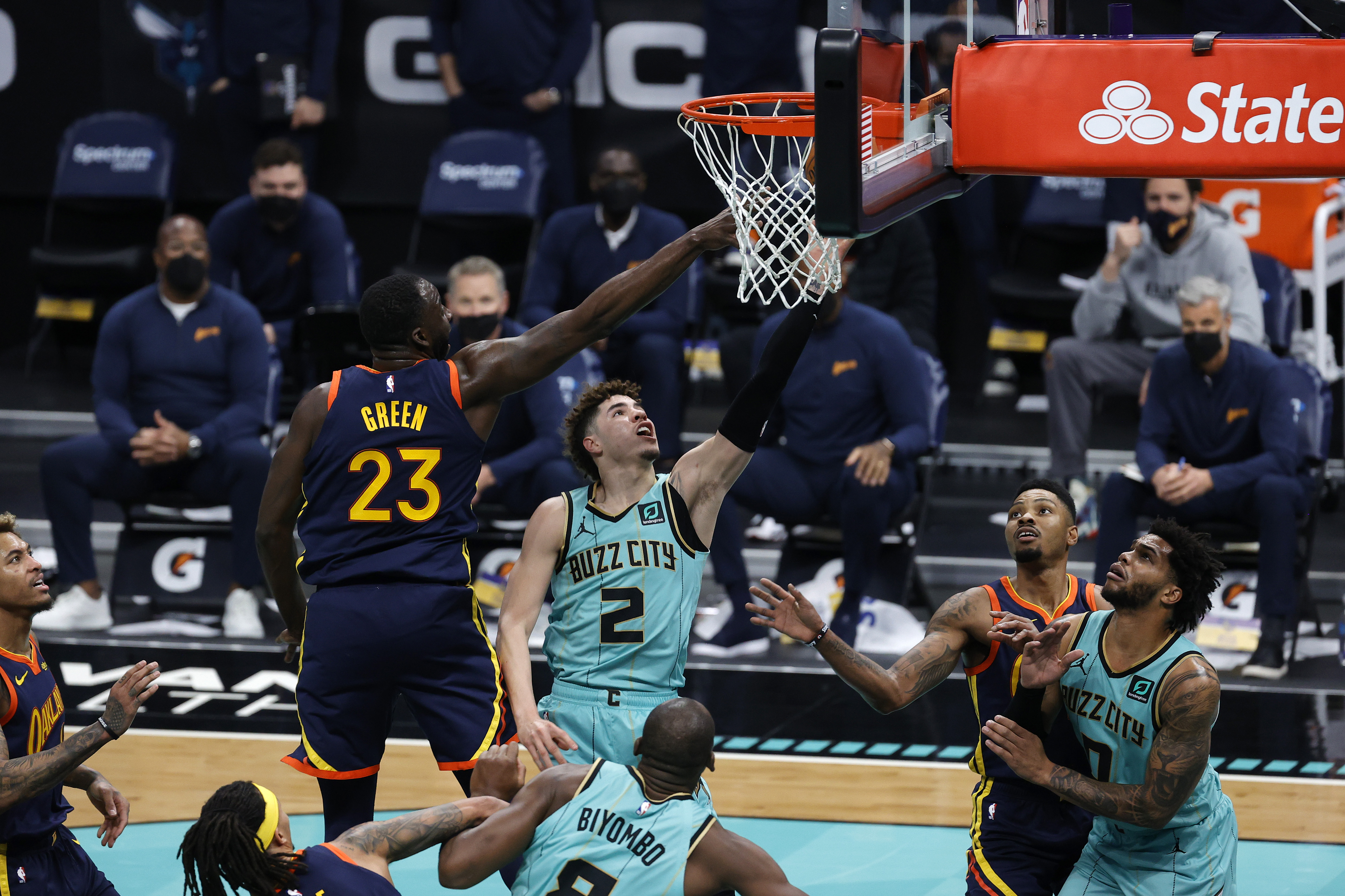 RELATED: LaMelo Ball Went from Playing in Lithuania at 16 to Becoming a Top NBA Draft Prospect
The Hornets selected Ball with the third pick of the 2020 NBA draft. As noted above, Ball was one of the most polarizing players in his draft class. Some analysts bought high on his upside as a scorer and facilitator; others lambasted his lack of defense and terrible jump shot. No matter which side you happened to fall on, you had to admit that Ball represented a pretty big question mark.
All of those doubts and question marks quickly flew out the window once Ball started playing in the NBA. First of all, Ball proved himself a far more adept point guard than anybody expected, dishing a range of jaw-dropping passes to his Hornets teammates. He showed a maturity and a basketball IQ far beyond his years.
In terms of sheer statistical production, Ball was just as impressive. In the 41 games before Ball's season ended due to a fractured wrist, he averaged 15.9 points, 6.1 assists, 5.9 rebounds, and 1.6 steals per game, according to Basketball-Reference. He also put to bed doubts about his shooting game, knocking down 45.1% of his shots and an encouraging 37.5% of his three-point attempts. Before his injury, analysts considered Ball the easy front-runner for the NBA Rookie of the Year award.
Draymond Green endorses LaMelo Ball
RELATED: LaMelo Ball Is on a Hall of Fame Level in Andrew Bogut's Mind
Warriors forward Draymond Green recently made an appearance on ESPN's First Take. During his conversation, he ended up discussing Ball's rookie season quite a bit. He also shared his take on some of Ball's strengths as a player, saying:
He's super fast which I had no clue he's fast and downhill like that. He's extremely smart, and he don't even know how to play the NBA game yet. He's just out there playing. He's like a little kid in a candy store just out there having fun, but he's very smart. He can pass the ball with the best of them already, and he's 6-foot-7. He has incredible size.

Draymond Green on LaMelo Ball
Green even stated in unequivocal terms that he thought Ball is "going to be a stud." Many of Ball's teammates and coaches have issued similar analyses of his talent.
Green's mom was the first to notice Ball's talent
During his First Take appearance, Green was honest about the fact that initially, he hadn't paid much attention to the young point guard. He hadn't followed Ball's development, whether in high school, overseas in Australia, or as an NBA rookie.
Yet Green's mother is also an avid fan of the sport and had been watching Ball far more closely than her son. She found the first-year point guard so impressive that she called up Green to tell him about it. Green explaining his reaction, according to USA Today:
"So, I didn't really see LaMelo play a lot, and my mom would call me early in the year, like 'LaMelo's good.' And I'm like 'Ah mom, he's putting up stats, but a lot of people put up stats. I'm not sure I believe the stats' and I hadn't really watched him play.

And as I've watched him play, my goodness, I texted my mom not long ago, I said 'Mom, you were right. LaMelo's a problem. He's a problem, mom.'"

Draymond Green on his mom's reaction to LaMelo Ball