LaMelo Ball Must Remember What Makes Him Great in the 1st Place in Order to Save the Stingless Hornets
The Charlotte Hornets, a hapless franchise that had gone over four years without a playoff berth, struck the jackpot in 2020. By landing prized phenom LaMelo Ball with the third overall pick, the Hornets arguably landed the draft's top player and placed themselves on the path toward contention.
While a COVID-19-shortened 2020-21 season was mostly a learning process, this 2021-22 campaign had all the makings of a year to remember in the Queen City. But the season is now in perilous danger of going awry, as Charlotte's grasp on the nine-seed is tenuous at best.
At 30-33, the Hornets are at serious risk of missing the postseason. It's now up to Ball to right the ship and lead the franchise to its first playoff appearance since 2016. Though in order to do so, he'll have to emphasize the skills that made him a franchise cornerstone in the first place.
The Charlotte Hornets are in danger of falling out of the playoff race
For the majority of the season, the Hornets making the Eastern Conference playoffs seemed like a foregone conclusion. After nearly blowing a massive lead to the Los Angeles Lakers and frustrating team owner Michael Jordan to the point of walking away from his suite, Charlotte moved to a season-best 28-22 and controlled the seven-seed.
Since that game on Jan. 28, the "buzz" has slowly left Buzz City. Charlotte is just 2-11 since defeating LA, losing by an average of 10.8 points per game. That's not to say the Hornets haven't had some heartbreakers, however. Three of their last five losses have all come in overtime, one of which was on a buzzer-beating game-winner by Kelly Olynyk on the 15-47 Detroit Pistons.
The record has dropped considerably, but the Hornets are largely the same team they've been all season: High-scoring offense, abysmal defense. Entering Wednesday, Charlotte is still scoring more points (114.1) than anyone in the NBA, but its defense is also giving up more points (114.8) than everyone except the Houston Rockets and Sacramento Kings.
LaMelo Ball must go back to doing what he does best
None of this is a knock on Ball. After all, the 20-year-old made the All-Star team in his second season, months after earning Rookie of the Year honors.
This is more about LaMelo taking the things he does well and doing them more often.
Through 56 games, Ball is tied with Miles Bridges for the team-lead in points per game (19.9). He leads in field-goal attempts with 17.0. He's also second in three-point attempts with 7.3 per game, trailing only Terry Rozier.
Why?
Entering the NBA, the 6-foot-7 point guard was a well-rounded prospect and has developed into a well-rounded pro. But his bread and butter is similar to Lonzo, his older brother on the Chicago Bulls. The Ball brothers can score, yes, but it's their passing and playmaking abilities that make them unique.
Even as the team's leading scorer, LaMelo is averaging 7.4 assists. Considering he's shooting a fine-not-great 41.9% from the field and 36.9% from three, there's room for Ball to take fewer shots per game and use more of Charlotte's possessions to seek out teammates.
There's also some proof that the Hornets are better off when that's the case. In the 27 games Ball has scored 20 or more points, Charlotte is just 11-16. They've also dropped all three of Ball's top-scoring nights. Meanwhile, it's 15-14 when he scores less than 20.
More assists from Ball could actually help the defense too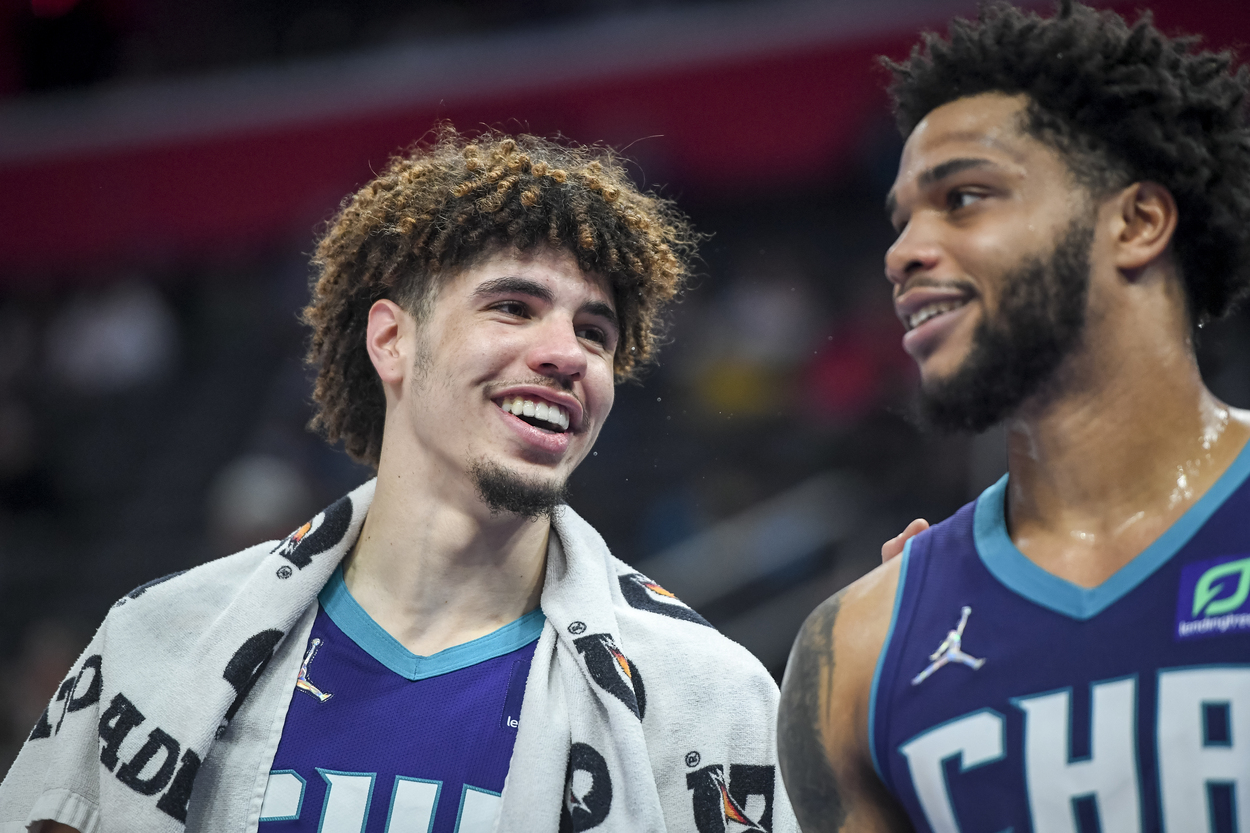 Ball undertaking more of a commitment to playmaking rather than shooting should help an offense that, while high-scoring, sits just 12th in offensive rating. But it should also play a factor in aiding one of the league's worst defenses.
Too many possessions are wasted by LaMelo trying to do everything himself. While that puts pressure on his defender, it leaves everyone else with very little energy to spare. This allows teams to run wild against the Hornets on the other end, evident by the 13.7 fast-break points Charlotte allows per night.
Instead, Ball can get the rock moving and keep defenses on high alert. Although Gordon Hayward's foot sprain has hurt the Hornets and is partially responsible for Ball's uptick in scoring, Bridges, Rozier, and Montrezl Harrell are all athletic complementary pieces who are perfectly tailored toward Melo's style. Utilize them as much as possible on offense, and good things will follow on the other side too.
The Hornets have a few weeks left to punch their ticket to the postseason, but their hopes are getting dashed by the day. But if Ball sacrifices some of his scoring in the name of making everyone else around him better, there will be hope for Charlotte yet.
All statistics courtesy of Basketball Reference.
RELATED: LaMelo Ball, LeBron James Already Brushing Passing Shoulders