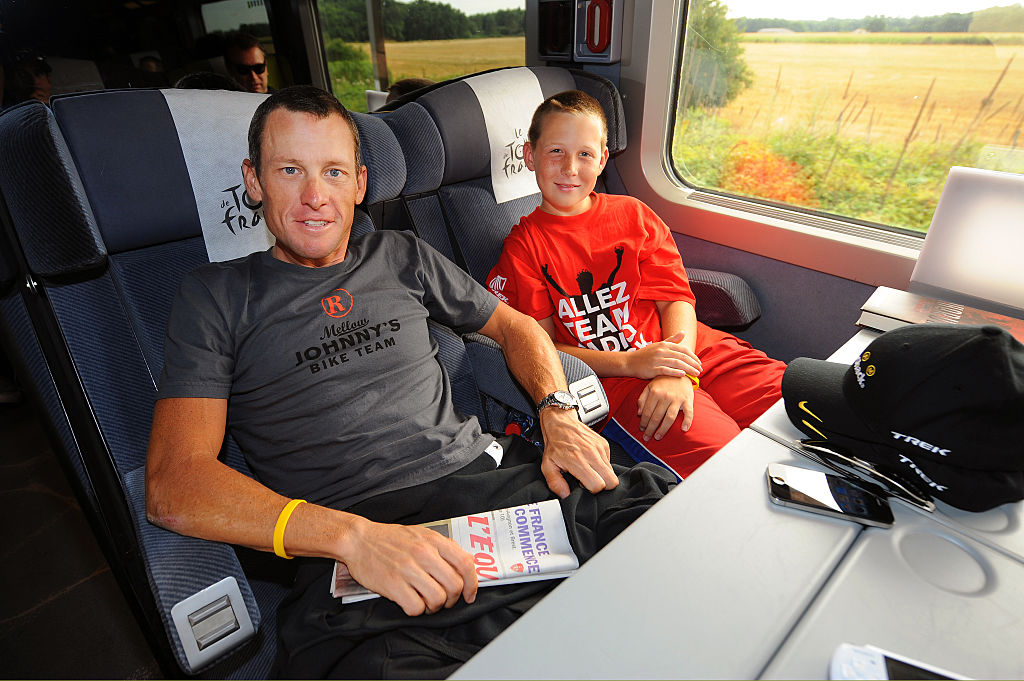 Lance Armstrong's Son Is a College Football Player; Is He Any Good?
Lance Armstrong is one of the most controversial athletes of all-time. Now, Armstrong's son is a college football player. Is he any good?
Lance Armstrong is one of the most controversial athletes of all-time. He had one of the greatest underdog stories in all of sports, winning seven Tour de France titles following a testicular cancer diagnosis. However, a Performance Enhancing Drug scandal ruined his reputation. Lance Armstrong's son, Luke, is now a college athlete, and in an appearance on ESPN's documentary about his dad he discussed if he would use PEDs. Luke actually plays college football. So, what did he say about PED use, and is Luke any good at football?
Lance Armstrong seemed like a great underdog story
Lance Armstrong's professional cycling career began in the early 1990s. He won the world championship in 1993 but did not have as much success in the Tour de France. Armstrong won a stage in the event that year but dropped out and did not finish, according to USA Today. 
In 1995, Armstrong won another stage at the Tour de France. He also finished the race for the first time that year, but he finished in 36th place. 
Then in 1996, Armstrong received a testicular cancer diagnosis that spread to his lymph nodes, lungs, brain, and abdomen, USA Today reported. He still somehow made a miraculous comeback, becoming one of the most dominant cyclists of all-time. Armstrong won his first Tour de France title in 1999. This was before going on to win a record-setting seven Tour de France titles that he won through 2005.
Armstrong retired from cycling in 2005 but came out of retirement and finished third in the Tour de France in 2009, according to USA Today. He retired again in 2011. 
The PED scandal that ruined his reputation
Lance Armstrong was questioned about doping almost immediately after winning his first Tour de France title in 1999, according to USA Today. He then continued to be asked about PED use over the years. There was even a federal criminal investigation over it, but it closed without charges.
In 2012, though, the U.S. Anti-Doping Agency charged Armstrong with cheating. He denied doping, USA Today reported, but did not fight the charges. This led to the USADA issuing a lifetime ban on competition for him. 
The USADA later released a report of the allegations, which included sworn statements from several of Armstrong's former teammates. The International Cycling Union then stripped Armstrong of his Tour de France wins and banned him for life. 
Then in 2013, despite denying that he used PEDs for years, Armstrong admitted to years of it in an interview with Oprah Winfrey. 
"I see the anger in people, betrayal, it's all there," Armstrong said to Winfrey, according to BBC. "People who believed in me and supported me and they have every right to feel betrayed and it's my fault and I'll spend the rest of my life trying to earn back trust and apologize to people."
While Armstrong used PEDs during his accomplished athletic career, it does not seem like his son will follow suit. 
Lance Armstrong's son, Luke, plays college football; is he any good?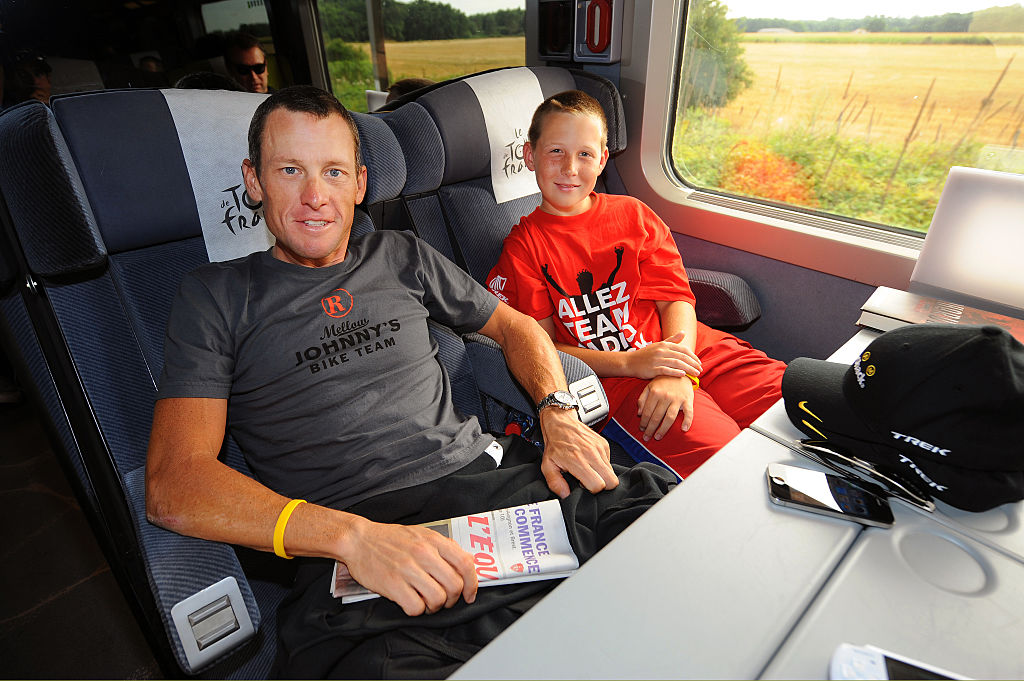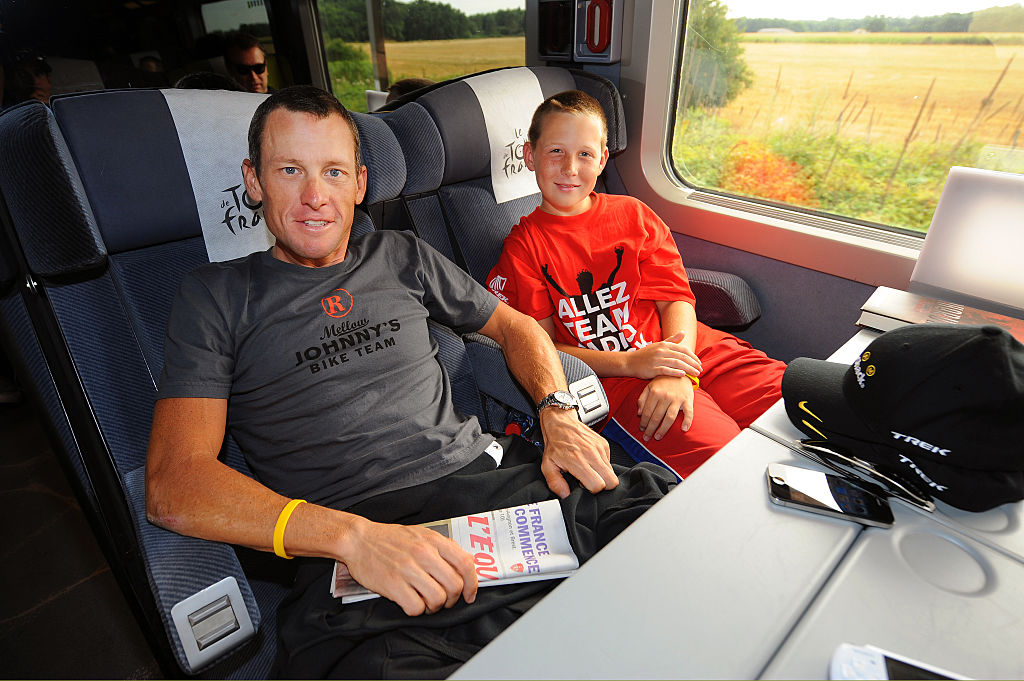 In Part 2 of ESPN's documentary about Lance Armstrong, his son, Luke, who is a walk-on college football player at Rice University, answered a question on if he would consider using PEDs as his dad did.
"I've always felt like grinding for something, and really working for a specific goal has always been so much more worth it than taking the shortcut," Luke Armstrong said, according to the New York Post. "I also feel like if I ever did that and got caught, for random people, they would be like, 'He's just like his dad.'"

Luke Armstrong
Looking at Luke's football career, he will probably not be as successful in it as his dad was in his cycling career. It seems his career will be more honorable, though. In high school, Luke was a standout offensive lineman at Westlake High School, according to USA Today. He was on a successful line that helped the team get to the Texas state quarterfinals in 2016, and the state semifinals in 2017, according to Rice's website.
Luke then joined Rice as a preferred walk-on. He redshirted his first season at Rice in 2018. Luke was then a reserve as a fullback in 2019, according to the team's site. He earned C-USA Commissioner's Honor Roll honors in 2020 for maintaining a GPA of 3.0 or better, according to C-USA. 
As of right now, it does not look like Luke will have a super successful football career. However, he is only a redshirt sophomore, so he still has plenty of time to turn things around. As long as he does not follow in his dad's footsteps in terms of PED use, though, his career will still be much more honorable than Lance's ever was.