Lane Johnson Breaks Silence on Controversial Former Teammate Carson Wentz
When Carson Wentz was first traded from the Philadelphia Eagles to the Indianapolis Colts, the expectation was he would experience a massive bounce-back season. Wentz was coming off a career-worst year in 2022 with the Eagles. He desperately needed a fresh start with some fresh faces.
Despite what the Philly media probably wants you to believe, Wentz actually experienced said bounce-back season. He finished 2021 with 3,500-plus passing yards, 27 passing touchdowns, and only seven interceptions. He also recorded a top-10 QBR and a top-15 passer rating.
However, how the 2021 regular season ended really caused the Colts to internally sour on Wentz. He failed to lead his team to a Week 17 win over the lowly Jacksonville Jaguars. Now, it feels like only a matter of time before he's cut or traded.
Former teammate Lane Johnson still believes in Carson Wentz
Speaking with Colin Cowherd on a recent airing of The Herd, current Eagles right tackle and former teammate of Wentz — Lane Johnson — was asked what he thinks the future holds for the Colts quarterback.
According to Johnson, there's still some exceptional talent trapped inside the 2016 No. 2 overall pick. Johnson believes he can still prove many of his doubters and haters wrong moving forward.
"I think he'll get a shot somewhere, and this will be a point where he can prove all the doubters wrong," Johnson told Cowherd.
There are a few teams who could be interested in Carson Wentz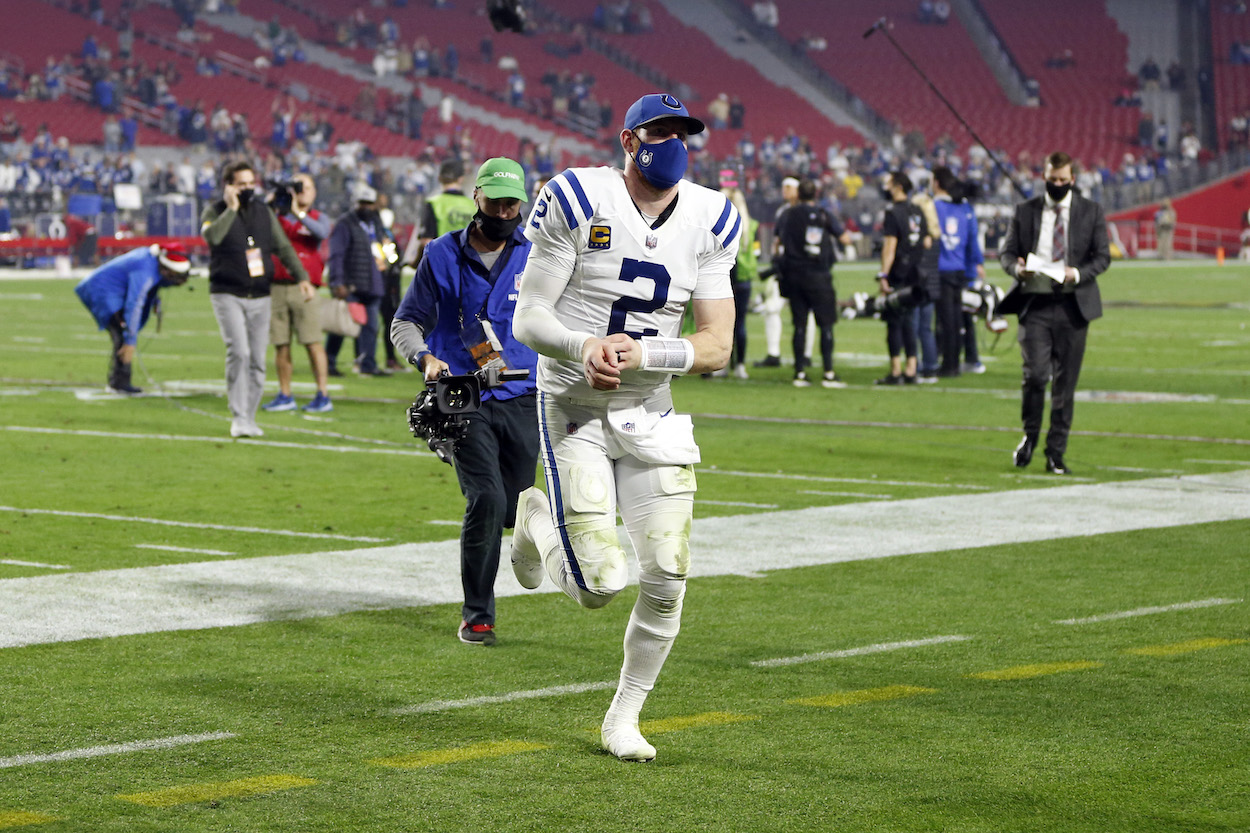 Johnson still believes in Wentz as a quarterback, and there are likely several NFL teams who feel the same way. What's encouraging for Wentz and his camp is that a handful of teams are in desperate need of a new starting quarterback this offseason — teams who would kill for 3,500 passing yards and 27 touchdowns in 2022.
The New Orleans Saints, Carolina Panthers, Tampa Bay Buccaneers, Denver Broncos, and Washington Commanders are all franchises with no clear plan at the QB position.
Johnson also mentioned the Pittsburgh Steelers as a possible landing spot for Wentz when talking to Cowherd. This would be a super intriguing move considering Wentz's experience playing in Pennsylvania. Wentz also has a little bit of "Big Ben" to his playstyle when you factor in his size and frequent high-risk throws.
If Wentz is all but gone, what next for the Colts?
On the opposite end of this conversation is the Colts. They thought they were getting a certified franchise QB for the next several years when they acquired Wentz in 2021. Now, it looks like they want to go in a completely different direction.
However, the problem is that it's hard to figure out what exactly Indianapolis has in mind.
The Colts have cap space. However, they don't have the excess draft capital required to land a superstar QB via trade. Their roster also needs revamping if they're serious about being contenders in 2022. They have glaring holes at WR, CB, DE, and LT.
Indianapolis may be scapegoating Wentz for its roster issues in 2022. Only time will tell in the grand scheme of things.
All stats courtesy of Pro Football Reference.
RELATED: The Colts Are Planning to Divorce Carson Wentz After Their '1-Year Marriage That Went Wrong'