Lane Kiffin Is Sending Literal Signs About His Hot Pursuit of Blue-Chip Quarterback Prospect Arch Manning
Article Highlights:
Ole Miss head coach Lane Kiffin made it clear how badly he wants to sign Arch Manning
Manning, a blue-chip quarterback prospect, visited Ole Miss earlier this year
Kiffin and the Rebels are among a handful of schools fighting for the Class of 2023 signal-caller's services
As the college football world waits for blue-chip quarterback prospect Arch Manning to make a life-changing decision, Ole Miss head football coach Lane Kiffin is taking things into his own hands.
Typically, that'd represent a form of colorful language, but not here. No, Kiffin — who still has the Rebels alive in the SEC West division race — is sending more (and this time, literal) signs that he wants Manning, the son of Cooper and nephew of Peyton and Eli, when the time comes.
Lane Kiffin held a pro-Arch Manning sign before the Rebels' victory on Nov. 13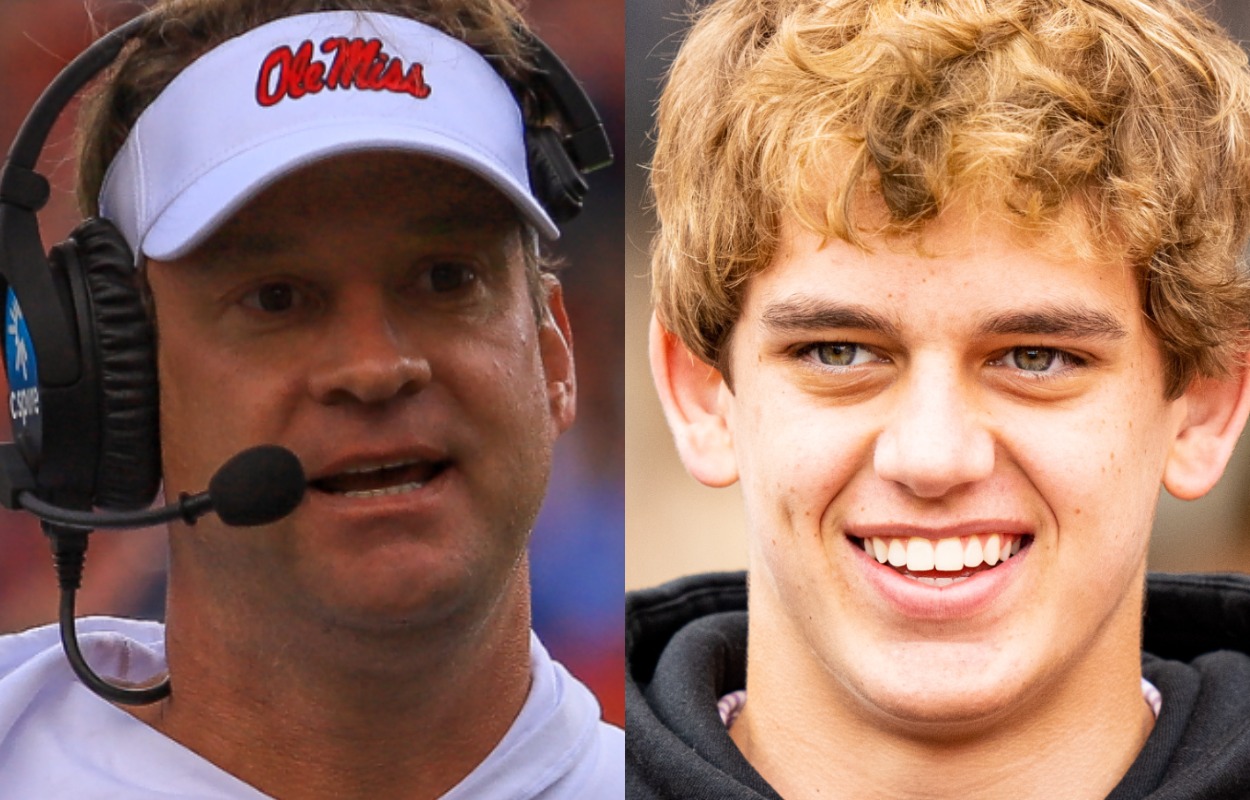 In the span of only a few years, Kiffin went from the Alabama Crimson Tide's offensive coordinator to a college football rock star. What other head coaches do you know that would appear on College GameDay as the guest picker?
Hours before a Nov. 13 home victory over Texas A&M, Kiffin — dressed in a hat, sunglasses, and an Ole Miss sweatshirt — grabbed a sign reading "We Want Arch" from a fan and held it to the crowd. Barstool Ole Miss tweeted the video, which quickly went viral.
NCAA rules prohibit coaches from speaking on-record about prospective student-athletes until they have signed a letter of intent. We're not sure if holding a sign referencing a player the school in question is actively recruiting falls into that boat.
Eh, it's Lane Kiffin we're talking about here. Something tells us that he doesn't really care.
Kiffin has made it very clear that he wants to sign Manning when the time comes
As of publication, 247 Sports listed Manning as the country's top quarterback prospect in the Class of 2023 and, when using composite scores, the nation's top player regardless of position. 
Then, you'll quickly understand why Kiffin has gone to such lengths to earn Manning's signature on a letter of intent. Ole Miss recently hosted the top prospect for an Oct. 23 victory over LSU and honored Eli Manning, a former Rebels star, at halftime that same day. The school even retired the two-time Super Bowl champion's No. 10 before defeating a free-falling LSU program. 
In September, 247 Sports discovered that Kiffin only followed one person, Manning, on his official Instagram account. As of publication, Kiffin had upped his "following" total to 61 people, a group that still included Manning but also featured numerous active Rebels players.
In many other cases, we'd call that strange or even stalkerish. But in the modern era of college football recruiting, let's just chalk this up to Kiffin being Kiffin.
Which other schools is Manning reportedly considering playing for in college?
Manning's 247 Sports profile currently lists five schools — Alabama, Clemson, Georgia, Ole Miss, and Texas — who he is "warm" on and actively interested in joining. ESPN reported in late October that Texas, Georgia, and Alabama "seem to think they're in a pretty good position" to sign the talented quarterback.
We can probably start taking Texas off that list, however. The Longhorns hosted Manning on Nov. 13 and lost at home to 1-8 Kansas. The Jayhawks' shocking 57-56 victory ended a 56-game road losing streak in Big 12 play dating all the way back to 2008.
ESPN reported that Manning is expected to announce his commitment at some point in either the spring or summer of 2022. He cannot officially sign a letter of intent with a school until December 2022 at the earliest.
If Manning appreciates the flattery, something tells us he'll be posing for pictures with Kiffin and wearing his finest Ole Miss cap next year. If he's in the mood to win games at a relevant program, he'll be playing anywhere but Texas.
Like Sportscasting on Facebook. Follow us on Twitter @sportscasting19.