Lane Kiffin May Be the Only Ex Assistant who Can Defeat Nick Saban
Going against the greatest college football coach of all time is not an easy task, just ask the members of the SEC who have all struggled against Nick Saban's Alabama Crimson Tide.
Saban has not only won a title at rival school LSU; he's also won six national championships at Alabama and doesn't seem to be slowing down anytime soon.
His greatest accomplishment besides winning all of those titles is that he remains undefeated against his former assistants including Mississippi head coach Lane Kiffin.
The Lane Kiffin and Nick Saban relationship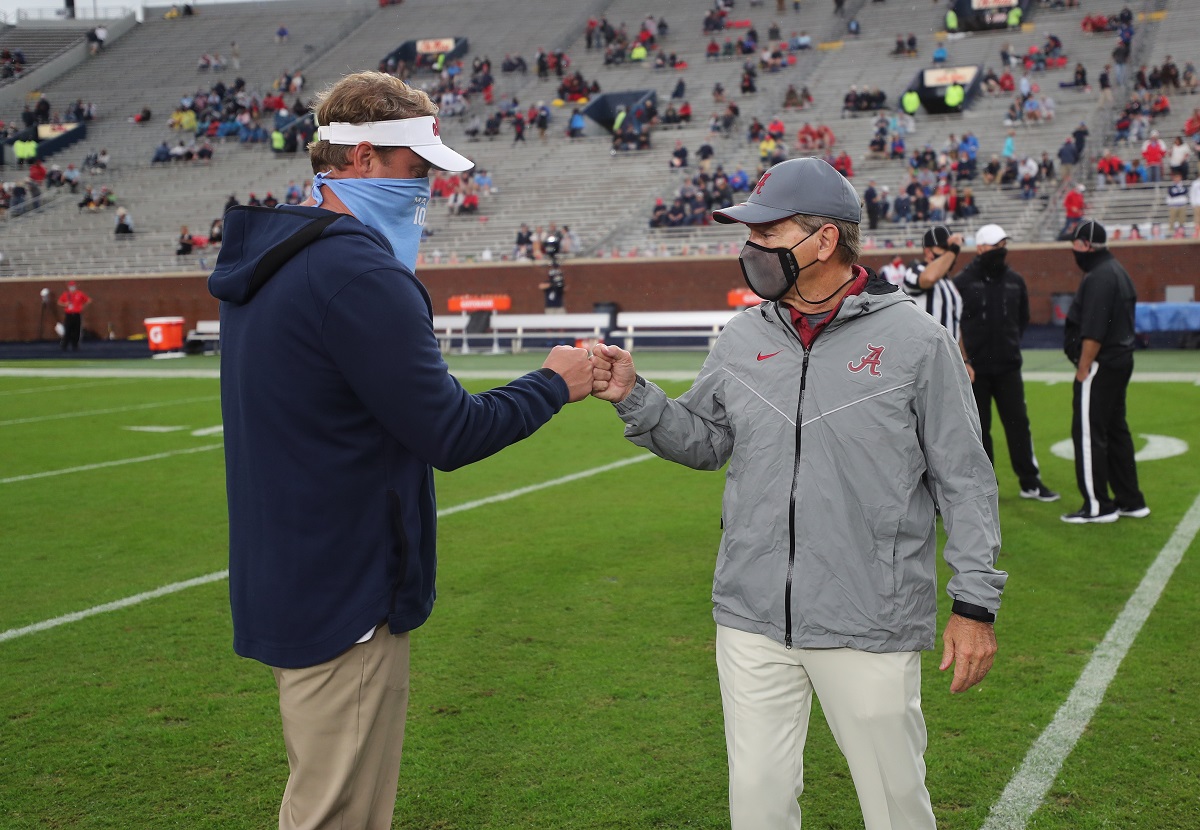 When Lane Kiffin became the offensive coordinator for Alabama back in 2014, it shook the college football world, details NFL.com.
At the time, no one thought the former University of Tennessee/USC/Oakland Raiders head football coach would ever get a chance to be Saban's assistant at Alabama. 
In fact, most didn't think he would last a year under Saban but he did. Kiffin was there from 2014-2016, winning a national championship with Alabama before becoming the head coach of Florida Atlantic
.For the most part, Saban and Kiffin's relationship was a solid one, until the 2017 national championship game when Kiffin resigned before the game as USA Today reported. Former USC head coach Steve Sarkisian took over for him as offensive coordinator.
Close but no cigar for Lane Kiffin
Out of all of Saban's ex-assistant coaches, Kiffin has come the closest to defeating Saban recently. When he was the head coach in Knoxville, Tennessee, Kiffin, and his Volunteers were a field goal away from upsetting the Tide in Tuscaloosa in 2009.
At the end of the game, a blocked field goal by the Tide's Terrance Cody ended the Vols' hopes.
Last year, the Tide and Rebels had a shootout with Alabama coming out on top, 63-48. The game was in doubt until the fourth quarter, however.'
The only other ex-assistant who has come close to defeating Saban is Georgia Bulldogs head coach Kirby Smart, whose teams have found new ways to lose to Bama over the years.
Why Lane Kiffin has the best chance to beat Saban
Texas A&M head coach Jimbo Fisher another ex-assistant to Saban, said earlier this year, "We're going to beat his a**."
Unfortunately for Fisher, since he has been at A&M, his team hasn't come close to defeating the Tide, unlike Kiffin's team.
Kiffin may have the best chance of defeating Saban mainly because of the offensive power of his ball club. The Rebels have a lot of weapons on the offensive side of the ball, which once again could give the Tide problems.
Alabama has a tendency to struggle against dual-threat quarterbacks like Johnny Manziel and Cam Newton — both Heisman winners who defeated Saban while in college. 
The Rebels' possible issue is on defense. While their offense put up 48 points on the Tide's defense last year, they were unable to slow down the Alabama offense.
Still, they are a dangerous team not to be overlooked by any team in the SEC, especially the Tide.
Kiffin almost pulled the upset last year. Sooner or later, he may be the first ex-assistant to pull off the impossible, defeating Saban.
RELATED: Nick Saban Shares Concerns About College Football Playoff Expansion: 'There's Only So Many Games in These Guys'