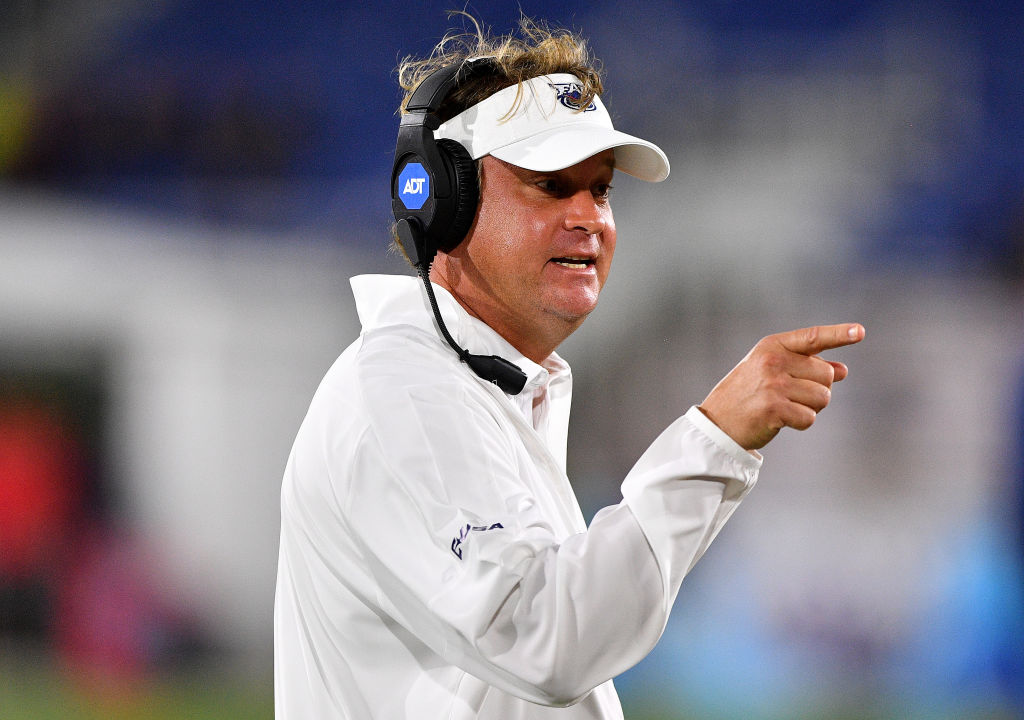 Lane Kiffin Vastly Outperformed His Sub-$1 Million Salary at Florida Atlantic
Lane Kiffin made less than $1 million per year in three seasons at Florida Atlantic. He responded with the greatest stretch in FAU history.
Lane Kiffin has enjoyed one of the more interesting coaching careers over the past 15 years. A former quarterback at Fresno State, Kiffin has been everything from the youngest head coach in modern NFL history to an SEC offensive coordinator.
Now entering his first year at the University of Mississippi, Kiffin is coming off the best coaching stretch of his career: a three-year stint at Florida Atlantic University in Boca Raton, Fla.
Despite never making $1 million in base salary across his three years with the Owls, Lane Kiffin revived his coaching career and vastly outperformed expectations at FAU.
Here's just how good Lane Kiffin was at Florida Atlantic.
Lane Kiffin took an incentive-laden contract to coach at Florida Atlantic
Lane Kiffin has long joked he coached in reverse. Kiffin was named the Oakland Raiders' head coach in 2007 when he was just 31 but lasted only 20 games before he was fired.
Kiffin spent 2009 at Tennessee and led the Volunteers to a 7-6 record. When the USC Trojans head coaching job opened, Kiffin left Knoxville for Los Angeles and coached the Trojans from 2010-13.
Despite dealing with sanctions and a loss of scholarships, Kiffin never had a losing record in his three full seasons at USC and sent multiple players to the NFL.
Southern California famously fired Lane Kiffin after a September 2013 loss to Arizona State. Kiffin spent the next three seasons as Alabama's offensive coordinator.
Florida Atlantic hired Lane Kiffin as its next head coach in December 2016. Kiffin signed a five-year, $4.75 million contract that paid him a $950,000 base salary each season. The contract carried numerous incentives for winning the conference, leading FAU to the Top 25, and other achievements.
Kiffin made $1.4 million at Alabama in 2016. The pay cut he took to become a head coach again, though, proved to definitely be worth it.
Kiffin led FAU to its greatest stretch in program history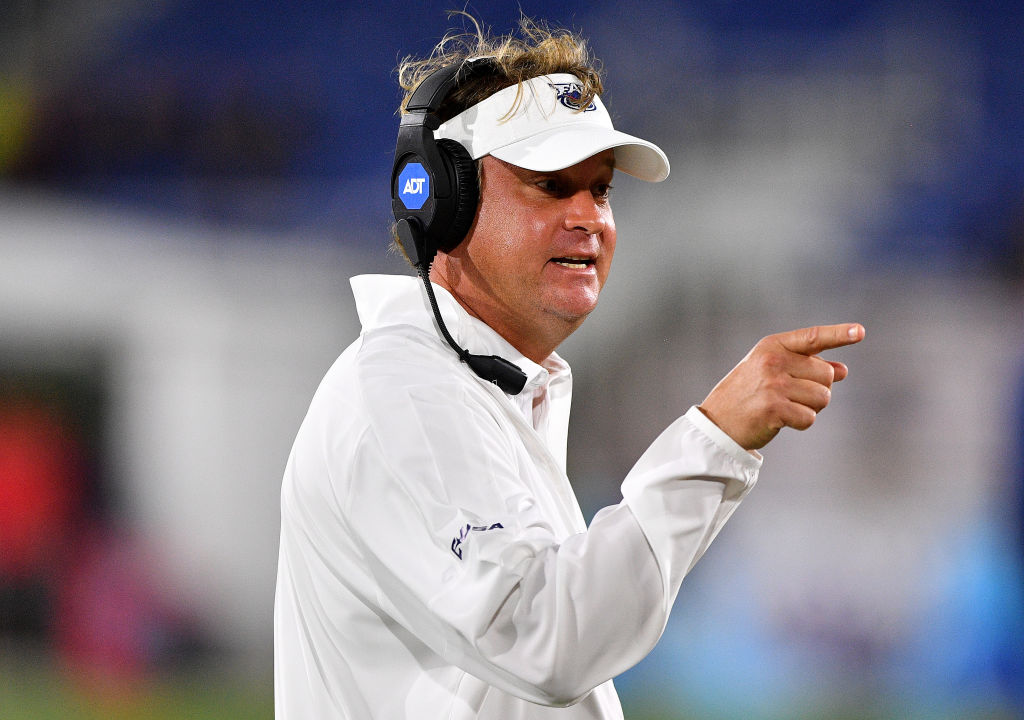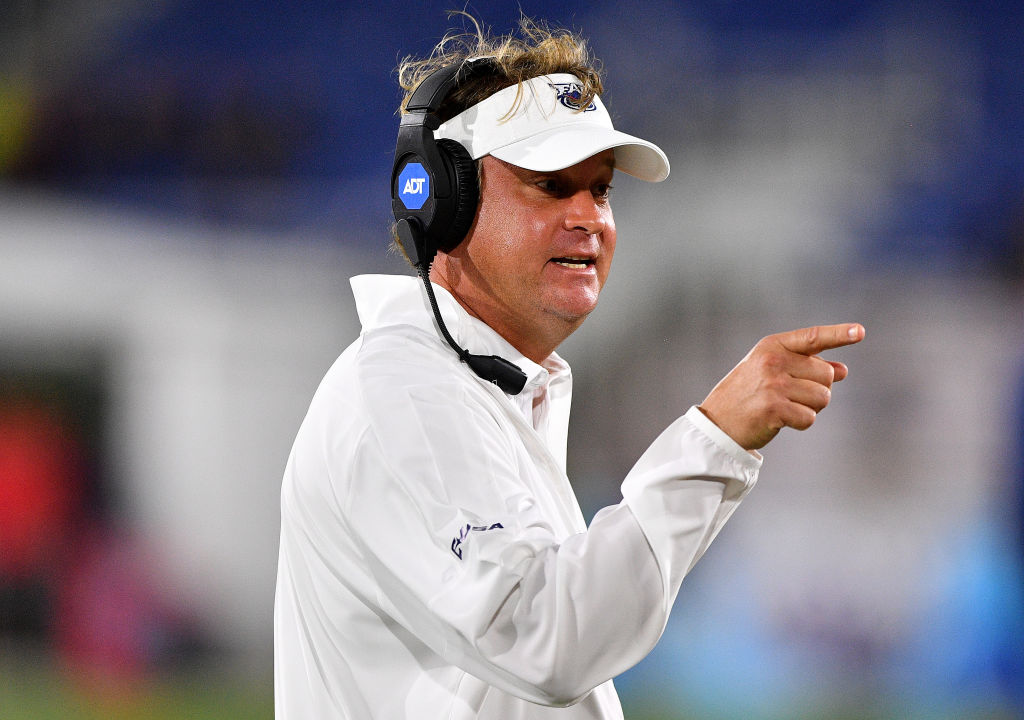 Midway through Lane Kiffin's first season at Florida Atlantic, the university rolled out a train with Kiffin's face plastered on the front. On the field, the Lane Train was rolling through Conference USA after a 1-3 start.
FAU ended the 2017 season with 10 consecutive wins, a Conference USA championship, and a Boca Raton Bowl victory at FAU Stadium. The Owls were projected to finish fifth in Conference USA that year.
Sophomore running back and rising Buffalo Bills star Devin Singletary ran for 32 touchdowns, the third-most in FBS history. Future San Francisco 49ers linebacker Azeez Al-Shaair led the defense.
Running back Buddy Howell, tight end Harrison Bryant — a projected mid-round pick in next week's NFL draft — and former Last Chance U star John Franklin III were among the significant contributors with NFL futures.
Lane Kiffin signed a six-year extension that would keep him at FAU through 2027 in June 2018. FAU only went 5-7 that season, though, and lost four of its five one-score games. The Owls rebounded with a 10-3 record under Kiffin last year.
Lane Kiffin was named the new head coach at Ole Miss on Dec. 7, 2019, just minutes after he led FAU to a 49-6 rout of UAB in the Conference USA Championship Game.
Despite never having a base salary higher than $950,000, Kiffin went 26-13 in three seasons at FAU and put the program in position to rule Conference USA to start the 2020s.
Lane Kiffin can work the same magic at Ole Miss
Lane Kiffin signed a four-year deal worth $16.2 million in December 2019. Kiffin is scheduled to open his Ole Miss tenure by making $3.9 in 2020. The 2020 college football season is currently in question because of the coronavirus pandemic.
If there is a season, though, Ole Miss should be considered among the favorites for a breakout year. The Rebels were 10-3 as recently as 2015, but haven't posted a winning season since.
Ole Miss nonetheless has several talented players, including young quarterback John Rhys Plumlee and wide receiver Elijah Moore. It was Moore's controversial touchdown stunt against Mississippi State that led to head coach Matt Luke's firing and, not long after, Kiffin's hiring.
It is unrealistic and unfair to say Ole Miss will run through the SEC the way Lane Kiffin did with Conference USA in 2017. Ole Miss plays at LSU and hosts Alabama in consecutive weeks early in SEC play. The Rebels also host a dangerous Florida team on Oct. 17.
Lane Kiffin has shown throughout his coaching career he can succeed with reduced expectations. After outkicking the coverage and proving his value at FAU, Lane Kiffin has rightfully earned the opportunity to thrive at Ole Miss.