Larry Bird Admitted He and One of His Biggest Rivals 'Both Deserved to Win' an Epic Playoff Duel: 'It's Unfortunate That One of Us Got to Go Home'
Larry Bird had just a few all-time playoff performances during his time with the Boston Celtics. He once posted a triple-double in a Finals game. He finished with a double-double in an arena with no air conditioning and 90-degree heat. But one of his most legendary performances came against the Atlanta Hawks and rival Dominique Wilkins.
Nique and Larry competed for NBA Finals spots multiple times in the 1980s, with Bird usually getting the upper hand. But even Larry Legend admitted to Wilkins after a Game 7 in 1988 that the nine-time all-star was just as deserving of a win as he was.
Wilkins and Bird clashed in the NBA playoffs three different times during the '80s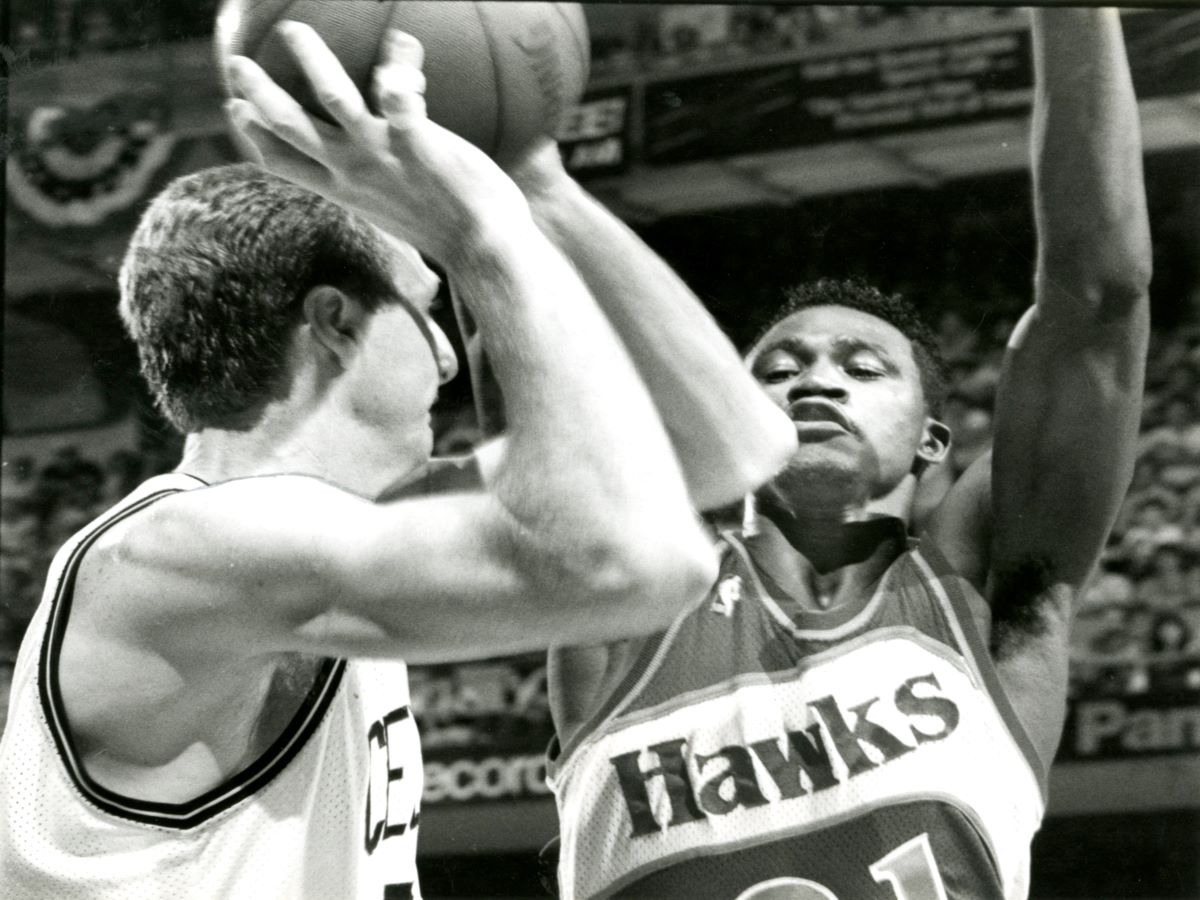 Wilkins and Atlanta made the playoffs five times in six seasons during the 1980s. They ran into Bird and the Celtics three times — once in the opening round of The Human Highlight Film's rookie season and then twice more in the conference semifinals in 1986 and 1988.
Boston won all three matchups: 2-1 in 1983, 3-1 in the 1986 Eastern Conference semifinals, and a seven-game battle in the 1988 East semifinals. But Nique proved himself to the Legend all three times.
Wilkins averaged 15.7 points and 5.0 rebounds when facing Bird's Celtics his first year in the league. He began to hit his peak in the '86 playoffs, scoring 28.6 points per game to go along with 6.0 rebounds and 2.8 assists that postseason.
The 1988 playoffs were the best of his career, both statistically and in terms of wins. Nique averaged 31.2 points, 6.4 rebounds, and 2.8 assists in a career-high 12 playoff games. He got to the line more than 10 times per contest and shot better than 47% from the floor.
He led the Hawks to a Game 7 against Boston in the Garden, where he and Bird went toe-to-toe with a trip to the conference finals on the line.
Bird and Wilkins put on a historic duel in that Game 7
It ended up being Nique's last real shot at a conference finals, and he played like it. He scored 47 points in 43 minutes. He was 19-of-33 from the field and 8-of-9 from the free-throw line. Individually, he out-dueled Bird.
But the Celtics won 118-116 as their three-time MVP scored 34 points, 20 of which came in the final quarter.
Bird recognized Wilkins' skill level and heart that game, though, as Atlanta's future Hall of Famer told the Boston Herald:
"I think that was the one game that made people notice my total game," he said. "Actually it was because of that whole series. Before that, people just saw me as the guy who did the highlight dunks.

"But when we were walking off the floor after that last game, Larry came up to me and said, 'We both deserved to win this game. It's unfortunate that one of us got to go home.'

"That was big respect, and I've always appreciated that."

Dominique Wilkins on Larry Bird's comments after Game 7 of the 1988 Eastern Conference semifinals
Wilkins played a total of 18 more playoff games over the final nine seasons of his NBA career. That series against Boston was his highlight (pun intended), and Bird recognized it.
Nique was never bitter about his loss to Bird and the Celtics
Wilkins never made an appearance in the Eastern Conference Finals. But he told the Herald that he never regretted losing those playoff games.
"Let me tell you something: I wouldn't trade that for nothing in the world. You know why? Because those guys like Larry and Doc (Julius Erving) and Bernard (King), they made you a better player.

"You know, if you didn't have the heart, you got destroyed."

Dominique Wilknins on his legendary playoff battles against NBA Hall of Famers
Bird recognized Wilkins' game, and that was comforting for Nique. It still is.
All statistics courtesy of Basketball Reference.
RELATED: Larry Bird's Legendary Jump Shot Began With a Lesson From His Sixth-Grade Coach: 'That, to Me, Changed Everything'