Larry Bird Credited His 'Biddy League' Coaches for Helping Him Realize His Potential: 'I Never Had the Gifted Speed but I Always Had Great Coaching'
Larry Bird never outran a defender full-court and threw down a vicious dunk in his face. He was never fortunate enough to possess the physical gifts of rival Magic Johnson. But what the Boston Celtics' legend did have was perhaps the most fundamentally-sound game in NBA history.
Even during the peak of his career in 1985, The Legend was quick to shout out a handful of coaches for helping him develop into an eventual Hall of Famer. But it wasn't Red Auerbach or KC Jones.
It was his youth coaches. Or, as Bird termed them, his "Biddy League" coaches.
Larry Bird was a standout player before he ever reached the Boston Celtics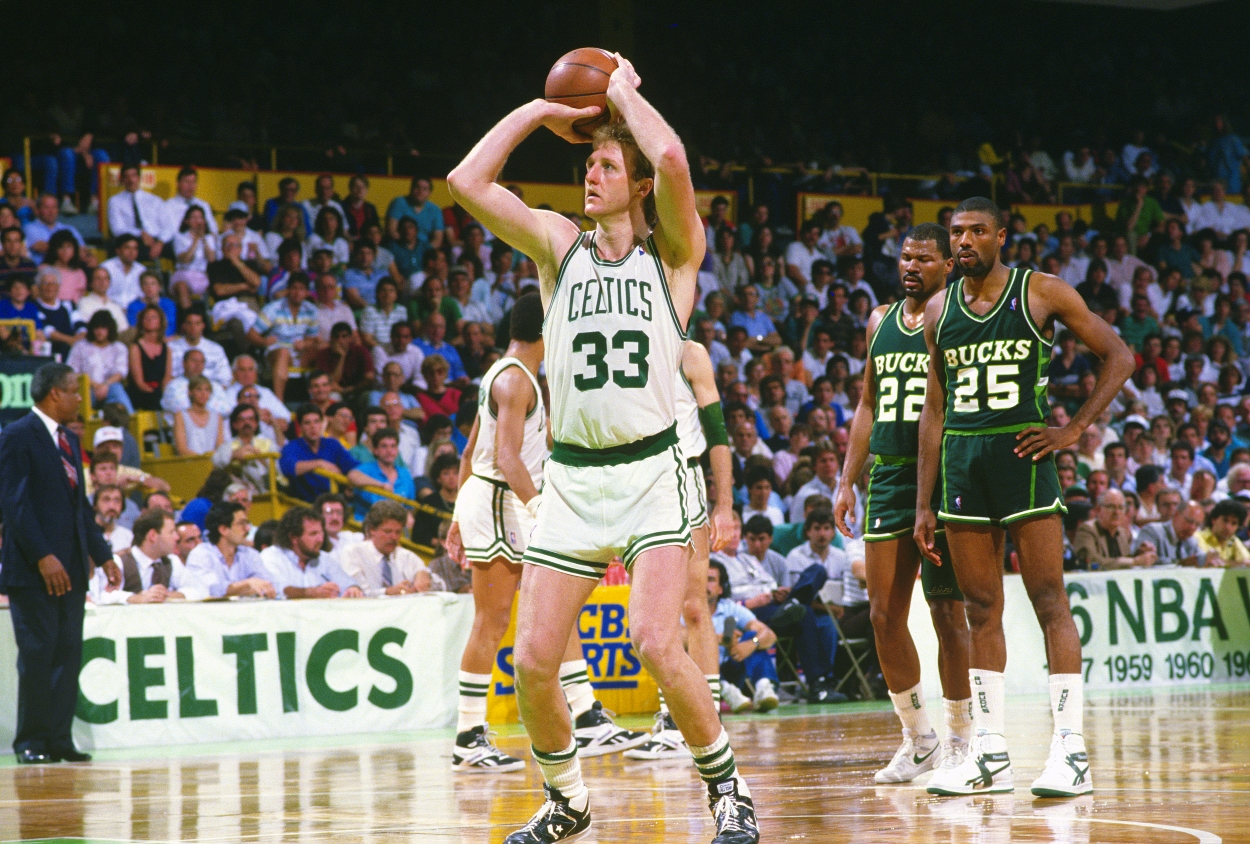 Bird was a major recruit following his Springs Valley High School career. According to HoopsHall.com, by the time he graduated in 1974, he had already totaled 1,125 points.
He averaged 30.6 points and 20.5 rebounds per game, was named an Indiana All-Star and received a scholarship to play at Indiana University under Bob Knight.
Bird left IU and ended up at Indiana State, however. He was named the 1979 College Player of the Year when he led the Sycamores to an unbeaten regular season.
He scored 28.6 points a night that year and added 14.9 rebounds, 5.5 assists, and 2.5 steals, according to Sports Reference.
His battle with Johnson in that year's National Championship game was the start of an epic, career-long duel between the two.
The Legend credited his youth coaches for teaching him the game
In an article in The New York Times, Bird said it was his youth coaches who were the most influential on his career.
I never had the gifted speed but I always had great coaching, back to when I played Biddy League basketball. Jim Jones, my high school coach, probably had more influence on my game than any one else. He believed in the teaching fundamentals, leadership and the importance of team play.

He taught there was more to basketball than just running up and down the court. He would always make the point that if you got a pass to a teammate, who had a clearer shot than you, it was equally as rewarding as scoring yourself.

Larry Bird on learning how to play the game of basketball when he was a kid
He wasn't a finished product when he reached the NBA. Larry continued to develop. But the foundation was laid before he even reached Indiana State.
Bird used that foundation to become an all-time great
Dribbling, passing, shooting, unselfishness — those are the things the 6-foot-9 forward used to dominate the NBA.
He honed his physical skills. But "leadership and the importance of team play," as Bird said, and the mentality of getting your teammate an open shot are also staples of the French Lick native's game.
His battle with Magic in the 1979 National Championship Game was first. They continued to go face-to-face for the rest of their careers.
But Larry already had what he needed to hang with — and beat — Earvin. And he learned it before he ever graduated high school.
All statistics unless otherwise noted courtesy of Basketball Reference.