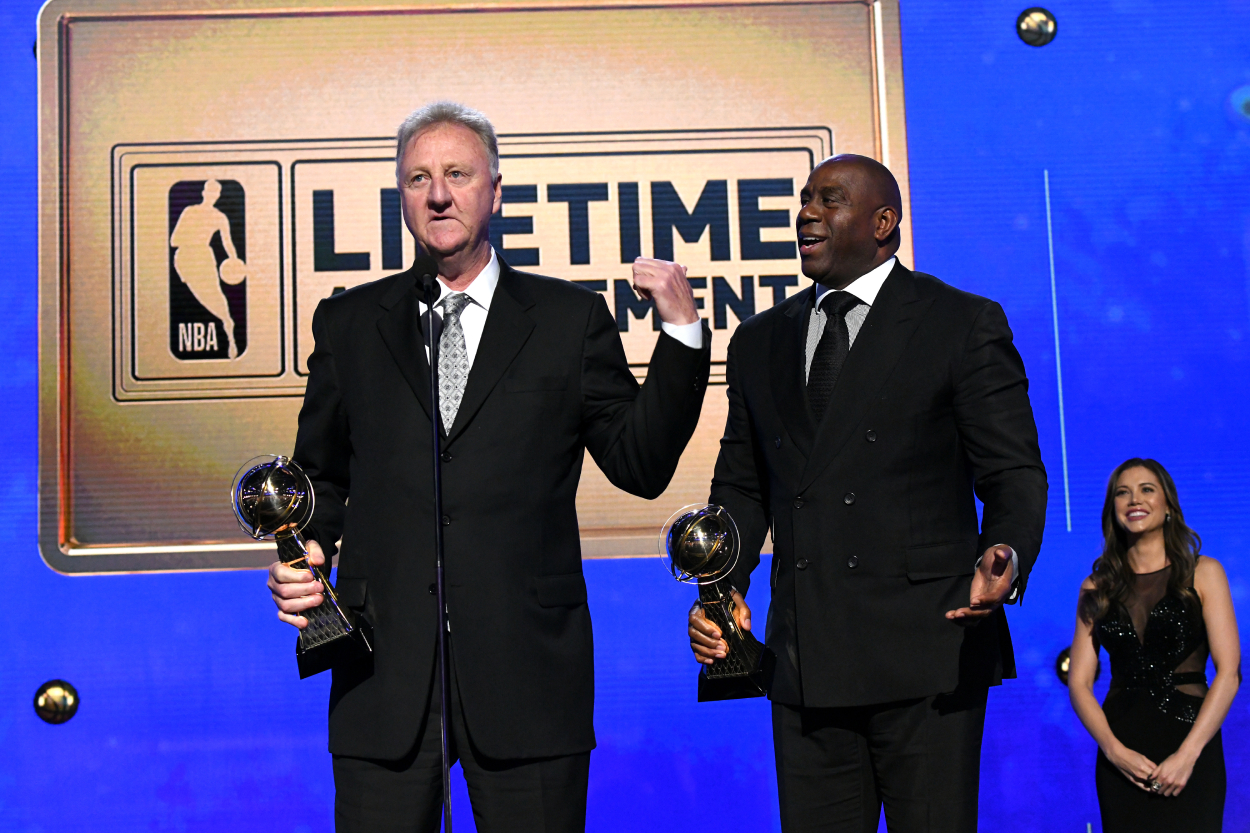 Larry Bird Defied Doctor's Orders for 1 Heartwarming Moment With Magic Johnson
In 1992, Larry Bird defied his doctor's orders in order to have a heartwarming moment with his rival, Magic Johnson.
Larry Bird knew the end of his Hall of Fame NBA career was drawing near. Health problems, particularly that nagging back issue, prevented him from doing Larry Bird things. The back injury was so bad in 1992 that his doctor advised him against taking long flights for games. In February 1992, the former Boston Celtics star blew off those doctor's orders in order to spend one heartwarming moment with rival, Magic Johnson.
Larry Bird and Magic Johnson were bitter rivals but respected each other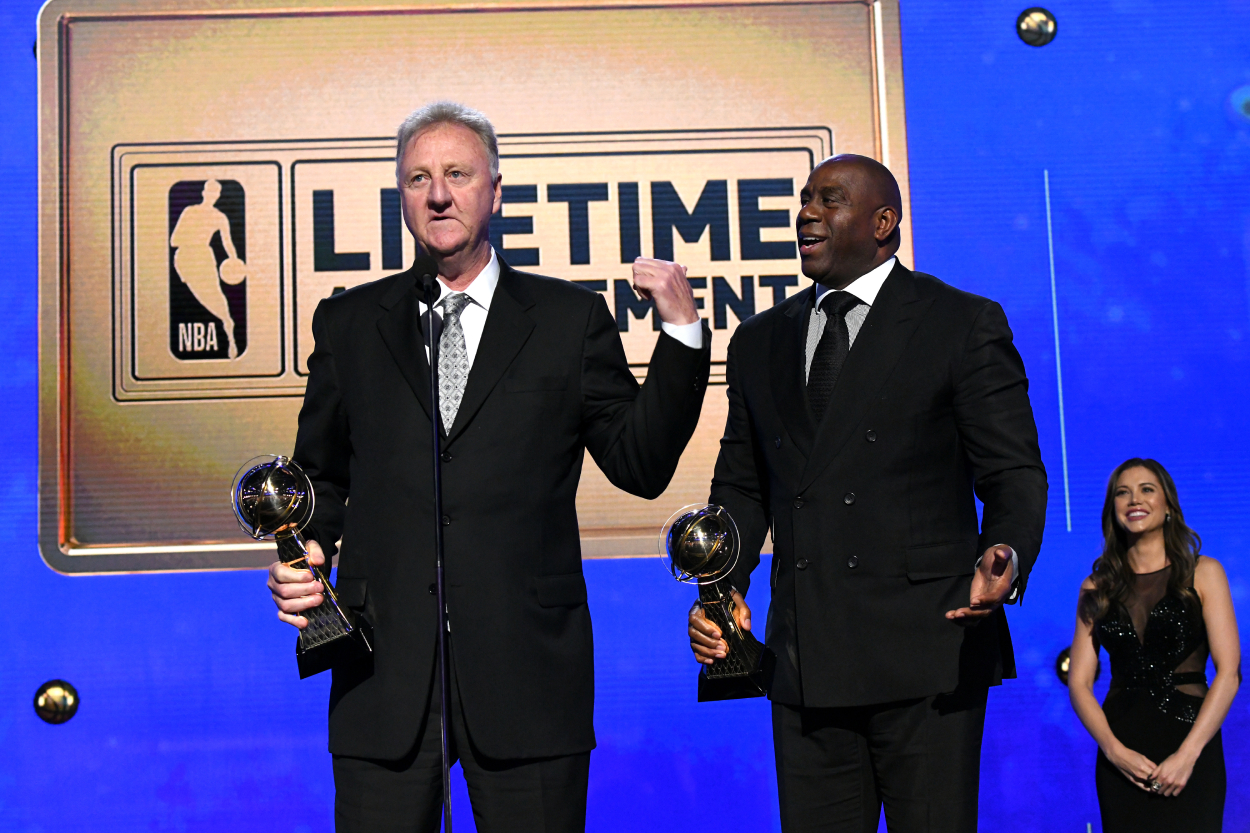 After an epic NCAA run that wound up with them squaring off in the title game in 1979, Bird and Johnson entered the NBA together in the 1979-80 season. Little did they know the impact they would have on the future of the NBA.
The two carried their personal competition into the league and helped rejuvenate the Celtics/Lakers rivalry. They turned their respective teams into winners again as either the Lakers or Celtics made an appearance in the NBA Finals in each year in the 1980s. They faced off against each other three times. In 1984 the Celtics were crowned champs, but the Lakers knocked off the Celtics in 1985 and 1987.
Their careers were similar. Both played 13 years, and they each captured three MVP honors, Bird winning three straight from 1984-86. They both were All-Stars in 12 seasons.
Johnson said the regular season consisted of two major games for the Lakers.
"When the new schedule would come out each year," Magic told Sports Illustrated in 1992, "I'd grab it and circle the Boston games. To me, it was The Two and the other 80."
Larry Bird defied doctor's orders in order to spend a special moment with Magic Johnson
The 1991-92 season was a tough one for the NBA. Both Bird and Magic announced their retirements with Johnson's announcement coming early in the season after he tested positive for HIV. Bird made his plans clear after the season as those back issues made it difficult for him to continue.
On Feb. 16, 1992, the Lakers retired Johnson's number during halftime of their game with the Celtics. Bird was out of commission with his back injury and was advised not to make the long West Coast trip because of his back problems. The Celtics legend neglected those orders, flew out with the team, and took part in the ceremony,
Bird got a standing ovation when he was introduced.
"I'm not the one retiring here … maybe next year?" he said, according to United Press International.
Bird presented Johnson with a piece of the Boston Garden floor and assured the crowd they weren't done playing with each other.
"Magic, you never wore the green and white, but you'll always be a part of our family," Bird said. "But, he's not done yet. We're going to Barcelona and bring back the gold."
Bird and Magic did team up as part of the Dream Team, winning the gold medal at the 1992 Olympic Games.
Johnson was appreciative of Bird making the trip
For Johnson, giving up playing the game he loved was difficult, as it is with many athletes faced with retirement. He struggled for the right words. When he gathered himself, he thanked many of his former teammates.
"It's difficult. You never know how to really say goodbye," he said, per UPI. "It's hard because I'm a person who loves friends and likes to give and hopefully receive. I've received a lot of love and I hope I've given a lot.
"First of all, I would like to thank all the former players that are here. I've had special memories with every one of you. Kareem, he was my big brother and taught me about life and about being a pro basketball player … not just about playing basketball."
Then he thanked Bird. He thanked him for bringing out the best in him, and he also thanked him for making the effort to be there that night.
"I want to thank Larry Bird for making a special trip," said Johnson, who briefly came out of retirement, playing 32 games in the 1995-96 season. "Too bad we couldn't go on forever. I enjoyed so many of these battles. You got to play at the highest level when you played against Larry Bird. Thank you, Larry, for bringing the best out of Magic Johnson.
"I tried to talk to Larry and say, 'Let's suit up and run out and play the last five minutes.'"
The two were bitter rivals, but they were also there for each other until the end.