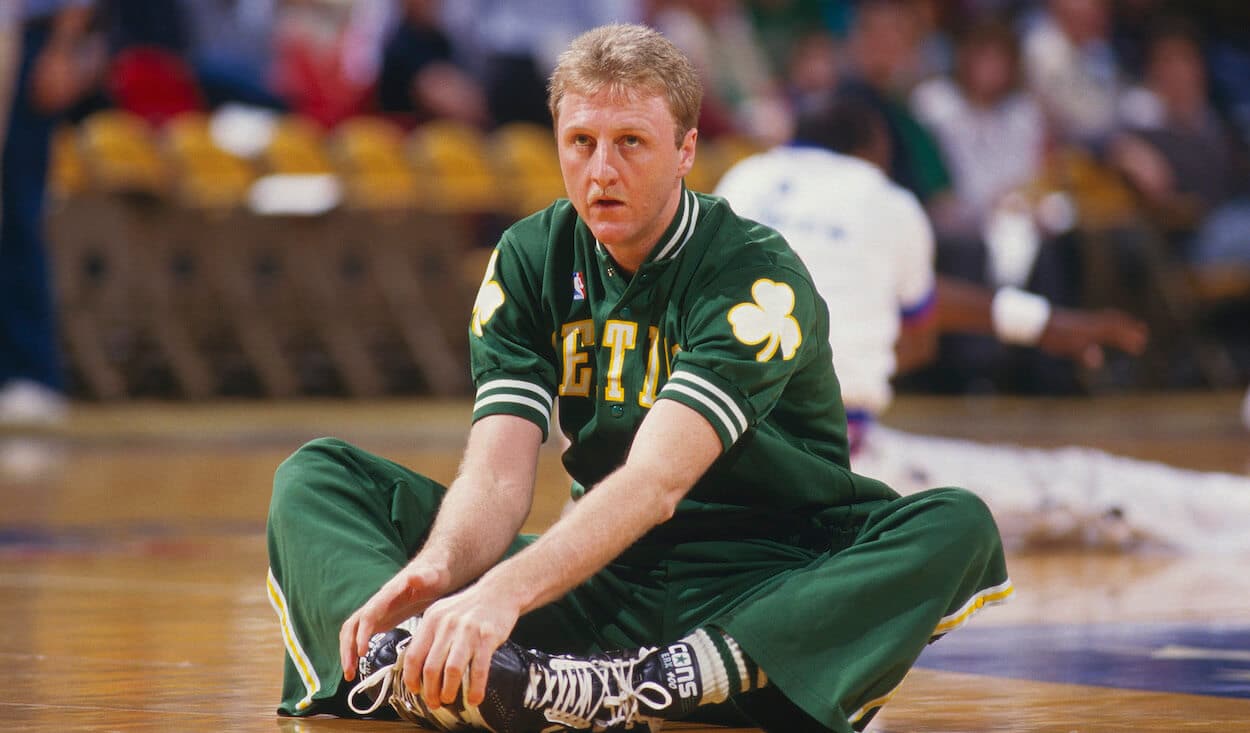 Larry Bird's Doctors Had to 'Unlock His Spine' Before Games at the End of His Career, and He Still Showed Up for Work
Boston Celtics legend Larry Bird learned from his dad that "If you get paid to go to work, you gotta go to work," and he went to great lengths to do that.
Boston Celtics legend Larry Bird played 13 seasons in the NBA and is one of the best players of all time. That's even more impressive when you consider he missed nearly an entire season for bone spurs in his heels and played just 105 games in his last two campaigns due to his bad back.  
Those last two NBA seasons, 1990-91 and 91-92, were painful to watch, as Bird had to lie on the floor at times to ease the tension on his aching back. Years later, doctors explained the lengths they had to go to just to get Larry Legend on the court, and after hearing that, you won't believe just how painful the whole situation was for him.
Doctors went to great lengths to get Larry Bird on the court in the 90s
Larry Bird infamously hurt his back doing something perfectly on-brand for the humble Celtics superstar, building a driveway for his mother by himself in 1985. And while the back injury affected him for the last seven seasons of his career, it truly became a problem starting in 1988.
By the 1990s, Bird "had lost the structural stability of his spine," according to his orthopedic therapist, Dan Dyrek. "It would slip into abnormal positions to try and lock itself to get an artificial stability."
The pain for the Celtics star was intense. Dyrek compares his spinal issues to "getting your finger stuck in a door, and somebody's still pushing on the door."
Despite the pain, Bird did whatever he could to play, even while wondering whether he was doing long-term damage that would affect his quality of life in retirement. But he did it because, as he learned from his father years before, "If you get paid to go to work, you gotta go to work."
So, during the last two years of Bird's career, Dyrek and his counterparts would go to extreme measures to get Bird on the court.
"What we had to do was unlock his spine, realign it, [and] do techniques that would hold that for four hours, six hours, that type of thing, and then he'd go play basketball," Dyrek explained.
And while Larry Bird now admits he "probably should have retired in '88, '89," he says the competition and hopes of one more NBA Finals showdown with Magic Johnson kept him going.
Where would Bird be on NBA all-time list without the back injury?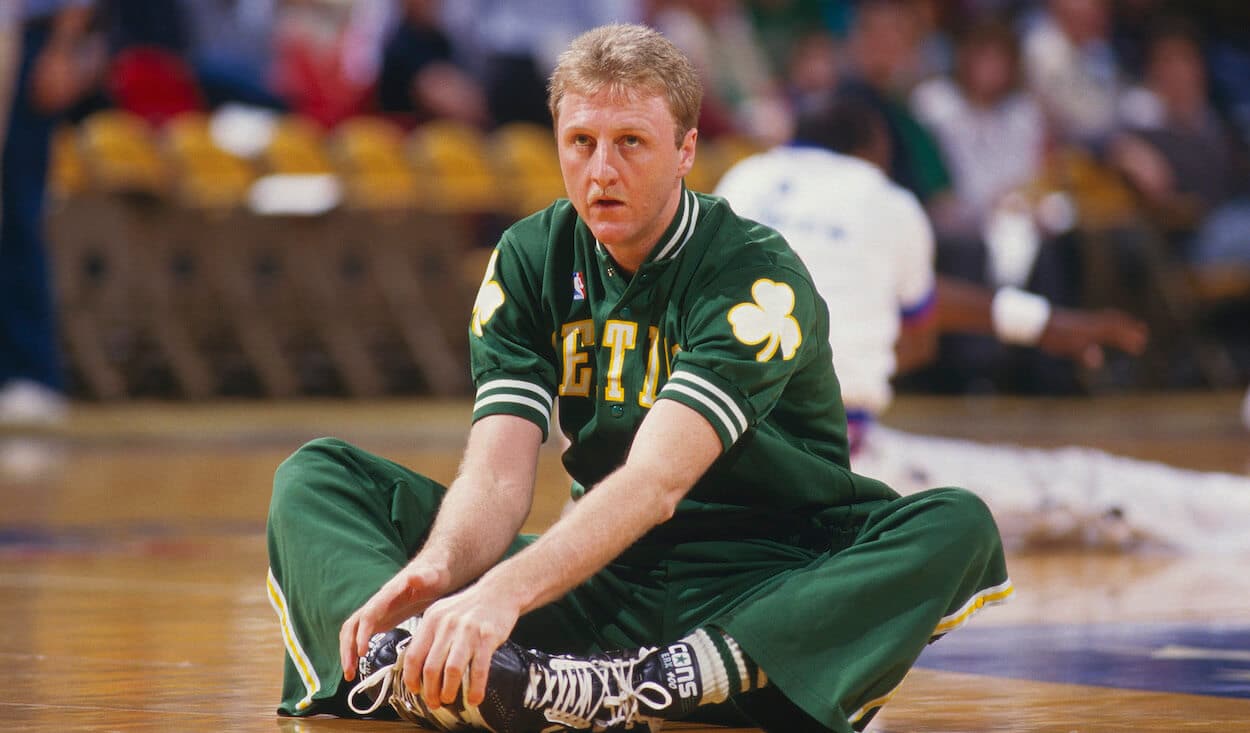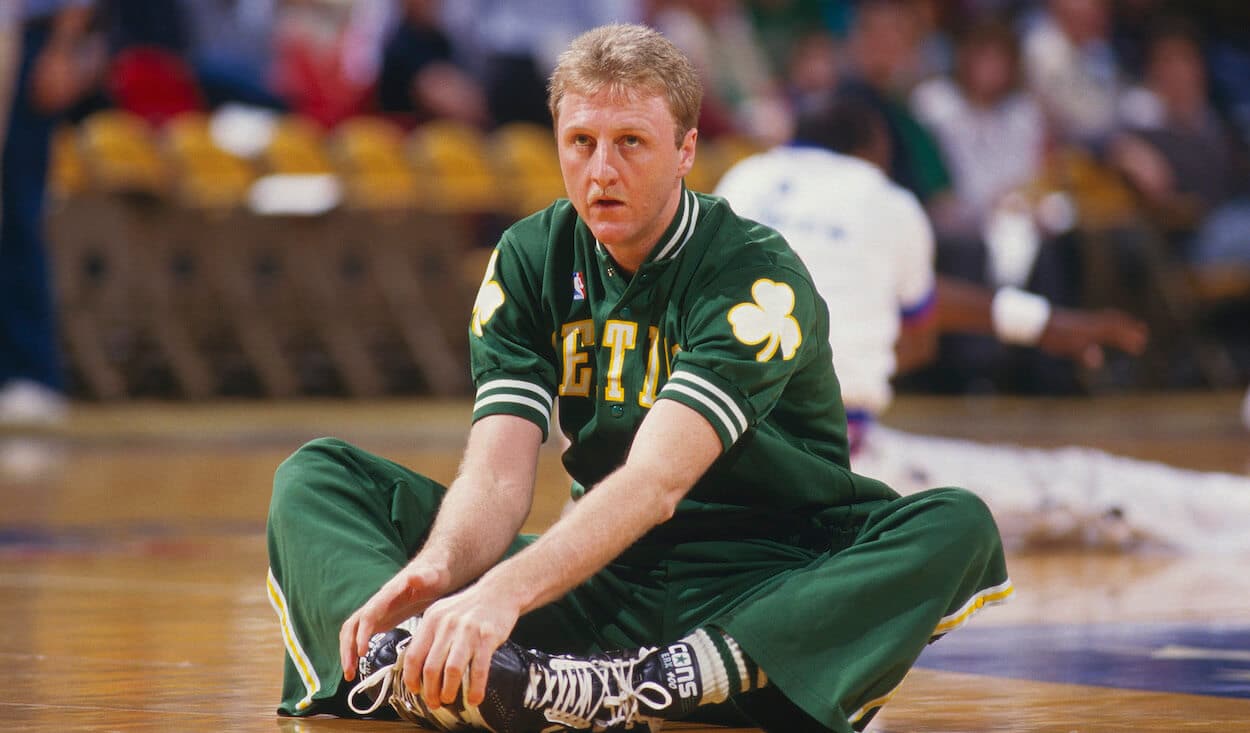 The Larry Bird back injury happened in between his sixth and seventh year in the NBA. Two years later, he led the league in minutes and, throwing out his six-game season in 1988-89, he never played fewer than 36.9 minutes per game.  
Bird helped lead his team to an NBA championship in the first season after the initial back injury but never won the big one again. The Celtics never got back to the NBA Finals either once Bird's back started getting truly bad back in 1988.
On a personal level, Bird won his NBA MVP Award in the 1985-86 season.
Looking at the statistics, the 1988-89 season, where Bird played just six games, was the beginning of the end for the star. This gives Bird just nine prime seasons in the NBA.
By comparison, Michael Jordan had 11 prime seasons 11, Magic Johnson had 12 before he was diagnosed with HIV, Bill Russell had 12, Wilt Chamberlain had 13, Kareem Abdul-Jabbar had a staggering 20, and LeBron James is at 20 and counting.
Those are the six players ahead of Larry Bird on ESPN's ranked 75th Anniversary Team list.
To move ahead of any of these players, Bird would have needed two to three more championships and the same number of MVP-level seasons. Could he have risen to those heights if the last years in the NBA weren't marred by his back injury?
It's possible. Three to five healthy years at the end of his career could have changed Bird's legacy from a top 10 (top 5?) player of all time to one of the top three or four greatest. Unfortunately, we'll never know if that would have happened.