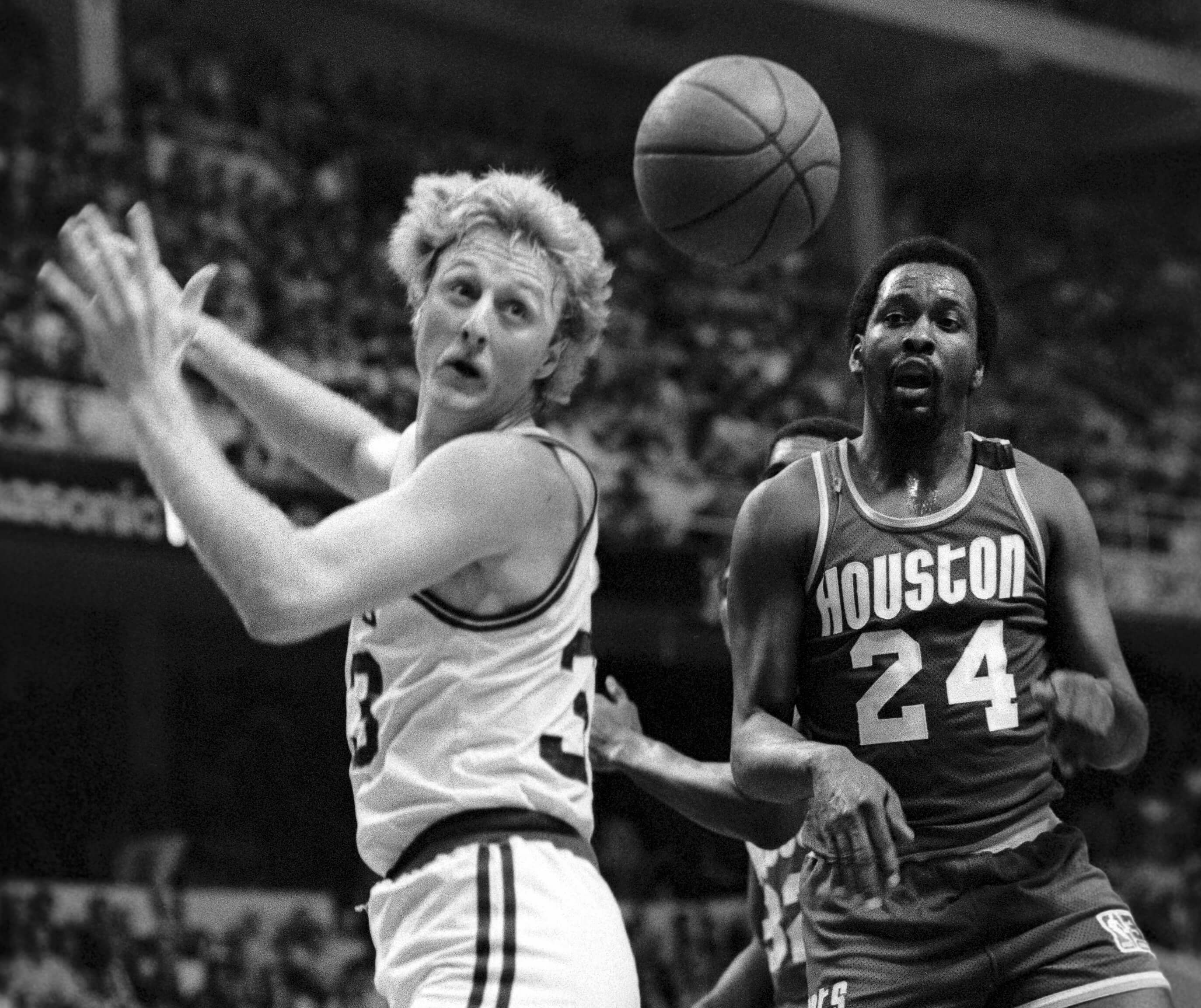 Larry Bird Explained Why He Was Happy After Consecutive 8-Point Outings in the 1981 NBA Finals
Larry Bird couldn't understand what all the fuss was about after he had two straight games of eight points in the 1981 NBA Finals.
On paper, it looked like Larry Bird was falling apart. Boston Celtics fans wondered what was wrong with their star after he scored eight points in two straight games during the 1981 NBA Finals.
The Celtics, heavy favorites against the Houston Rockets, were tied at two games apiece heading back to Boston for Game 5. While Celtics fans were concerned, it seemed they were more worried about Bird not reaching double figures in scoring in back-to-back games. Bird was far from concerned. In fact, he was quite pleased.
Larry Bird turned a struggling Boston Celtics franchise around
Larry Bird made his NBA debut on Oct. 12, 1979. He came to the Celtics as the highest-paid rookie ever in the NBA. Boston was in desperate need of a turnaround, and the Celtics looked to Bird to lead the charge.
He did not disappoint.
The year before Bird came to town, the Celtics won 29 games. In his rookie season, the Celtics went 61-21. Bird earned Rookie of the Year honors after averaging 21.3 points and 10.4 rebounds.
The following season, the Celtics pulled off a franchise-altering trade. Boston held the top pick in the 1980 NBA Draft but moved it, along with the No. 13 pick, to the Golden State Warriors. In return, the Celtics received veteran center Robert Parish and the third overall pick. At No. 3, the Celtics selected Kevin McHale.
Parish and McHale joined Bird to form what eventually became arguably the best frontcourt in NBA history. In their first season together, they defeated the Rockets in the 1981 NBA Finals. They also won championships in 1984 and 1986. The Celtics went to the championship round for four straight years from 1984 to 1987.
Despite two eight-point outings in the Finals, Bird was happy with his performance
Yes, Celtics fans were on edge during the 1981 NBA Finals. After splitting the first two games in Boston, the Celtics pulled out a convincing 94-71 victory in Game 3, despite Bird's 3-for-11 shooting effort. He finished with eight points.
Bird had another tough shooting night in Game 4. In fact, he had the same numbers — 3-for-11 from the floor with eight points. This time, they lost 91-86. Celtics fans became uneasy. They figured something must be wrong with their star.
"They came back to tie the series up in Game 4, and now the question was: 'What's the matter with Bird?'" Bird recalled in his book Drive: The Story of My Life. "That's because I scored eight points in both games down there. All of a sudden, Robert Reid is this great defensive force.
"Robert is a good defensive player, but he's no Michael Cooper. I couldn't understand what all the fuss was about. I couldn't hit a shot, but otherwise, I thought I was playing good basketball. I was passing the ball well, playing great defense, and I had 21 rebounds in each of the first two games. No forward has done anything like that since.
"You'd think by this time people would realize there's more to the game than scoring. Everybody in the press and in the stands seemed to be concerned, but I was happy with the way I was playing. I figured I'd start to hit — sooner or later."
Bird went 5-for-16 in a convincing Game 5 Celtics win. He closed out the series with 27 points on 11-for-20 shooting as Boston sealed the deal with a 102-91 win in Houston.