Larry Bird's Former Celtics Teammate Defected to LA and Became a Crucial Piece of a Kobe Bryant-Shaquille O'Neal Lakers Three-Peat
The Boston Celtics and Los Angeles Lakers had a heated rivalry during the 1980s. Larry Bird and Magic Johnson went toe-to-toe for NBA supremacy for nearly the entire decade. Each stretched his career into the early portion of the 1990s, but neither Hall of Famer could sustain their vintage style of play.
Rick Fox was a rookie during Bird's final NBA season. He admitted he thought he would be a Celtic forever and that he bled green. But Fox ended up changing allegiances midway through his career and spent the next portion of his NBA journey with the enemy — as part of the Shaquille O'Neal and Kobe Bryant Lakers dynasty.
Rick Fox was a first-round draft pick of the Boston Celtics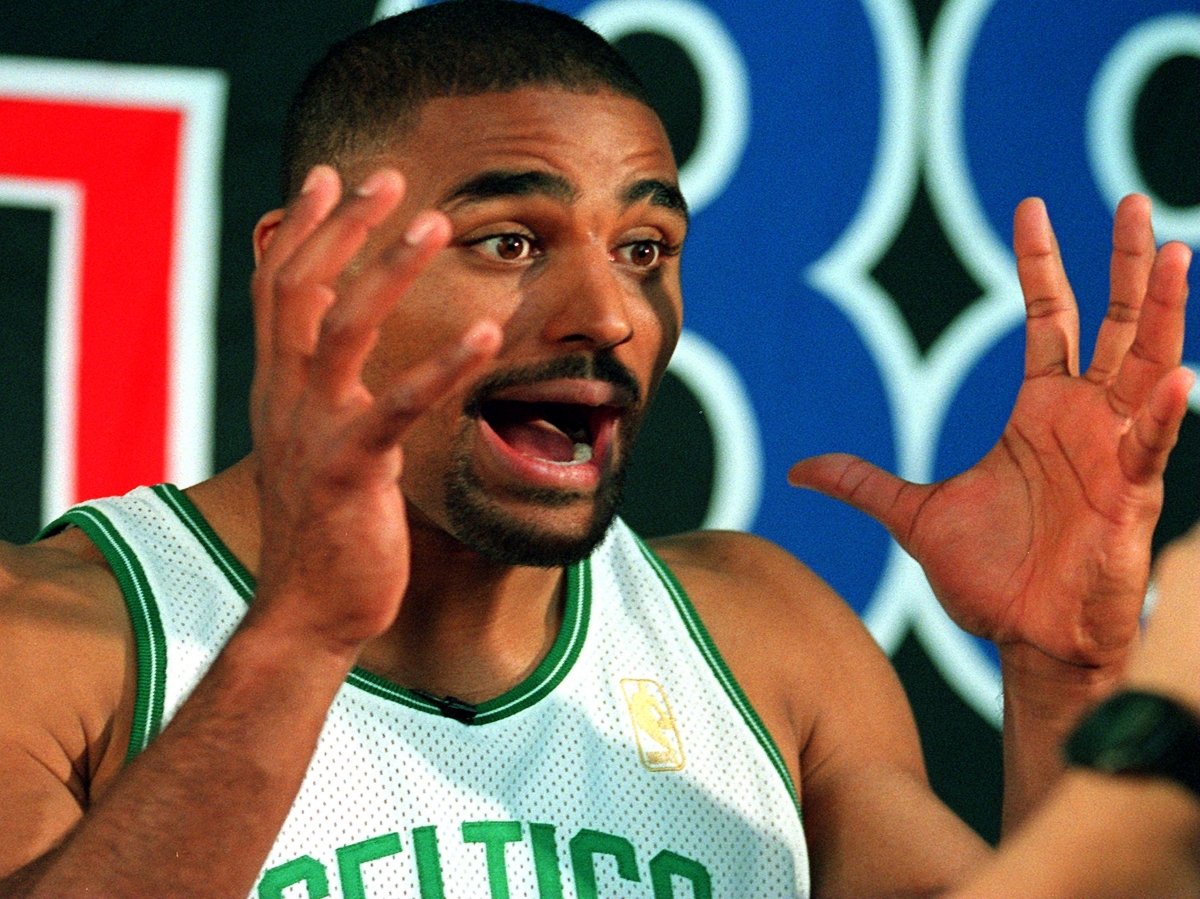 Red Auerbach picked Rick Fox with the 24th overall pick in the 1991 draft — the summer before Larry Bird's final NBA campaign. Fox played his first six seasons in Boston and started every game but one during his final two seasons with the Celtics. He averaged 14.7 points, 5.4 rebounds, and 4.2 assists on 36.4% shooting from three those two years.
But an unceremonious exit sent him west.
The North Carolina product had assurances he would be re-signing with the Celtics. But the arrival of Rick Pitino changed a lot in Boston, including Fox's relationship with the organization.
The 6-foot-7 forward had his rights renounced so the team could sign forward Travis Knight. Fox became a free agent and couldn't re-sign with Boston for 90 days, he explained, in an interview with Bill Simmons on the B.S. Report.
"At that point, I was so crushed, I just was hurt. … I bleed green. I'm a Celtic. How did this happen? So I was really upset.

"Jerry West called the next day."

Fox on his departure from the Celtics
Fox joined the Lakers and became a key role player alongside O'Neal and Bryant
The 13-year veteran crossed the Celtics/Lakers divide at the right time. Fox joined the Lakers the year after O'Neal and Bryant and he started all 82 games. Two seasons later, he came off the bench but played in every game as the franchise won its first of three straight titles.
In his interview with Simmons, Fox explained he saw the opportunity to join a Shaquille O'Neal-Kobe Bryant squad and bet on his chance to win championships.
"With the Lakers I thought, 'I'm going to get as far away as I can.' Shaq was there and I was the mini-GM thinking Shaq was going to win some championships. I'm going to go chase that, be a part of that team."

Fox on joining the Lakers
The sharpshooting forward went from a critical piece in Boston to a rotation player in LA. He averaged 23 minutes per game alongside O'Neal and Bryant. He scored a career-high 15.4 points his final season with the Celtics and averaged just 8.1 during the Lakers' three championship seasons.
He may have switched allegiances, but Fox got three rings out of it
Fox was a star with the Celtics and a champion with the Lakers and somehow managed to avoid most of the backlash of two fan bases that are not particularly fond of each other.
The three-time NBA champion told Simmons he was content with the way things turned out. Still, it wasn't as satisfying as it would have been for Fox if he had won in Boston.
"I'm grateful for it now, that it happened the way it happened, but I wish I still would've gotten one in green."
Well, he got three in purple and gold. That probably helps ease his pain.
All statistics courtesy of Basketball-Reference.
RELATED: Larry Bird's Legendary Jump Shot Began With a Lesson From His Sixth-Grade Coach: 'That, to Me, Changed Everything'