Larry Bird Explained Exactly How He Would Hit a Game-Winning Jumper and Then Trolled an NBA All-Star Immediately After: 'I Didn't Mean to Leave 2 Seconds on the Clock'
Boston Celtics legend Larry Bird always had a penchant for talking trash, as former Seattle SuperSonics forward and NBA All-Star legend Xavier McDaniel found out all too well.
Bird was never shy about mixing it up with his opponents during games or attempting audacious feats. This is the same guy who recorded a triple-double with his left hand. In this particular instance, he gave McDaniel a blueprint for a game-winning shot, though Larry Legend's execution of the play was only the start of the emasculation.
Larry Bird and Xavier McDaniel were among the foremost trash talkers of their era
The NBA used to have its fair share of trash-talking experts. Michael Jordan's psychological warfare remains a key component of his legend. Gary Payton was as mouthy as any player in basketball.
Larry Bird and Xavier McDaniel were also among the trash-talking elites, though they approached it in different ways.
McDaniel was a little more overt in his style. He got in people's faces and often embraced the bully role. This was especially true later in his career with the New York Knicks, when McDaniel served as an enforcer who helped implement coach Pat Riley's physical style of play. He really sought to intimidate Scottie Pippen during New York's battles with the Chicago Bulls in the early-90s.
Bird was typically more subtle and straightforward. He routinely harrassed on-ball defenders and toyed with opponents even at the most crucial junctures of a game. Larry Legend wasn't afraid to get physical with Bill Laimbeer, Julius Erving, and Kareem Abdul-Jabbar, but the arrogance made him a great trash talker.
The Celtics legend also relished the chance to go against other stars. His playoff duels with Atlanta Hawks great Dominique Wilkins live forever in the annals of the game. The same can be said about Bird's individual rivalry with Magic Johnson.
McDaniel had been an All-Star with the SuperSonics and was one of the better forwards in the NBA in the late-80s. He was a budding star when the Sonics and Celtics matched up in 1986. Needless to say, when Bird had the chance to prove a point to a young X, he seized that opportunity.
Bird told McDaniel and the Sonics exactly how he would beat them but lamented leaving any time on the clock
The Boston Celtics and Seattle SuperSonics battled down to the wire on December 30, 1986, with Bird and McDaniel taking center stage in the final moments.
McDaniel was having a strong game as the Celtics had the ball in the final moments. He led all Sonics players with 25 points to go with nine rebounds. However, the second-year pro had the terrifying prospect of guarding Bird at the end of the contest, and the Hick from French Lick let X know just how much trouble he was in.
According to McDaniel and Celtics head coach K.C. Jones, Bird came out of a timeout and immediately told X where he was getting the ball. McDaniel responded in the affirmative, only for the three-time MVP to say he would shoot the game-winner in McDaniel's face.
Sure enough, Bird got McDaniel isolated and posted him up before receiving the entry pass. He took one quick dribble before stepping back and drilling a jumper right in the Sonics forward's face.
As if that sequence of events weren't embarrassing enough for McDaniel, Bird hollered out, "I didn't mean to leave two seconds on the clock."
McDaniel might not have been a rookie, but it essentially served as a "Welcome to the NBA" moment, courtesy of Larry Bird.
Bird's 1986-87 season was one of his finest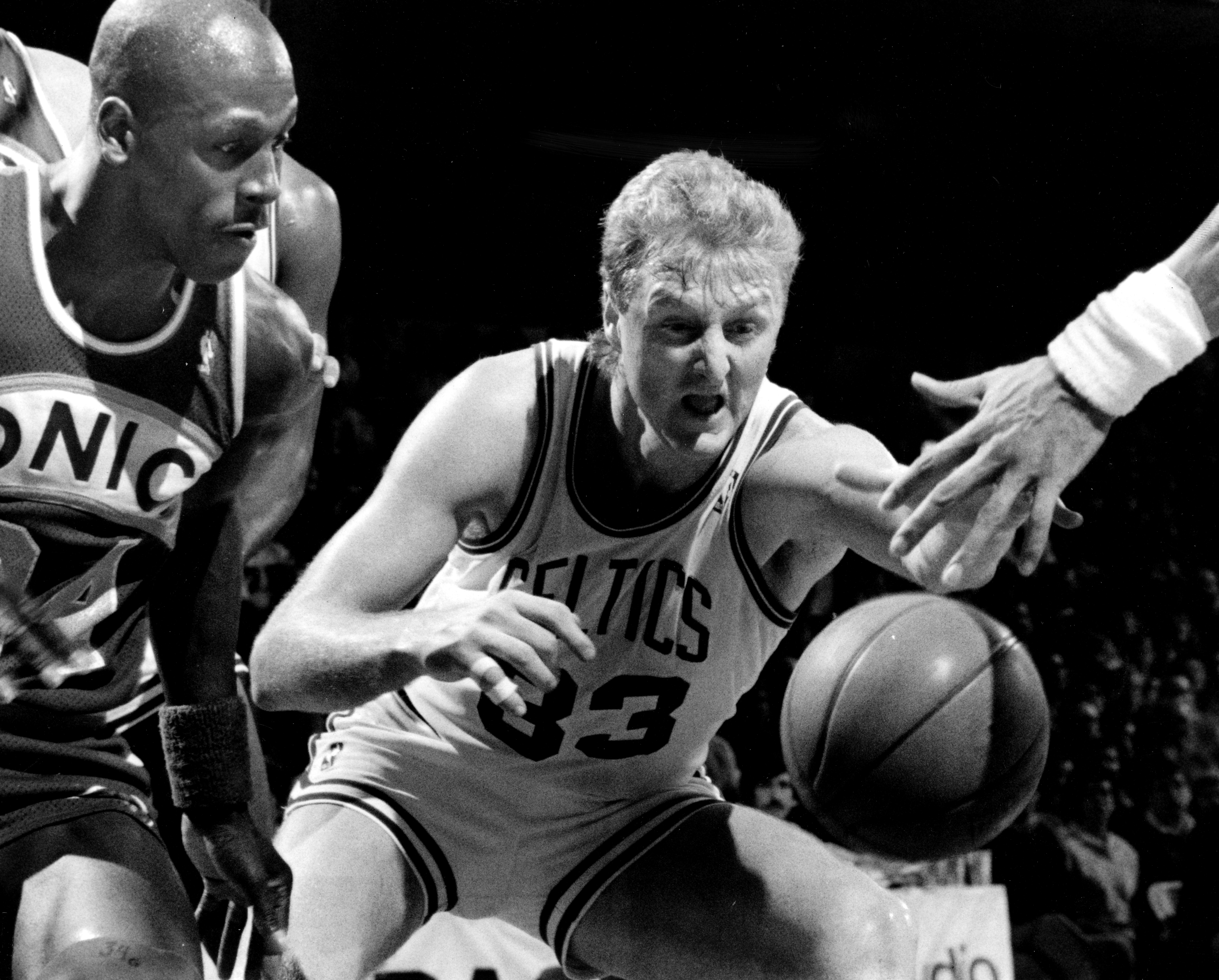 Larry Bird's stats during the 1986-87 season look like something out of the modern era.
Bird averaged 28.1 points, 9.2 rebounds, 7.6 assists, and 1.8 steals. He led the NBA at 40.6 minutes per game. That season also marked the first time Bird shot over 50% from the field, 40% from the three-point line, and 90% from the free-throw line, also known as the 50-40-90 club. He was the first player to accomplish the feat and one of two players in league history to do it twice.
The Hall of Fame forward achieved something historic that season and held McDaniels and numerous others prisoner with his disarming trash talk and late-game heroics.
Stats courtesy of Basketball Reference.
RELATED: Larry Bird's Angry 5-Word Verbal Jab Left An Unforgettable Memory for Rod Strickland