Larry Bird Gave a Future All-Star a 'Welcome to the NBA Moment' That Led to Clyde Drexler Teaching a Simple Lesson: 'Yeah, He Does That All the Time'
The guys who suited up against Larry Bird understood the Boston Celtics legend liked to talk some smack. Bird's penchant for chatter even included going at his teammates. Opposing rookies, though, never received the memo until it was already too late.
Former Portland Trail Blazers point guard and two-time NBA All-Star Terry Porter recalled the moment Bird gave him a "Welcome to the NBA" moment, which resulted in Blazers star Clyde Drexler imparting some straightforward wisdom that served as a slogan for Bird's career.
Larry Bird won league MVP and a ring with the Celtics during Terry Porter's rookie season
The Boston Celtics dominated the NBA during the 1985-86 season, with Larry Bird at the epicenter of the team's success.
Bird averaged 25.8 points, 9.8 rebounds, 6.8 assists, and 2.0 steals. He dwarfed all others in value over replacement player (8.4) and box plus-minus (8.7), impacting the game in every possible way for a Celtics team that won 67 games behind one of the best starting groups in NBA history. The Hick from French Lick captured his third league MVP and led Boston to a championship.
While Larry Legend remained at the peak of his powers, Portland Trail Blazers rookie Terry Porter merely hoped to carve out a role in the rotation.
Porter ultimately became the team's starting point guard in his sophomore season. He went on to make a pair of All-Star teams and developed a reputation as one of the clutch shot-makers of his era. However, Porter's rookie season brought plenty of teaching moments.
The Milwaukee native came off the bench in all but three of his 79 appearances and averaged just 15.4 minutes. Early in the 1985-86 campaign, he received his "Welcome to the NBA" moment, courtesy of Bird.
Clyde Drexler told Porter about Bird's trash-talking ways after Larry Legend clowned the Blazers rookie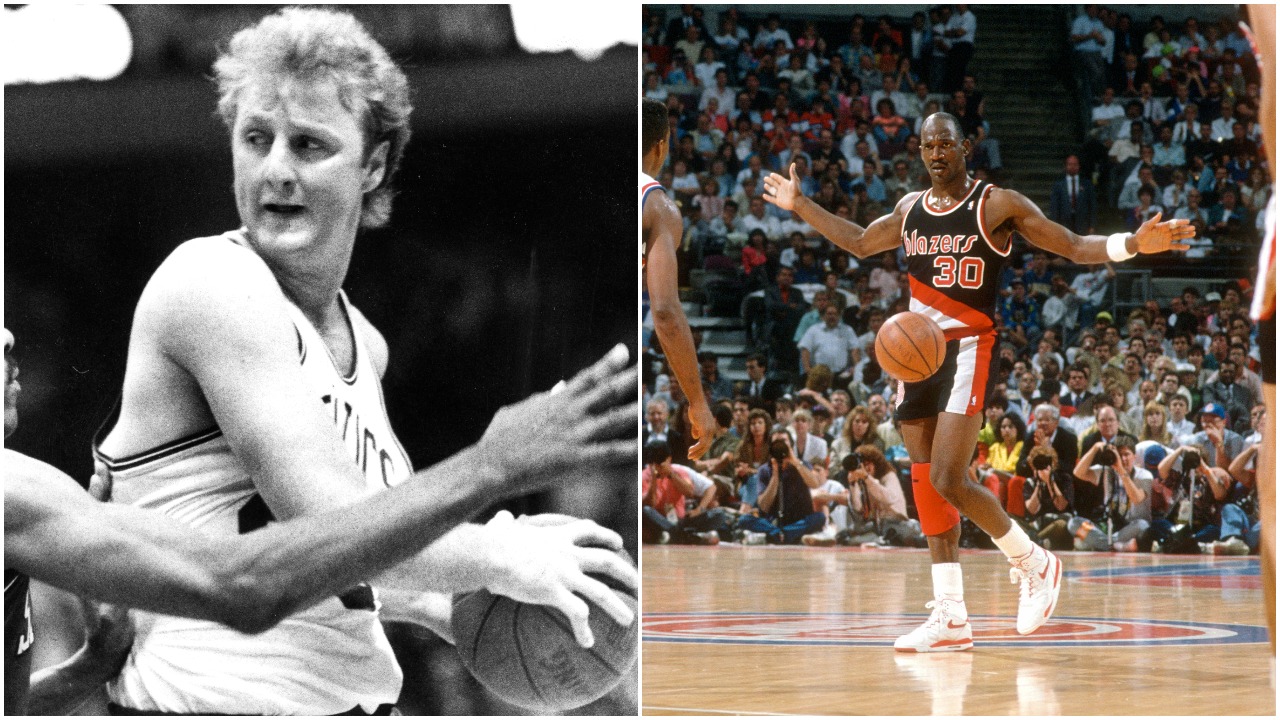 Terry Porter didn't know Larry Bird liked to talk on the floor. He learned soon enough.
Porter recalled (h/t The Athletic) a moment during his rookie season when he tried to close out on Bird in the corner. Before even shooting the ball, the Celtics star told Porter he was a step slow.
"My rookie year in Boston. He had the ball in the deep corner. I was sprinting to close out and he was in his famous form, and he shot it and as I was running out he said, 'Too late, rookie.'"

–Terry Porter, via The Athletic
The moment surprised Porter. He returned to the bench and told Blazers 2-guard Clyde Drexler how Bird clowned him. The Glide hardly flinched, letting Porter know he should expect an earful from the Celtics great in the future.
"I didn't even know he was a trash talker. I got to the bench and told Clyde, and he was like, 'Yeah, he does that all the time.'"

–Terry Porter, via The Athletic
Porter's recollection of that moment makes his interaction with Drexler seem like a "join the club" moment. That's fitting, because Bird demoralized scores of opponents with his bold declarations.
However, Drexler's response goes beyond a simple explanation of Bird's trash-talking habits, which included predicting game-winning jumpers. Indeed, it's a statement that defines Bird's career.
Drexler's statement explains more than just Bird's love for chirping his opponents
"He does that all the time" is far more than a description of Larry Bird's trash-talking escapades. In many ways, it defines Larry Legend's exceptional all-around game and ability to consistently leave mouths agape.
Bird made the extraordinary appear routine. He racked up triple-doubles using his off hand. He found impossible passing lanes and made shots from all over the floor.
The Hall of Famer's supreme confidence made for spectacular theater. That same arrogance also provided indelible memories for numerous opponents, all of whom (including Porter) came to understand nobody could not stop Bird from getting his way.
Stats courtesy of Basketball Reference.