Larry Bird Had Glowing Praise for Reggie Miller After the Pacers Star Beat Michael Jordan's Bulls on One Foot in the 1998 Eastern Conference Finals: 'He Put Everything on the Line and Stepped Up'
Reggie Miller is best known for his playoff heroics. And for his fights with Spike Lee on the sidelines at Madison Square Garden. Or sometimes both at the same time. But Miller also had some epic postseason battles against Michael Jordan and the Chicago Bulls, including one in which he led the Indiana Pacers to a win on one foot, impressing his head coach and Boston Celtics legend Larry Bird in the process.
Bird knew greatness when he saw it, and he saw it in Uncle Reg. Larry Legend went out of his way to praise Miller after the future Hall of Famer exploded in the fourth quarter on a bum ankle to lead the Pacers to a win in Game 3 of the 1998 Eastern Conference Finals.
Bird and the Pacers needed Miller's heroics against the Bulls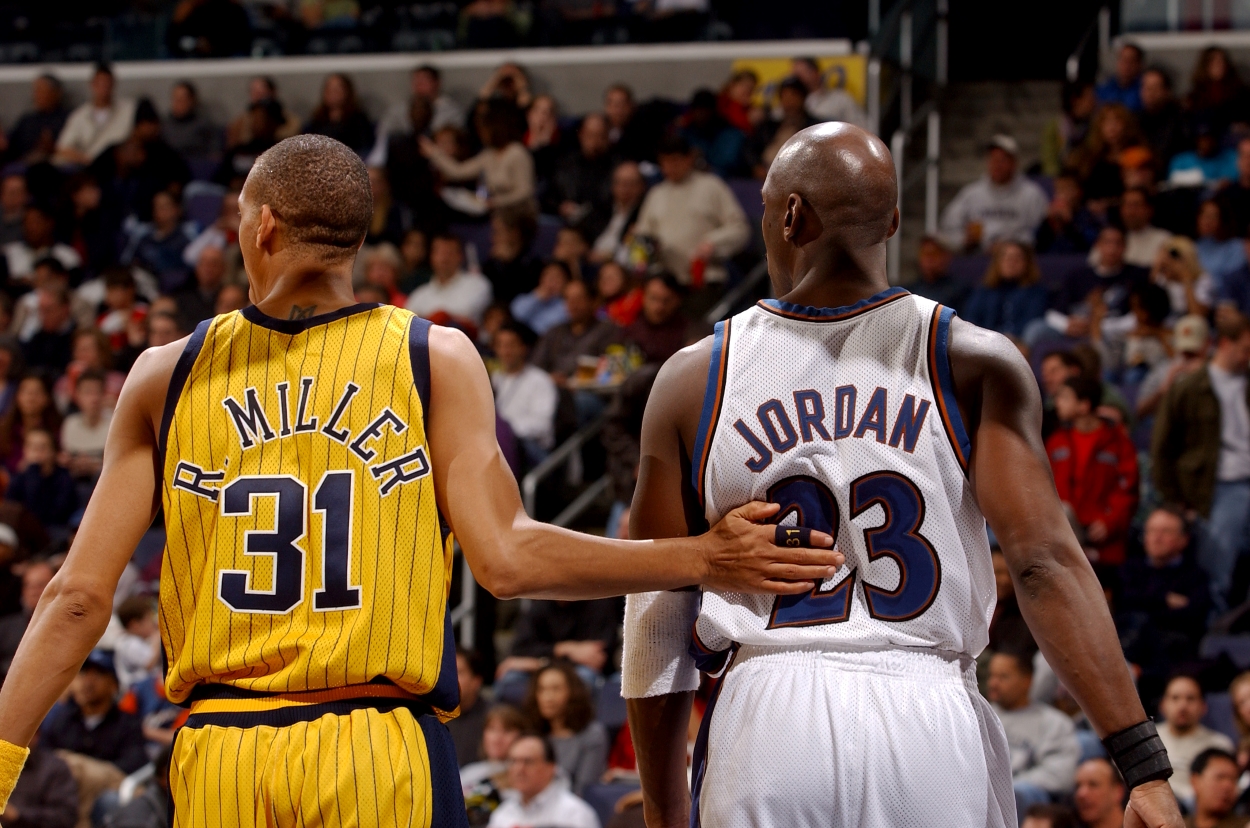 Miller did what Miller does and beat the Knicks in the conference semifinals by drilling threes. He hit a game-tying 3-pointer in Game 4 against New York, added seven more points in overtime, and then clinched the win with another three to give Indiana a 3-1 series lead. The Pacers closed out New York and moved on to face Jordan and the Bulls.
Chicago grabbed a quick 2-0 lead in the conference finals. Miller needed to come through if his team had any shot at getting back in the series.
In Game 3, the Pacers led by two with less than five minutes remaining. A loss would put them down 3-0 to Chicago and effectively end the team's playoff run.
Miller came through, scoring 13 points in the final 4:30 of Indiana's win
Miller only had 15 points heading into those final minutes, and to make matters worse, he was playing on basically one foot after injuring his ankle in the third quarter.
Regardless, five-time all-star hit "go" on the clutch button and came to life.
Miller drilled two 3-pointers in less than 60 seconds and then hit a 20-footer at the end of the shot clock on another possession to give Indiana a 97-89 lead.
He hit another three with 1:34 to play, but the Bulls didn't go quietly. Chicago fought back and came within one at 103-102, but the lanky shooting guard went 2 for 2 from the line in the final seconds as Indiana held on and stayed alive in the series.
According to NBA.com, Bird was glowing about what his star player did on one foot:
"He said he could go. He put everything on the line and stepped up and hit the big shots.

"But that's just Reggie."

Larry Bird on Reggie Miller's Game 3 in the 1998 Eastern Conference Finals
Miller had the "clutch gene" and he proved it once more against the Bulls
The Pacers won Game 4 with another gritty performance from their franchise cornerstone. With his ankle in even worse shape — "I shouldn't have been out there," Miller said — he shook Jordan around a series of screens and hit another clutch three to give the Pacers a one-point win.
Indiana eventually lost the series, and Jordan went on to hit his jumper over Bryon Russell for his sixth and final championship. Miller and the Pacers made the finals in 2000 but lost to the Kobe Bryant and Shaquille O'Neal Lakers.
It wasn't the first fourth-quarter playoff version of Miller Time, and it wouldn't be the last. But to do it to beat Jordan on one ankle and earn the praise of one of the greatest of all time in Bird made it a memorable one.
All statistics courtesy of NBA.com.
RELATED: Allen Iverson Once Earned a Technical Foul but Terrified the Official out of It Before He Could Even Blow His Whistle