Larry Bird Had No Idea Who a Famous Singer Was but Immediately Went to Their Concert After Being Compared to Them: 'It Was Too Loud for Me'
Throughout his NBA career, Larry Bird was as confident as any player in the league, and his intense focus helped justify it, as he became one of the greatest players to ever play.
However, while many other stars soaked up all the attention they could during the years they dominated the hardwood, that wasn't Larry's style. He wanted to be the best player he could be for the Boston Celtics, and that was what he put the majority of his energy into — even if it may have cost him some pop-culture and music knowledge during those days.
But despite the fact he didn't know who rock legend Bruce Springsteen was at one point during his playing career, Bird immediately went to his concert after hearing someone compare the two of them to each other.
Larry Bird was very focused on basketball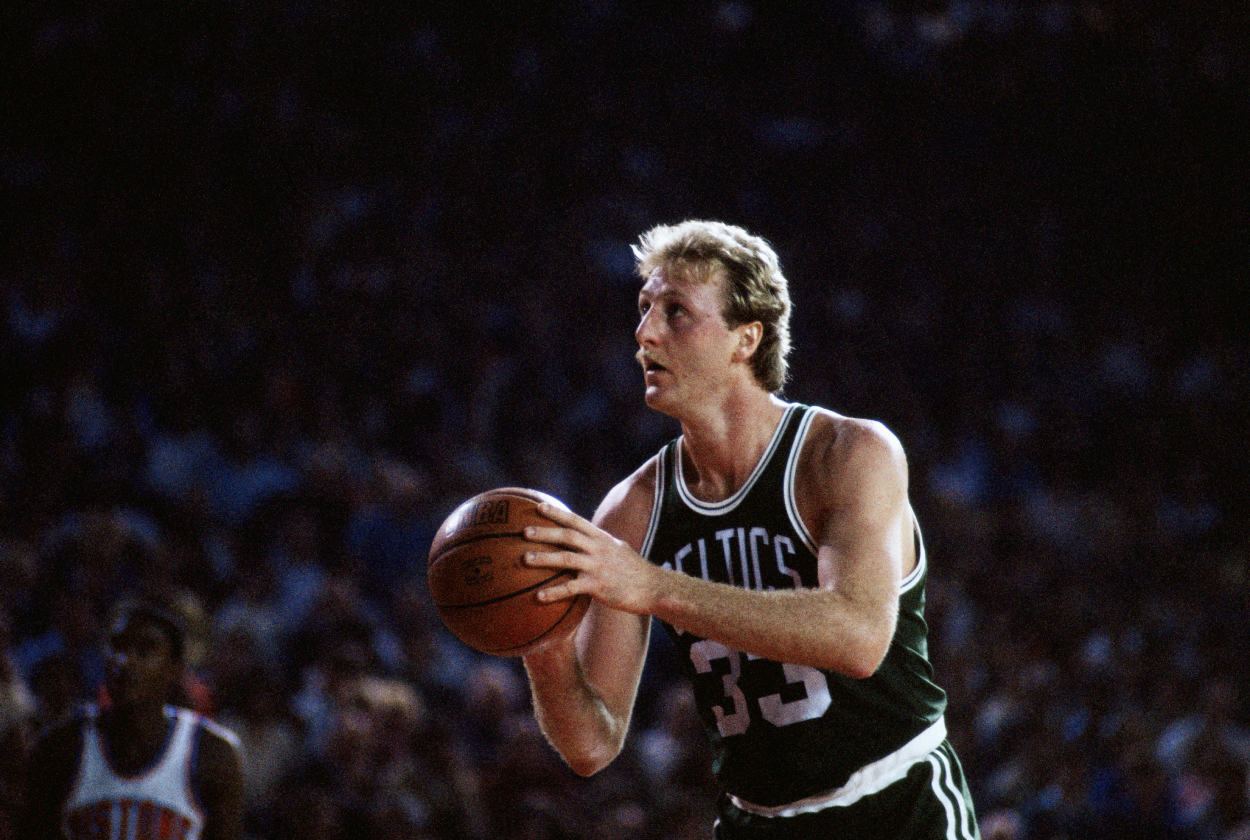 Former Boston Celtics beat writer Dan Shaughnessy recently recalled the time he first informed Larry Bird about who Bruce Springsteen was, and his simple comment about it actually said a lot: "All he cared about was basketball."
That appeared to be true about Larry throughout his NBA tenure.
Because of his success on the court, a plethora of companies from around the country wanted Bird's endorsement. But Bill Walton wrote in his book, Back from the Dead, that "while he (Bird) did do some of the commercials and sponsorship deals, it didn't really seem to be his thing."
Most players tried (and still try) to capitalize on their fame, but it appeared that Bird didn't want to be in the limelight. He just cared about being a great player.
That focus on his craft seemed to be part of the reason why he didn't know who Springsteen was back during his time in the league (the specific year of Shaughnessy's story is unclear). But he quickly learned after the reporter compared the two legends to each other.
Larry went to a Bruce Springsteen concert
Back when Dan Shaughnessy was covering Larry Bird and the Celtics, he says there was a time when he was in a Dallas hotel bar during an off-day, and Bruce Springsteen was performing at a venue next door on that same night.
"The doors flew open, and kids came rushing through the lobby to get to the concert, and Larry looks up, and he goes, 'What's that all about?'" Shaughnessy recalled on the Nov. 24 episode of The Rich Eisen Show. "I said, 'Well, Bruce Springsteen's playing next door tonight.' He said, 'Who's that?' I said, 'Larry, he's the you of rock-and-roll.' He goes, 'Oh, he must be pretty good then.'"
So, Bird then decided to go to the concert, but he supposedly wasn't the biggest fan of Springsteen's music.
"He said, 'Yeah, it was too loud for me; I don't like that music. But he sweats a lot, and I appreciate that work ethic,'" Shaughnessy said.
That's incredible.
Like Springsteen, though, Bird's work ethic also paid off and helped him become a legend.
Larry Bird's focus helped him become an NBA legend
Larry Bird's tunnel vision on becoming a great basketball player certainly paid off. He's still recognized as one of the greatest players to ever play in the NBA.
Throughout his 13-year career, in which he spent the entirety of with the Celtics, Bird earned 12 All-Star and 10 All-NBA selections, three league MVP awards, and three championships. He also won Finals MVP two times and finished with career averages of 24.3 points, 10.0 rebounds, and 6.3 assists.
Larry Legend then continued finding success in the league following his playing career. He had a three-year stint as head coach of the Indiana Pacers and even took them to the 2000 NBA Finals. Bird then later became the president of basketball operations for Indiana and drafted several successful players, including Danny Granger and Paul George.
It may have resulted in him not knowing who one of the most successful singers/musicians of all time was, but Bird's intense focus on the sport of basketball worked out for him in the long run.
Stats courtesy of Basketball Reference