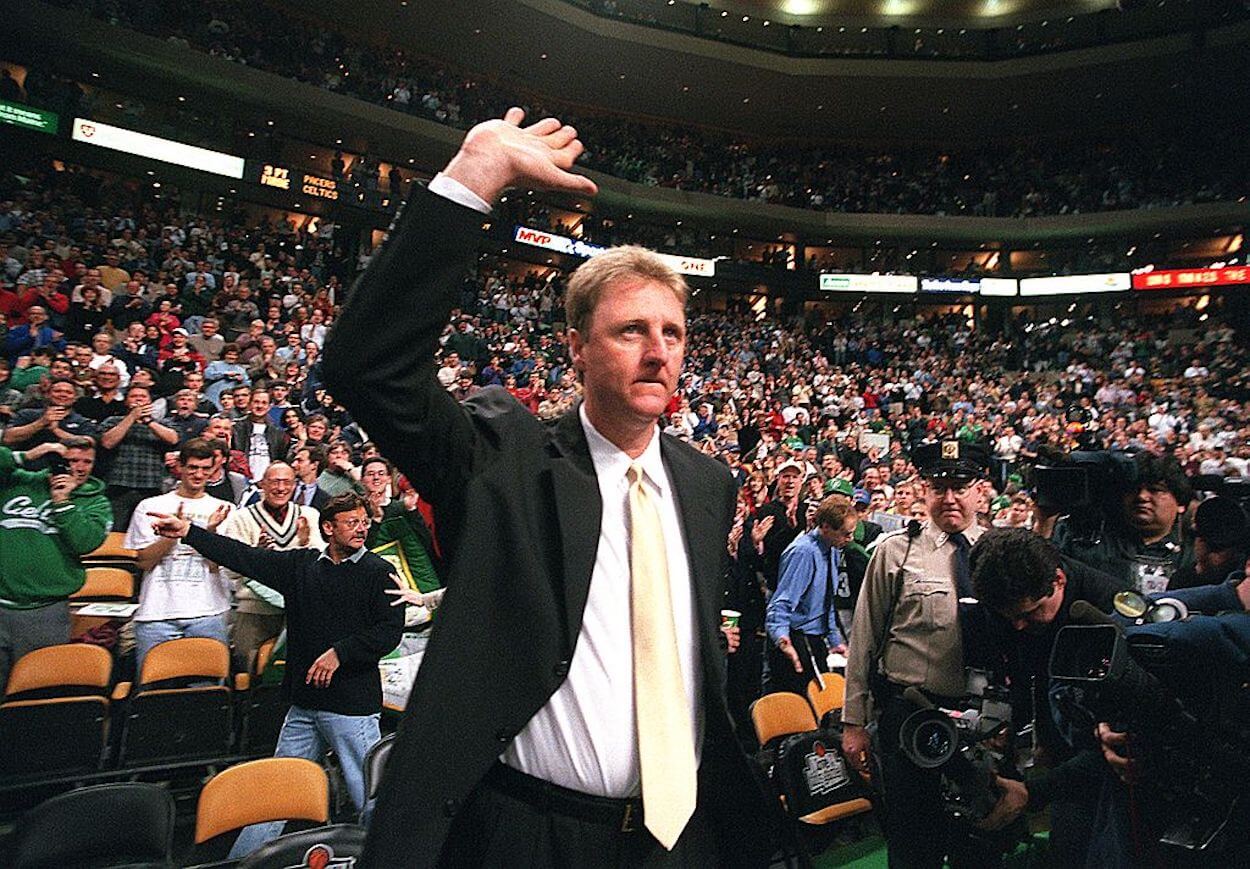 Larry Bird Is Returning to the NBA With a New Job
Even when he hung up his sneakers, Larry Bird couldn't leave basketball behind. Ahead of the 2023-24 season, that's still true.
When you're talking about elite NBA players, few names are bigger than Larry Bird. The famous forward was never the most athletic man on the hardwood, but that didn't stop him from finding plenty of success. Thanks to his shooting touch, unshakable confidence, and incredible talent, Larry Legend won three NBA titles, earned two NBA Finals MVP crowns, and took home three-time regular-season MVP honors.
The success didn't stop in retirement, either. The former forward stepped into coaching and was promptly named 1998 Coach of the Year with the Indiana Pacers. He then moved into the front office and, in turn, claimed the 2012 Executive of the Year crown.
Now, Bird is returning to the Association with a new job. We'll have to see how active his role will be, but precedent suggests that he'll find plenty of success.
Larry Bird has taken a consulting job with the Pacers organization
Over the years, Larry Bird has had more retirements than most athletes. He hung up his sneakers in 1992 after a nagging back problem proved to be too much and then left coaching after three seasons despite finding success on the sidelines.
Then, during his front office tenure, the famous forward stepped away from the job on a handful of occasions. He left the president of basketball operations post in 2012, citing health issues but returned in 2013. In 2017, Bird decided to step back again, telling the club's official website that he was 60 years old and wanted to do other things; he did, however, stay with the organization as an adviser. As of 2022, however, he was no longer working in that capacity.
"Yeah, he's not active," president of basketball operations Kevin Pritchard told Fieldhouse Files. "But look, Larry is a good friend of mine, and he's a good friend of Rick's [Carlisle]. At any time we need help, we know where to look. He's always available."
That availability, it seems, is a bit more pronounced than it seemed.
On May 30, 2023, the Pacers tweeted out a picture of Bird sitting on the sidelines. The caption simply read, "Larry Bird is back in the building serving as a consultant."
It's not clear what level of involvement the NBA legend will have — a consulting role can be rather flexible — the tweet and title suggest he'll be more involved than simply being an informal sounding board for Rick Carlisle.
Either way, though, Bird has re-entered the building.
While Larry Legend won't turn the Pacers around with his mere presence, he's clearly a good resource to have around
As mentioned above, it's not 100% clear what duties Larry Bird will be taking on with the Pacers. It is safe to assume, though, that he'll be working in a rather hands-off and limited capacity. The living legend will probably watch some games, offer limited insights to the front office and coaching staff, and, should the situation arise, chat with a player or two.
With all due respect to Larry Legend, his mere presence won't be enough to turn the Pacers around on its own. A consultant, no matter how knowledgeable he may be, can only affect so much. Bird isn't going to get on the floor and pull down defensive rebounds, no matter how much Indiana needs somebody to do it.
With that being said, though, there is some potential upside to be found.
The Pacers organization is attempting to rebuild, and the 2022-23 campaign did have some bright spots. Tyrese Haliburton stepped forward as a legitimate talent; Andrew Nembhard and Bennedict Mathurin proved more than capable of cutting it at the pro level. Myles Turner took his game to another level.
Perhaps Bird's presence — he knows a thing or two about handling the pressure and stepping up in a big spot — can help those players take things even further. If nothing else, the likes of Buddy Hield and T.J. McConnell would probably appreciate spending time around one of basketball's premier marksmen.
And lest you think that Bird is just going to shake some hands and tell a few stories, remember that this man found success on the sidelines and was once named NBA Coach of the Year. He clearly knows how to communicate with players and help them improve.
Alternatively, you could speculate that the Pacers brass will want to pick Bird's brain about how to take the roster to the next level. The club has some nice pieces but could sorely use a big body capable of playing tough defense and cleaning up the glass. Again, Larry Legend found success as an executive, so it's not like he's just spouting "back in my day" cliches and trying to apply them to modern talent.
In the grand scheme of things, the hiring of a single consultant is pretty insignificant in the scope of an entire NBA season. When we're talking about Larry Bird, though, things are a bit different.