Larry Bird Learned How to Be an NBA GM Even Before He Became an NBA Player Thanks to a Shrewd Move by Red Auerbach: 'At the Time I Couldn't Believe It. I Didn't Know Why Red Did That'
Larry Bird is one of the greatest players in NBA history, but he also found legitimate success as a head coach and general manager. After his playing career ended, Bird went on to a prosperous coaching stint with the Indiana Pacers and then moved into the franchise's front office. Celtics architect Red Auerbach had a significant impact on Larry Legend's playing career and everything that came after.
The unusual way Auerbach went about drafting the future Hall of Famer — a move that changed the course of NBA history — taught Bird his first valuable lesson on teambuilding.
Larry Bird was drafted by Auerbach a full year before he arrived in the NBA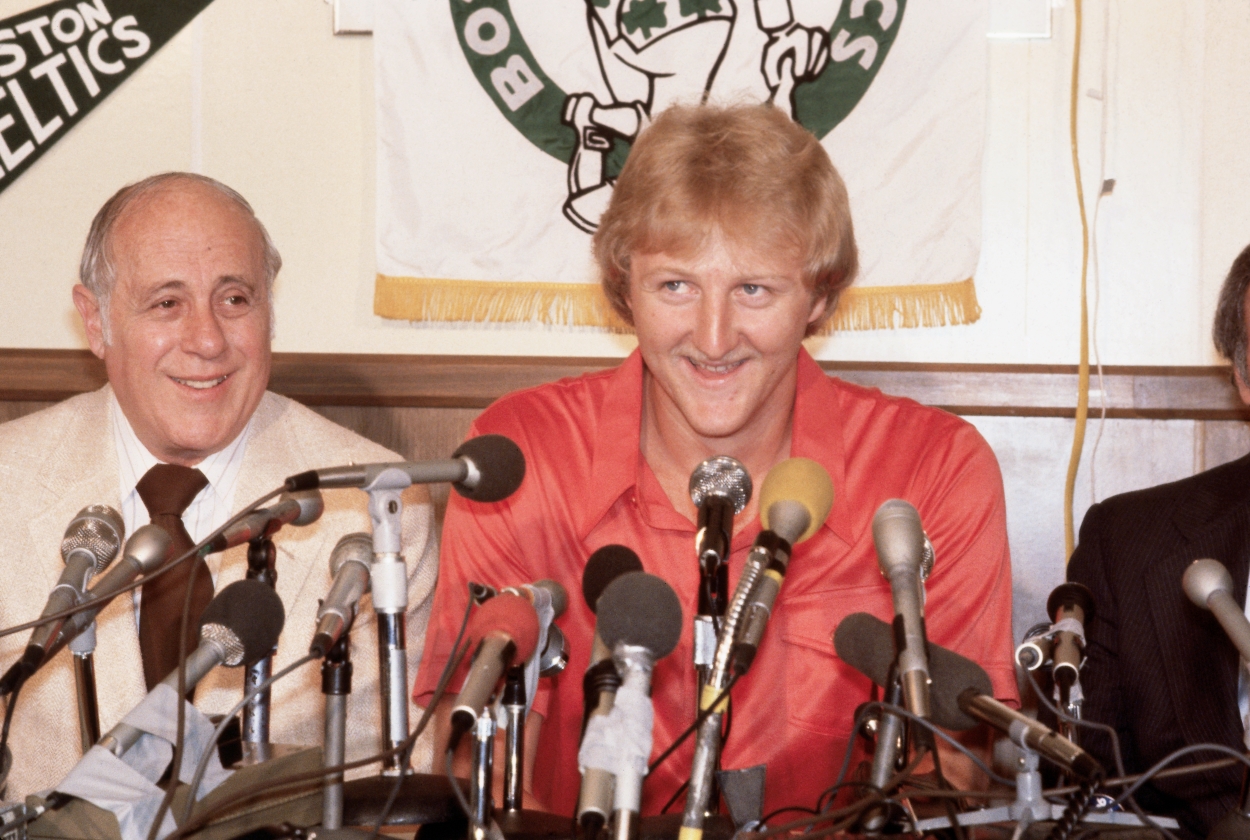 Auerbach made a litany of brilliant moves as a coach, GM, and team president. Still, maybe the most surprising and imaginative decision he ever made was to draft Bird after his junior season at Indiana State in 1978. Technically, 6-foot-7 forward was draft-eligible, but he didn't graduate and enter the NBA until 1979.
By the time Bird was an entrant into the draft, Auerbach and Boston already had his rights.
"At the time I couldn't believe it. I didn't know why Red did that," Bird said, according to the Poughkeepsie Journal.
The three-time NBA champion took that lesson — and dozens of others from his mentor — into his own career as a head coach and GM.
Bird began to learn how to build a team through his draft experience
Eventually, Bird landed back in Indiana as the Pacers' head coach. In 1997-98, his first season with the franchise, he led his team to a Game 7 against Michael Jordan and the Chicago Bulls in the Eastern Conference Finals. He was named the NBA's Coach of the Year that season. Two years later, the Pacers made the NBA Finals under Bird's watch.
The three-time NBA MVP became Indiana's president of basketball operations in 2003. After the 2011-12 season, Bird was named the NBA Executive of the Year.
The Malice at the Palace forced Bird to eventually trade Ron Artest, Stephen Jackson, and Jermaine O'Neal. Reggie Miller retired. Indiana was never a destination for free agents and Bird never had a shot at the No. 1 pick in the draft.
Instead, he drafted, signed, and traded around the edges. Paul George was the 10th overall pick in 2010 after two seasons at Fresno State. Bird selected New Mexico's Danny Granger at No. 17 in 2005. Lance Stephenson, Roy Hibbert, and Myles Turner all were, or currently still are, contributors to winning teams.
David West arrived with the Pacers through free agency. George Hill came via trade.
As Bird also said in the Poughkeepsie Journal interview about Auerbach:
"When he made his mind up and made a decision, whatever the consequences were, he lived with it. That makes a difference with me now. When I do something and it doesn't work, at least you thought it was going to work at the time you made the decision."

Larry Bird on what he learned about teambuilding from Red Auerbach
Bird coached and built a competitive Pacers' franchise through the lessons he learned from his mentor
His Executive of the Year honor made Bird the only man in HBA history to win an MVP as a player, a Coach of the Year Award, and an Executive of the Year Award. Auerbach's fingerprints are all over each one of those awards.
The way the 1980 Rookie of the Year built a franchise is often overlooked, perhaps rightfully so given his playing career. Auerbach influenced every stop of Bird's playing career, though, and the beginning of the 12-time all-star's GM chops came from his bizarre — but astute — draft experience.
Draft information courtesy of Spotrac.
RELATED: Paul Pierce Used a Major Career Disappointment as a Catalyst to Reach the Hall of Fame: 'It Motivated Me Every Day'