Larry Bird Locked Down the Indiana Pacers Head Coaching Job After 1 Brief Meeting
Larry Bird dispelled the notion early on that you need to have elite athleticism to succeed in the NBA. The Boston Celtics star became a 10-time All-NBA selection and three-time MVP while also winning three championships. He also proved that superstar players can become successful head coaches.
Several years after his playing career ended, Bird became the head coach of the Indiana Pacers. And as you might expect, it didn't take long for Larry Legend to prove he was the right man for the job.
Few coaches were better players than Larry Bird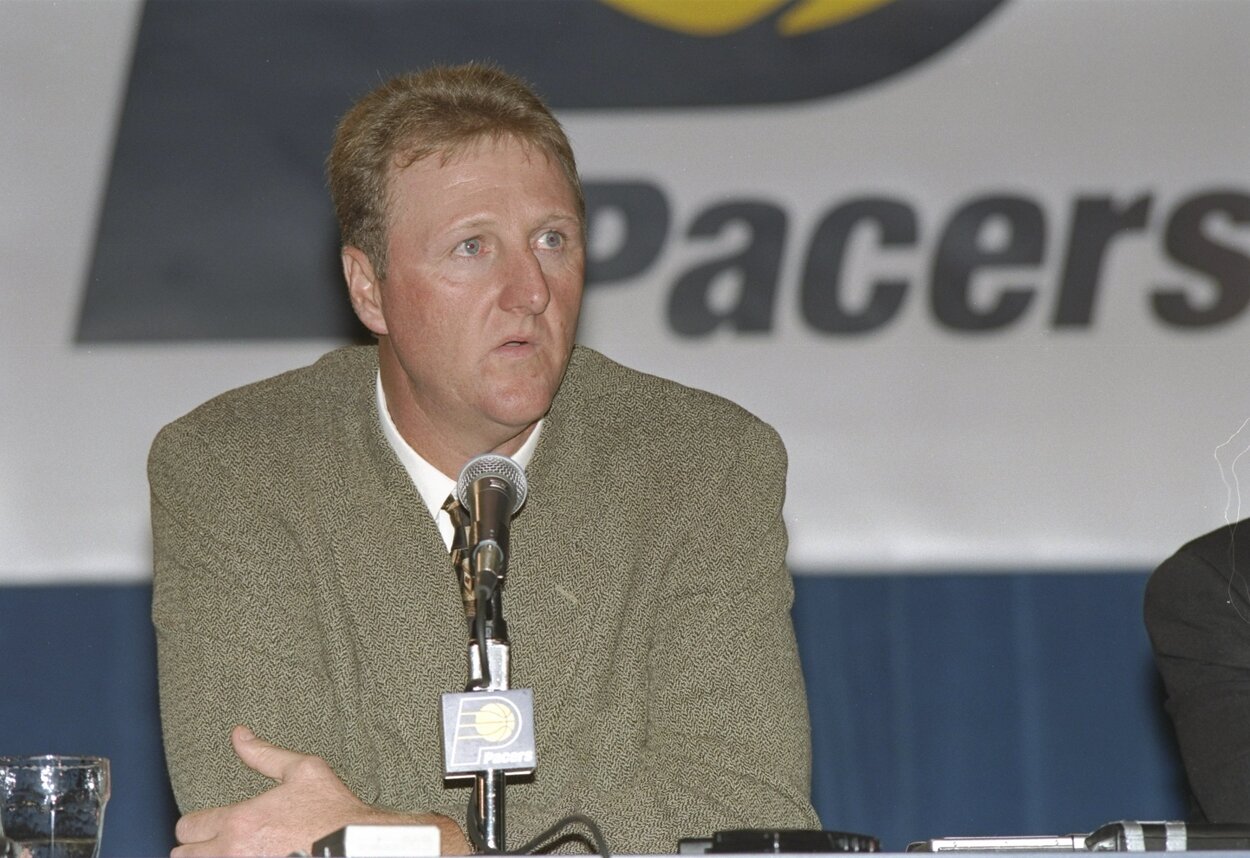 Among the list of NBA head coaches, Bird's resume from his playing days is better than nearly all of them. Only Magic Johnson, Bill Russell, and Isiah Thomas can compare to the Celtics great turned Pacers head coach.
Bird made 12 All-Star Games in his 13-year career. The lone exception came in 1988-89, when Larry was only able to muster six games the entire season after having bone spurs removed from both of his heels. He also earned three All-Defense honors in his illustrious career.
When Bird called it quits after the 1991-92 season, he left with career averages of 24.3 points, 10.0 rebounds, and 6.3 assists. He managed to shoot 37.6% from three, including six seasons of 40% or better. He remains second all-time in Celtics history for win shares, trailing the 11-time champion Russell.
The Indiana Pacers wanted to hire Larry Bird after one meeting
The Pacers had a successful run throughout the early 1990s, making seven consecutive trips to the postseason. But after a 39-43 record in 1996-97, Larry Brown resigned after four seasons on the job. Meanwhile, president and general manager Donnie Walsh was already contacting Bird even before Brown's resignation came through.
Walsh was enamored with the idea of Bird, a native of French Lick and alum of Indiana State, coming home to coach. However, there were a couple of hurdles. One, the 40-year-old Bird had never coached at any level before. And two, save for passing handshakes, Walsh and Bird had never actually met.
Still, the Celtics' special assistant was interested enough to talk to Walsh about the opening. And it didn't take long for the Pacers GM to decide Larry Legend was the guy for the job (h/t: New York Times).
"We met at the Final Four [in Indianapolis] in March. After an hour and a half, he was the only guy I wanted. Everything he told me, that's what he did.

He said he would get them in better condition, and that's what he did. He said he didn't like lateness, and he would be strict, and that's what he did. He said he would delegate authority to good coaches, and that's what he did. He also told me that he believed in preparing his team and letting them play, and that's what he did. He knew the team and he knew what it lacked."

Donnie Walsh
Bird and Walsh's meeting came at the end of March. By May 9, Bird was officially announced as the next head coach of the Pacers.
Bird's coaching career was brief but excellent
From the jump, Larry knew his time on the bench would be brief. Bird planned on coaching for three seasons before moving on to greener pastures. And that's exactly what he did, but not before leading the Pacers on a productive three-year run.
"Larry established things and stayed with them," Walsh once told the Boston Herald. "He had practice the same time every time. Our team left for the plane [at] the same time every time. … It created a routine, and the players, without even knowing it, started playing like that. He made them understand what they had to do and he made them do it by habit — and that carried over onto the floor in games. They knew what to do."
In his first season, Bird took a 39-43 team on the decline and turned them into a 58-24 powerhouse that came one game short of beating the Chicago Bulls in the Eastern Conference Finals. The Pacers made it back to the ECF the following year but fell in six games to the New York Knicks. Then in his third and final season as the coach, Larry Legend guided the 56-26 Indiana Pacers to the NBA Finals, which ended in a six-game loss to the Los Angeles Lakers.
If Bird decided to remain the coach for longer than three years, the Pacers could have won their first NBA championship. But even if it was just three years, hiring the great Larry Bird worked out swimmingly for Walsh.
All statistics courtesy of Basketball Reference.