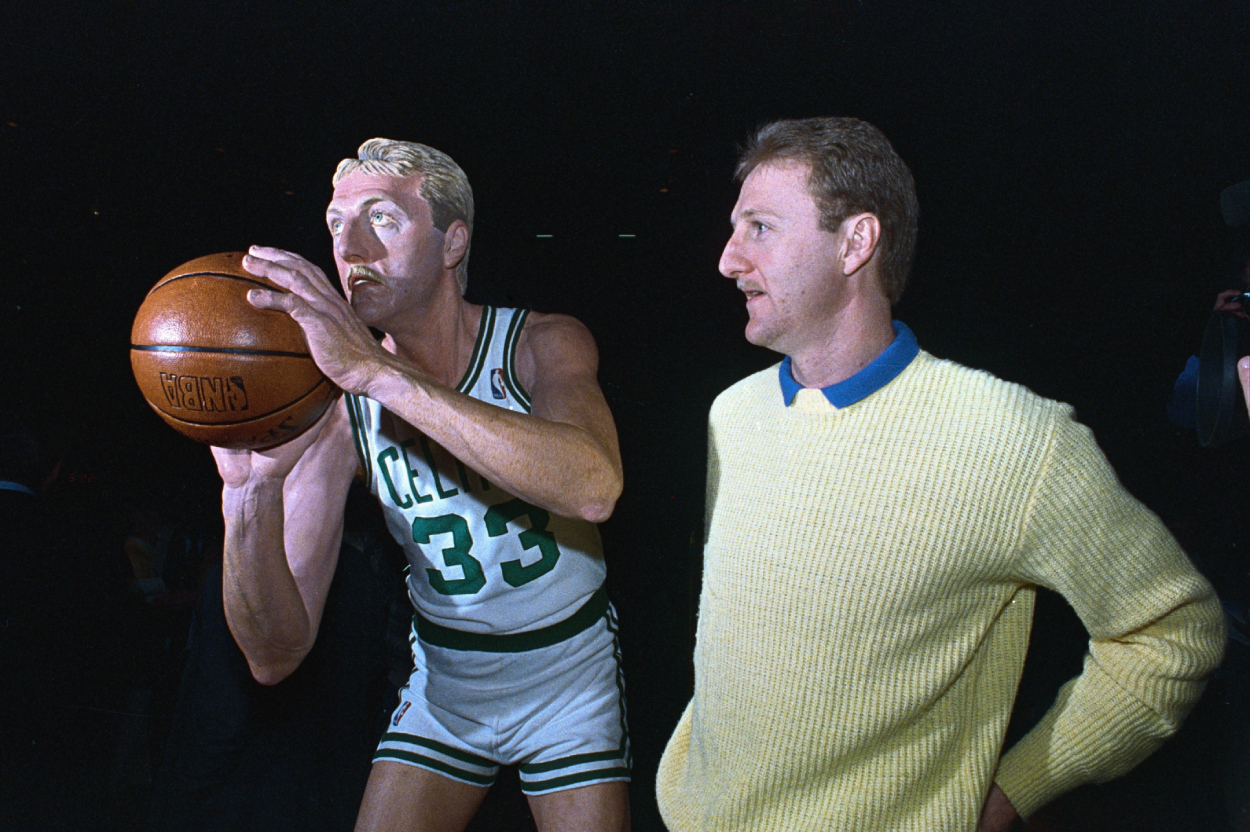 Larry Bird Once Found Himself In Awe of His $250,000 Twin: 'Probably Got a Better Vertical Jump Than I Do'
Larry Bird was the greatest player to ever put on a uniform, according to the late Red Auerbach.
There wasn't anyone else like Boston Celtics legend Larry Bird. Or maybe there was. Bird, the owner of three straight MVP honors and three NBA championships, was like no other. In 1988, he found the closest thing to himself and was in awe from the get-go.
Red Auerbach called Larry Bird the best player to ever put on a uniform
Either Red Auerbach was bluffing when he was negotiating a rookie deal with Bird or he legitimately didn't know how good the future Hall of Famer was. During negotiations, the former Celtics president referred to Bird as just a "cornerman" and wasn't ready to make him the highest-paid rookie.
"A cornerman can't dominate the game," Auerbach said during negotiations with Bird's agent Bob Woolf, according to Sports Illustrated. "A big man, occasionally even a guard. But one man playing a corner can't turn a franchise around."
Auerbach eventually gave in with a huge deal for the rookie. Bird certainly turned the Celtics franchise around, guiding the Celtics to three championships in the 1980s.
He played 13 seasons in Boston and earned his way into the Naismith Memorial Basketball Hall of Fame. Auerbach went from labeling Bird a cornerman to calling him the best player ever.
"I've done a lot of soul-searching," Auerbach said in 1988, according to United Press International. "I've decided, quite frankly, that he's the greatest player ever to put on a uniform."
Larry Bird was in awe at the statue of himself unveiled at the Boston Garden in 1988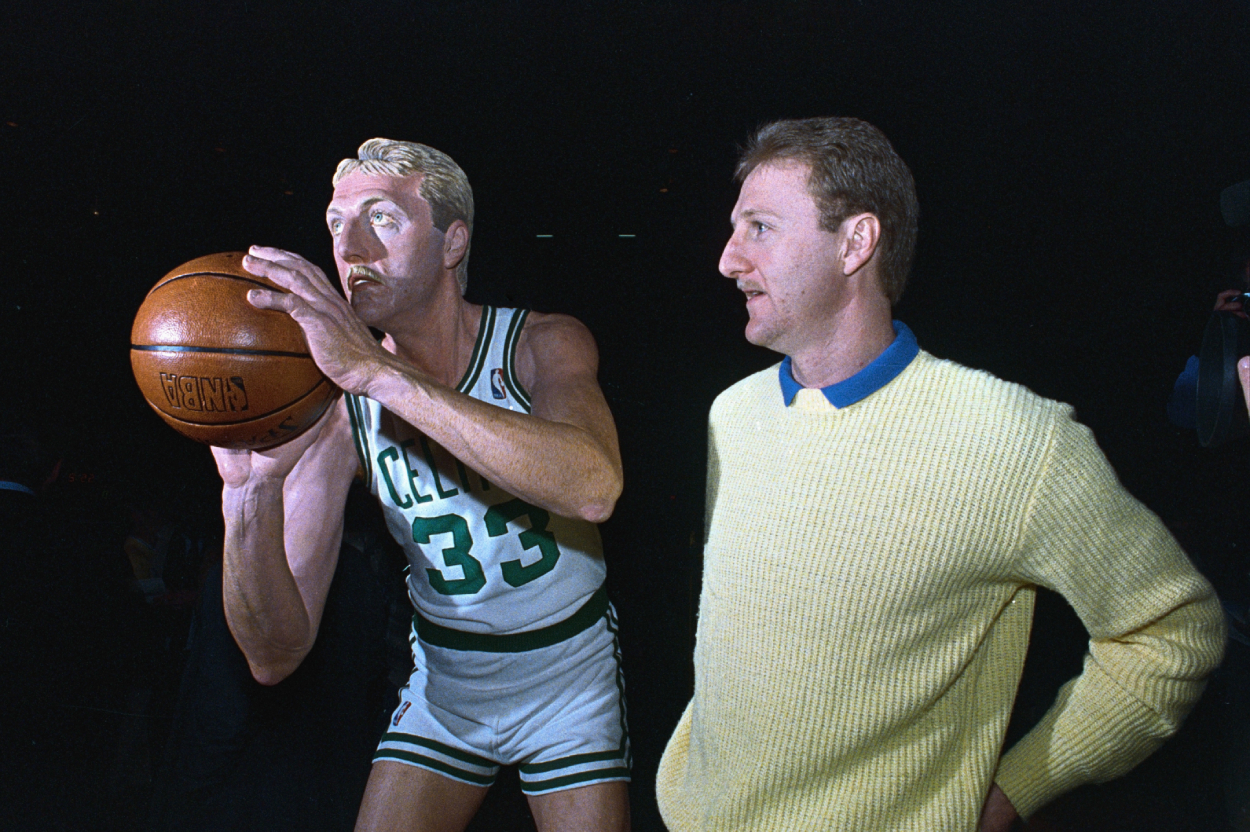 A life-sized, wooden statue of Bird was unveiled in 1988 prior to a Celtics home game. Armand LaMontagne, a woodcarver who also sculpted statues of icons Ted Williams and Babe Ruth, amazed Bird with the details of his work.
"It's amazing what the man can do," Bird said during a news conference at the Garden. "It is a great honor because I'm still playing, still alive. I'm glad I can enjoy it now."
Bird took another good look at the clone of himself before going out for his pregame warmup.
"The detail is unbelievable," he said. "The hurt fingers, the scars. It's probably got a better vertical jump than I do, and it may be a little bit faster, but I don't know if it can shoot as good."
The statue has Bird at the free-throw line focused on a pending foul shot. Its precise detail includes a scar under his right eye and a permanently damaged finger.
For a brief time, the $250,000 statue was almost as popular as Bird himself
The unveiling of the statue brought Bird's friends and family to Boston that night. His mother, Georgia Bird, was in attendance. His Springs Valley High School coach, Gary Holland, also flew in for the game against the Indiana Pacers to witness the event.
The statue, carved from an 1,800-pound block of laminated basswood, went on a little tour of its own following the game. It traveled to six different Bank of Boston locations throughout New England before finding its permanent home at the New England Sports Museum.
LaMontagne's statue isn't the only one out there of Bird. Indiana State University also boasts one, honoring their best basketball player of all time. Bird guided the school to the 1979 national title game against Magic Johnson and Michigan State.
In 2013, the Sycamores unveiled a 17-foot-tall bronze statue of Bird in front of the Hulman Center.