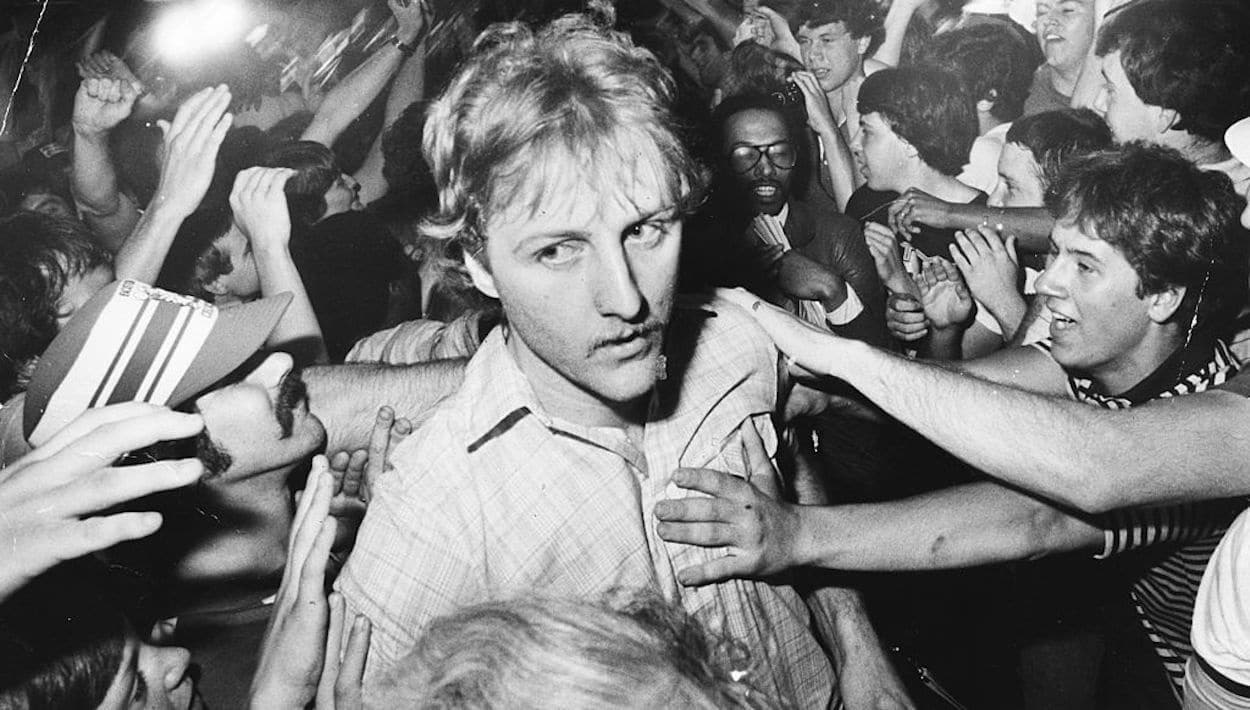 Larry Bird Owed His Personal Autograph Rules to a Rejection From Dan Issel
If you want an autograph from Larry Bird, you've got to fit into one key category. Thanks, Dan Issel.
During his time in the Association, Larry Bird was one of basketball's biggest stars. Between his raw talent and on-court success with the Boston Celtics, the famous forward would have a dream target for any autograph seeker. As you might expect from his insistence on doing things his own way, though, Larry Legend wasn't always the most compliant celebrity around.
Bird, like it or not, played by his own set of rules. He'd make time for children but refused to sign for adults.
And lest you think that the famous forward was just trying to be difficult, there was some logic behind that policy. It all stemmed from his own experiences as a boy trying to get an autograph from Dan Issel.
Let's break it down.
Larry Bird would make time for children because Dan Issel didn't make time for him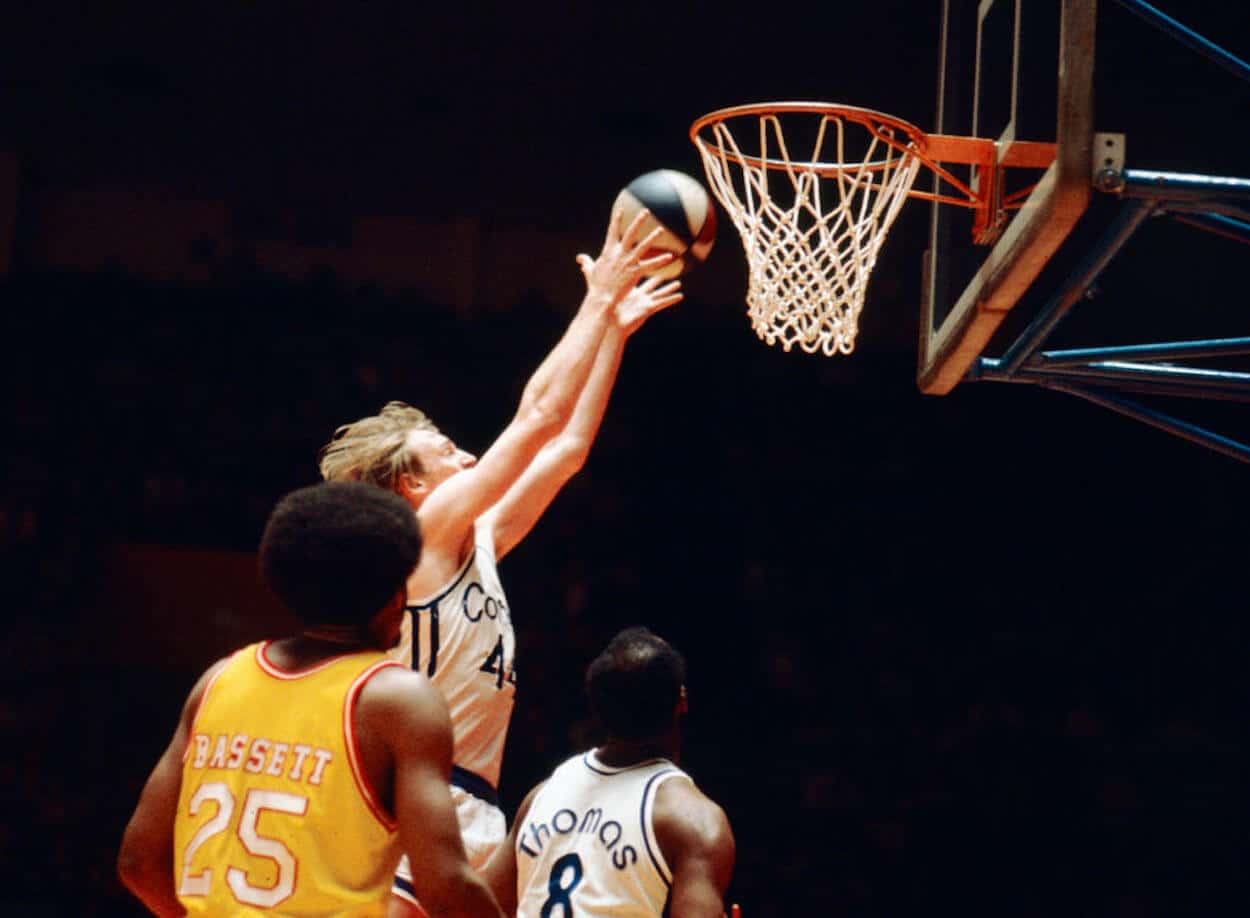 These days, NBA players are big-time celebrities who are largely insulated from their fans. During the 1980s, though, Larry Bird did things a bit differently. Allow Dan Shaughnessy, who wrote Wish It Lasted Forever: Life With the Larry Bird Celtics, to explain.
"On the game day in Indy, I strolled into McDonald's with Bird before the short ride to the gym," the veteran scribe remembered. "Being with Larry Bird at a McDonald's in Indiana reminded me of the scene in Coming to America when a Madison Square Garden vendor discovered he is in the presence of the crown prince of Zamunda. Hoosier teens working the counter at McDonald's were gobsmacked."
As you might expect, plenty of autograph-seekers came over to the star during his time in the restaurant. Thanks to an experience in Bird's youth, though, only children had any success.
Bird signed autographs for kids, none for adults. He knew what it was like to be a kid awestruck by pro ballplayers. He'd once been rebuffed when he asked for Dan Issel's autograph at a Kentucky Colonels game.

Dan Shaughnessy
Elsewhere in the book, Bird provided a bit of extra detail.
In Dan Issel's book, he claimed that he brought a teenager to the Celtics locker room so that she could get the star's autograph. The big man wrote that Bird was rude and said "I don't think I'll ever forgive him for that." When Shaughnessy read No. 33 that passage, the Celtic was quick to point out why he wasn't keen on signing.
"You know where I learned how to be like that?" Bird mused. "I learned that from Dan Issel. When I was in eighth grade, I went with a friend to see an ABA game. I got Artis Gilmore's autograph and Louie Dampier's, but Dan Issel wouldn't sign."
Jumping back to Bird in that McDonald's the story wasn't done. Since this is Larry Legend we're talking about, he couldn't resist including a bit of trash talk when adults pushed their luck.
"Bird had no use for autograph-seeking adults, and if a desperate gentleman tried the time-tested 'My wife will kill me if I don't get your autograph,' Bird would send him away with 'Well, I guess she's married to a dead man,'" Shaughnessy added.
While it's not quite an autograph, hearing that from Larry Bird would still make for quite the story.
Even if you got a Bird autograph, it might not be what you wanted
As you might expect from his stardom, Larry Bird was asked for plenty of autographs over the years. And while he didn't deny all of those requests, let's just say that some fans came away with a rather unique signature.
In a 1991 Sports Illustrated story, Jack McCallum wrote about Bird's experiences traveling around the country. The forward apparently took issue with the hypocrisy of autograph-seekers who would compliment him, then talk trash or tell him how the Celtics were going to lose after receiving what they were after. The piece also included a few instances of trash-talk, with Bird asking adults who wanted his signature if they had a job and suggesting they join the Marines.
That wasn't the only trick in Larry Legend's book, though.
The piece also noted that, on occasion, Bird would sign "Pete Rose" when asked for an autograph. Head coach Chris Ford, however, brought an end to that practice. "But Doc made me stop when I signed it on the team photos," the forward explained.
And lest you think that No. 33 was more gentle with fellow celebrities, consider Ben Affleck's autograph request. After selling Good Will Hunting, he wanted to get a Larry Bird autograph as a gift for Matt Damon. The famous forward did comply, but he did so on his own terms.
Affleck requested that Bird write "The wonderful arrogance of Larry Bird! Two to tie, 3 to win!" in reference to a famous line of commentary uttered when Larry Legend buried a game-winning jumper. The man himself had a different idea, though.
"I asked Larry if he'd inscribe all that to Matt, and he just said, 'Too long,' and wrote, 'Matt . . . best . . . Larry,'" Affleck remembered.
When you take all of that in combination, a Larry Bird autograph becomes that much more special. And to think, that's partially because of Dan Issel and his decision to ignore a then-unknown child.