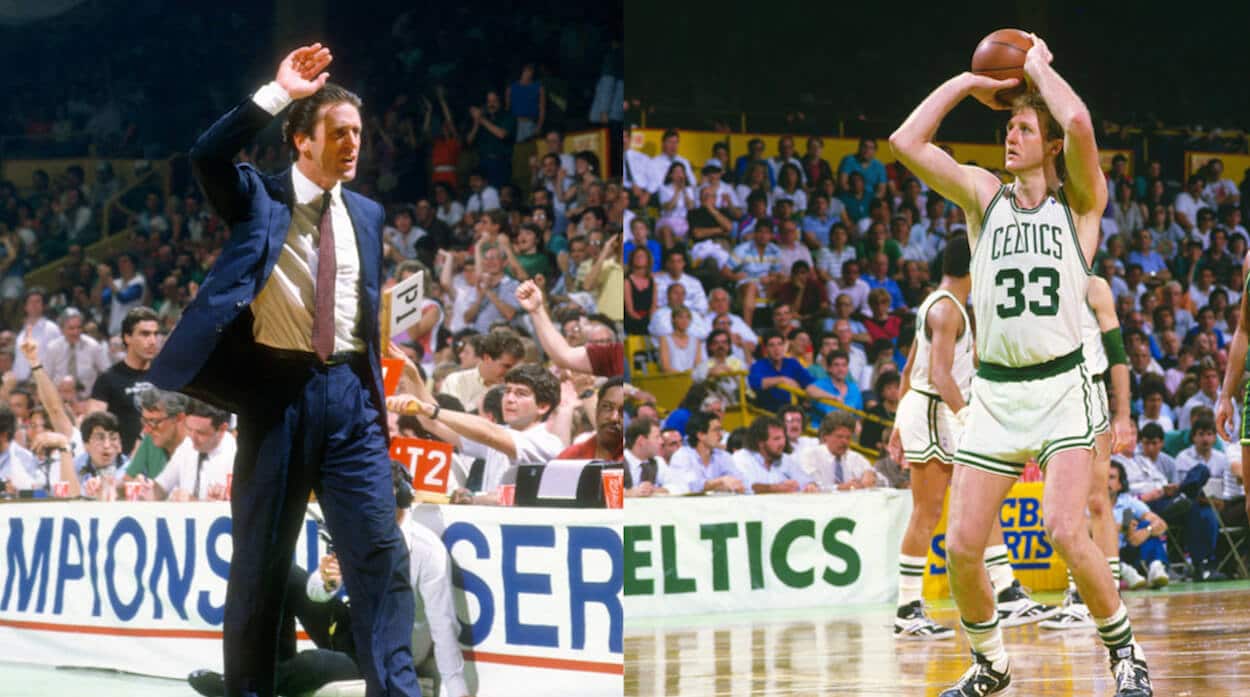 Larry Bird Proved His Greatness to Pat Riley When He Missed a Game-Winning Shot
While Larry Bird didn't say a word after missing a potential game-winning jumper, his response still told Pat Riley all he needed to know.
While no one will argue with Larry Bird's greatness, most basketball fans will probably point to a handful of moments that proved his star status. Some will remember his confident Three-Point Contest performances; it's one thing to win, but it's another to talk a big game and back it up. Others will point to his NBA titles or MVP awards. But what about a missed shot?
Believe it or not, that's how Pat Riley knew that Larry Legend was something special.
As the legendary coach tells it, Bird missed a potential game-winning jumper during the 1987 NBA Finals. While that moment could have crushed a lesser player, it didn't break the Boston forward. Instead, he gave Riley a look that silently said 1,000 words.
Larry Bird looked Pat Riley in the eyes, and that told the Lakers coach everything he needed to know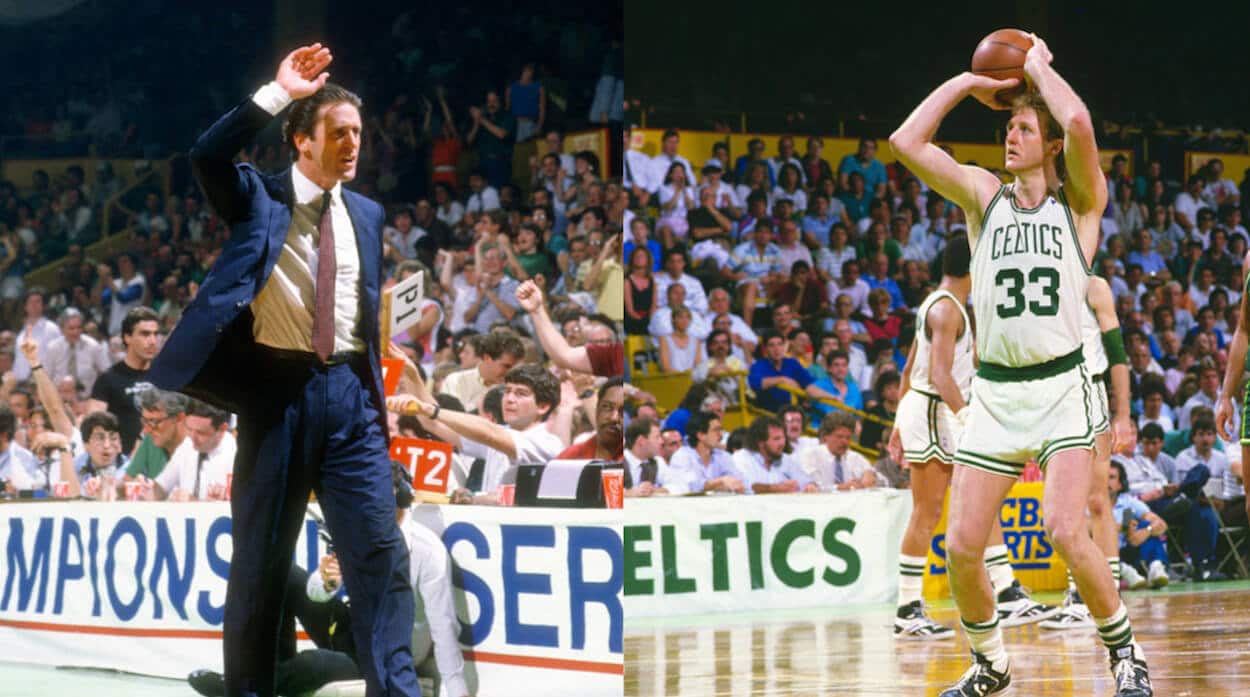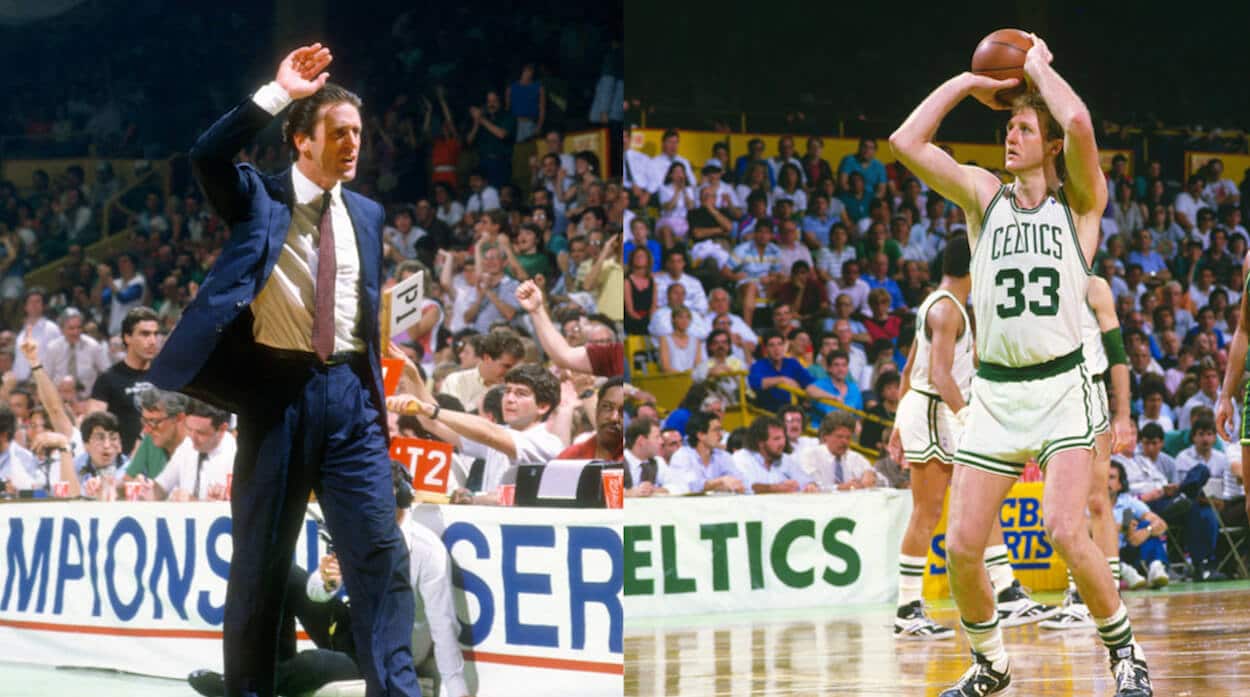 Over the course of any career, there will be both highs and lows. Larry Bird, for all of his NBA success, was no stranger to that reality.
Take, for example, Game 4 of the 1987 NBA Finals. Magic Johnson hit a hook shot over Kevin McHale and Robert Parish to give the Lakers the lead with seconds left. Bird then had a chance to win the contest, but his open look sailed long.
On the Los Angeles bench, Pat Riley felt his heart in his throat. And even after the final whistle blew, he still saw "the unique competitive perspective and quality that was part of those great players" in Larry Legend.
So, what happened? Did the forward produce one of his famous one-liners? It turns out that he just looked Riley in the eyes and didn't say a word.
"Our bench was going wild when Bird walked past us," Riley explained in the introduction to the forward's 1999 book, Bird Watching. "He was both unfazed and unaffected by the missed shot and the taunting opponents. He would not show us any emotion other than, 'It ain't over yet, we'll get you on Sunday.' But he knew I knew this — Bird looked directly at me. He didn't say a word. The expression on his face showed exactly what he was thinking. While everyone else in Boston Garden was in despair over the loss, Bird's piercing lethal look into my eyes said, 'I can't believe you left me open like that, Riley. You lucked out.' He was right. I did."
The Celtics, of course, did bounce back in Game 5 to force the series back to Los Angeles. In Hollywood, Riley and the Lakers got the last laugh. They claimed the title in Game 6, sending their historic rivals home emptyhanded.
That's not the only time Bird and Riley tangled
Based on his competitive nature, there's no doubt that missing a big shot would have pained Larry Bird. Pat Riley, however, believed that another thought crossed the forward's mind.
"There's no question that it pained Bird to miss that shot, but I think it pained him even more that he missed a chance to put the dagger right between my eyes," the head coach continued. "Boy, did he love to win and let you know it."
It's likely that Riley was speaking from personal experience. According to Dee Brown, the Lakers bench boss once tasked Kurt Rambis with trying to stop Larry Legend. Not only did the Celtics star torch the defender, but he made it known just how bad of an idea that was.
"I think we were playing the Lakers, and I think they had Kurt Rambis on him," Brown recalled. "And he was killing Kurt Rambis. Oh, he was destroying Kurt Rambis. And [Bird] went over to the bench, he said, 'Hey. Hey. Hey, Pat Riley. You know you can't put another white boy on me cause I'm the coldest white boy in the league. You gotta put a brother on me.'"
While it's not clear if that happened before the 1987 NBA Finals, the numbers suggest that it probably did. Rambis was with the Lakers until the 1988 offseason, meaning that most of his meetings with the Celtics as a Laker came before Bird's missed jumper.
Either way, though, Pat Riley knew exactly what he was facing when he encountered Larry Legend, and, in hindsight, the coach was onto something. It's easy to seem like an elite player when everything is going well, but responding to adversity is what separates the legends from the rest of the pack.
And Bird, like it or not, is a living legend.