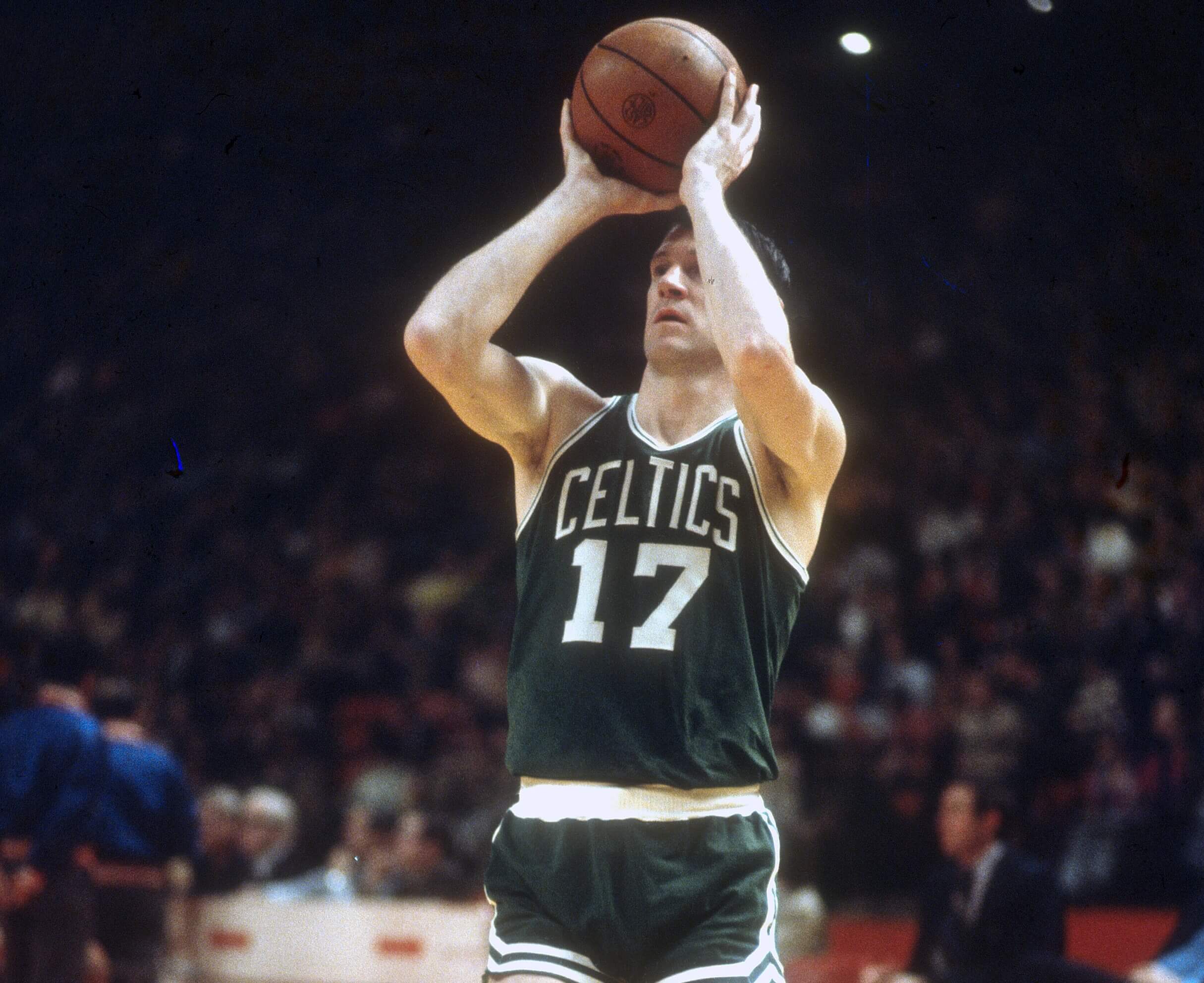 Larry Bird Said There Was One Big What-If With Boston Celtics Legend John Havlicek
Larry Bird wishes John Havlicek stuck around with the Boston Celtics just a little bit longer.
Larry Bird and John Havlicek are two Boston Celtics legends with 25 All-Star appearances and 11 championships between them. They missed each other by one year. Bird believes things would be much different had Hondo stuck around one more year and played during Bird's rookie season.
Larry Bird and John Havlicek each made their mark with the Boston Celtics
John Havlicek played a significant role for the Boston Celtics during their glory years in the 1960s. Selected in the first round (9th overall) in the 1962 NBA Draft, Havlicek, a 6-foot-5 guard/forward, made an instant impact in Boston.
Havlicek averaged 14.3 points and 6.7 rebounds in 27.5 minutes as a rookie. A tremendous athlete, Havlicek was drafted by the Cleveland Browns in the seventh round of the 1962 NFL Draft. According to the Pro Football Hall of Fame, Havlicek appeared in one preseason game for the Browns, playing against the Pittsburgh Steelers, but didn't catch a pass.
He certainly made his mark with the Celtics, playing 16 years and winning eight titles. Havlicek was All-NBA 11 times and was an All-Defensive player eight times. He remains the team's all-time leading scorer, and he was inducted into the Naismith Memorial Basketball Hall of Fame in 1984.
Havlicek retired after the 1977-78 season. Larry Bird began his Celtics career in the 1979-80 season and was named Rookie of the Year. In the year between Havlick's retirement and Bird's rookie season, the Celtics won 29 games.
Bird improved the Celtics by 32 wins in his first season, leading Boston to an NBA-best 61-21 record. The following year, Boston won the championship, defeating the Houston Rockets in the 1981 NBA Finals. The Celtics reached the championship round five times that decade, including four straight years from 1984 to 1987. The Celtics won titles in 1981, 1984, and 1986.
Bird won three consecutive MVPs from 1984 to 1986. He was inducted into the Hall in 1998.
Bird said he wished Havlicek played a little longer
Bird never suited up with Havlicek, and it's something he wishes that happened. He played the what-if game and believed if Havlicek had hung around until Bird's rookie season, things might have been much different for Hondo. He believes Havlicek would've played several more seasons.
Bird saw legends Dave Cowens and Pete Maravich walk away from the game as members of the Celtics in 1980. Even after playing 16 years, Havlicek would've still been able to make a difference for another few seasons, according to Bird.
"If Havlicek could have held on one more year to be on our 1979-80 team, he could have played for several more years," Bird said in his book Drive: The Story of My Life. "I'm certain of this because, for a few years, he used to suit up and scrimmage us on his birthday, which is April 8. What a shame he retired when he did because he could have helped us.
"John couldn't have gone and played 40 minutes a night, but he would have been a great asset coming off the bench. He would have been somebody to look up to, the way Dr. J. was during his final couple of years with the 76ers.
"John knows. He said to me, 'If I knew that you were coming along and you were going to be as good as you are, I would have stayed.' He meant it. We missed each other by just one year."