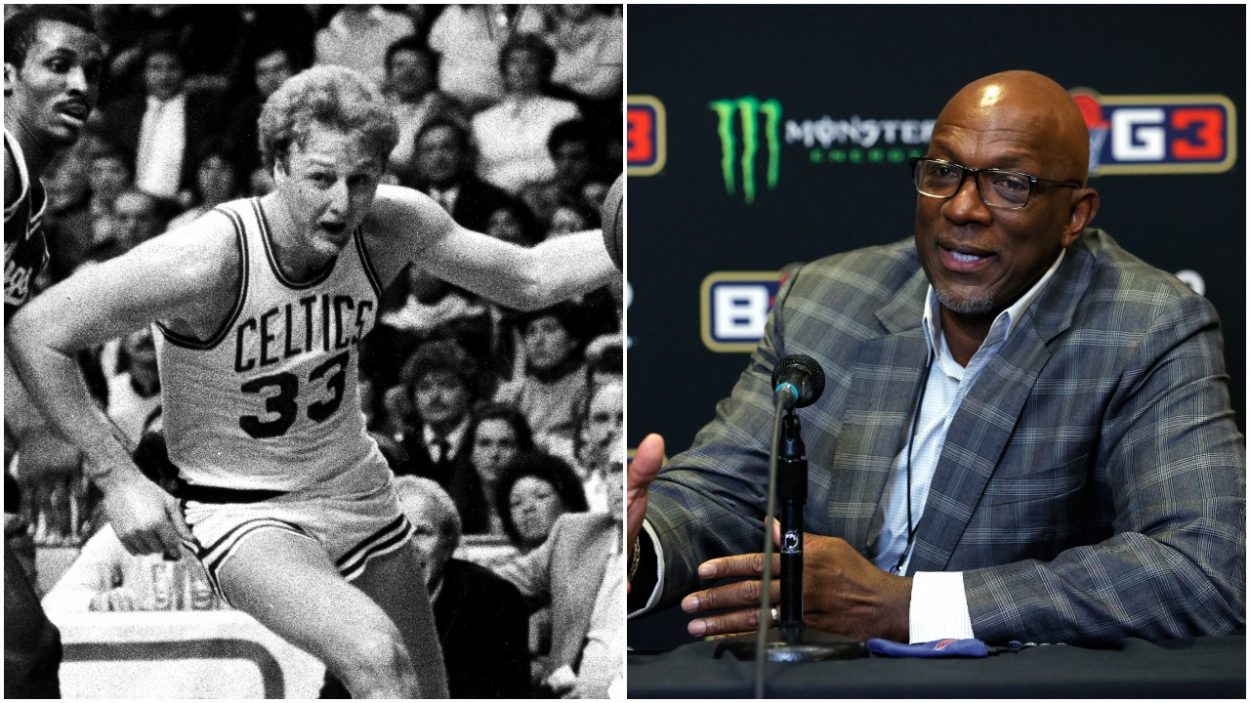 Larry Bird Torched a Rookie Clyde Drexler and Gave Him a Lifelong Lesson in the Process
Larry Bird put a mouthy Clyde Drexler in his place, and The Glide imparted vital wisdom on one of his rookies a few seasons later.
Boston Celtics legend Larry Bird talked trash to nearly everyone he played against. Some opponents piped down after run-ins with Bird. Clyde Drexler used an early interaction with the Hick from French Lick to impart wisdom on future teammates.
Clyde the Glide got mouthy with Bird during his debut NBA season. Larry Legend quickly reminded Drexler of his inexperience and naïveté, and Clyde made sure to let his future rookies know never to talk back to Bird.
Larry Bird silenced a rookie Clyde Drexler after The Glide talked back to the Celtics icon
Larry Bird knew Clyde Drexler had nothing for him. He made sure to let the then-Portland Trail Blazers rookie know precisely how he planned to break him down.
During ESPN's SportsCentury (h/t YouTube) on Bird, Drexler said he had the responsibility of guarding the Celtics star during his rookie season in 1983-84. According to Clyde, Bird started the trash talk early, and Drexler responded.
"I was guarding [Bird] my rookie year. He looked at me, and he goes, 'You can't stop me.' And I looked at him and said, 'Gosh. Boy, you're so confident.'"

–Clyde Drexler on Larry Bird, via ESPN SportsCentury
Bird could not believe the gall from a rookie Drexler. He issued a stern retort before resuming his destruction of the young Blazers swingman.
"[Bird] goes, 'Confident? You're a rookie. You don't know anything.' He proceeded to score like 10 straight points on me. Coach took me out of the game, and [Bird]'s laughing at me. "

–Clyde Drexler on Larry Bird, via ESPN SportsCentury
It's unknown exactly what date Drexler is referring to in this story. However, it very well could be Dec. 2, 1983, when Bird hung 41 points on Portland at the Boston Garden.
Regardless, Drexler quickly learned to take his lumps from Larry Legend. It's a simple lesson he taught some of his Blazers teammates over the next several seasons.
Drexler warned future Blazers teammates about Bird's chattiness
A couple of seasons after Larry Bird put Drexler in his place, the Celtics great gave Clyde the Glide another teaching opportunity.
Bird and the Celtics took on the Blazers at the Boston Garden on Dec. 6, 1985. Once again, Bird targeted one of Portland's rookies. This time, the subject was point guard Terry Porter.
At one point during the contest, Larry Legend drilled a 3-pointer from the corner. Before he did so, he told Porter he was too late in closing out the shot.
Porter could not believe the audacity. He also appeared ignorant of Bird's trash-talking ways. So when he got back to the bench, he told Drexler what the Hall of Fame Celtics forward said to him. Drexler said, "Yeah, he does that all the time."
Clearly, Clyde the Glide learned his lesson from past seasons. It's worth noting, though, that Drexler became the closes thing to Bird in terms of the most valuable wing players of their era.
Bird and Drexler were arguably the two best wing players in the NBA for about a decade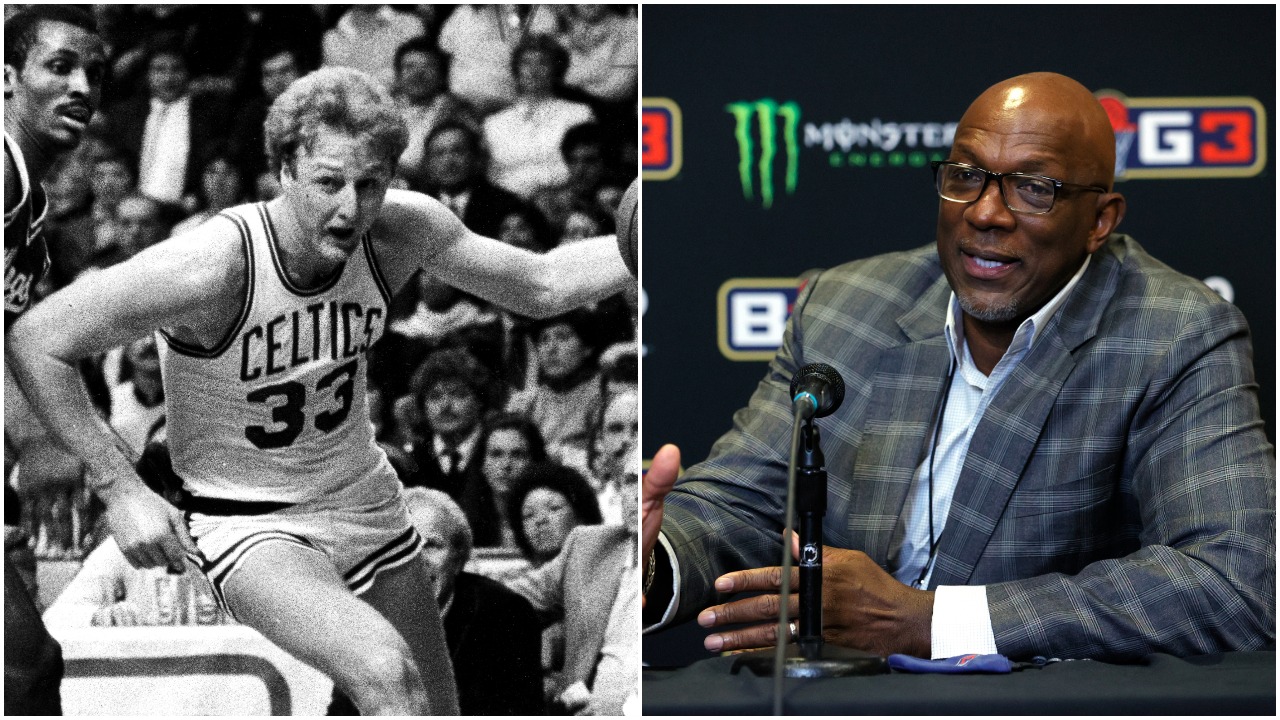 Clyde Drexler is possibly the most underappreciated Hall of Famer in NBA history.
Drexler often found himself in the shadow of Michael Jordan and the titans of the 1980s in Bird and Magic Johnson. Still, from his Dream Team contributions to his NBA career, Drexler always produced the goods.
In eight separate seasons from 1985 to 1995, Drexler led all shooting guards not named Jordan in total box plus-minus (BPM), which assesses a player's value per 100 possessions above the league average. Clyde and Bird were among just five wings with a player efficiency rating (PER) above 20 during the 1991-92 season. In 1994-95, Drexler and Scottie Pippen were the lone two wings with a PER over 20.5.
Essentially, Drexler rivaled Bird as one of the NBA's elite wings and took Larry Legend's spot as one of the very best when the Celtics star retired in 1992. Still, despite his eventual place among the game's top stars, Clyde learned almost immediately never to speak back to Bird.
Stats courtesy of Basketball Reference.
RELATED: Larry Bird's Foolish Involvement in a Bar Fight Cost the Celtics in the 1985 NBA Finals
Related post url: