Larry Bird Used His Legendary Trash Talk to Teach Bill Walton How to Survive in Boston: 'If You Want to Stay Here, Pass the Ball to Me'
Larry Bird's trash-talking credentials are legendary. He didn't care who you were or how good you were. If he was in a zone, Bird was going to let you know it was his world, and you were merely spinning around on it because he let you do so. Fellow Hall of Famer Bill Walton learned this early in his tenure with the Boston Celtics in 1985 in a story he shared at a function honoring Bird's legacy.
Bird's credentials as a player are just as legendary. A first-ballot Hall of Famer in 1992, he was a three-time NBA MVP, a two-time NBA Finals MVP, a 10-time All-NBA player, a three-time champion and All-Defensive selection, and a Rookie of the Year. You can also throw in Olympic gold-medalist for one of the most iconic teams in basketball history, the 1992 Dream Team.
When Walton came to Boston in a 1985 trade, he had missed the equivalent of more than six NBA seasons in 11 years because of foot injuries. Entering his age-33 season, he had an NBA MVP and a championship ring, but the injury problems, as well as the six seasons he spent with the San Diego and Los Angeles Clippers, had tarnished his career. But Bill Walton got a welcome to the Celtics that was unique, courtesy of Larry Bird.
Larry Bird and the 1985–86 Celtics are one of the NBA's iconic teams
When Larry Bird arrived in Boston in 1979, the franchise was coming off two of the four worst seasons in the franchise's history. The Celtics won 61 games combined in 1977–78 and 1978–79. In Bird's rookie year, Boston matched that total. They won championships in 1981 and 1984 but fell short to the LA Lakers in the 1985 NBA Finals.
In September 1985, Celtics boss Red Auerbach (yes, Jan Volk was the general manager, but Red still ran the show) pulled off a risky trade. He sent Cedric Maxwell, the MVP of the 1981 NBA Finals victory, and Boston's 1986 first-round pick to the Clippers for the balky feet of Bill Walton.
But Walton was not coming to Boston as a savior or a franchise player. He was coming to back up All-Star Robert Parish in the middle. And Walton did that very well, becoming the first player in NBA history to win MVP and Sixth Man of the Year honors. Boston went 67–15 and lost only three playoff games en route to the title.
By the time the Celtics got to the Finals, Bill Walton had a very firm grasp on whose team it was.
Bill Walton received his 'welcome to Boston' moment courtesy of Larry Bird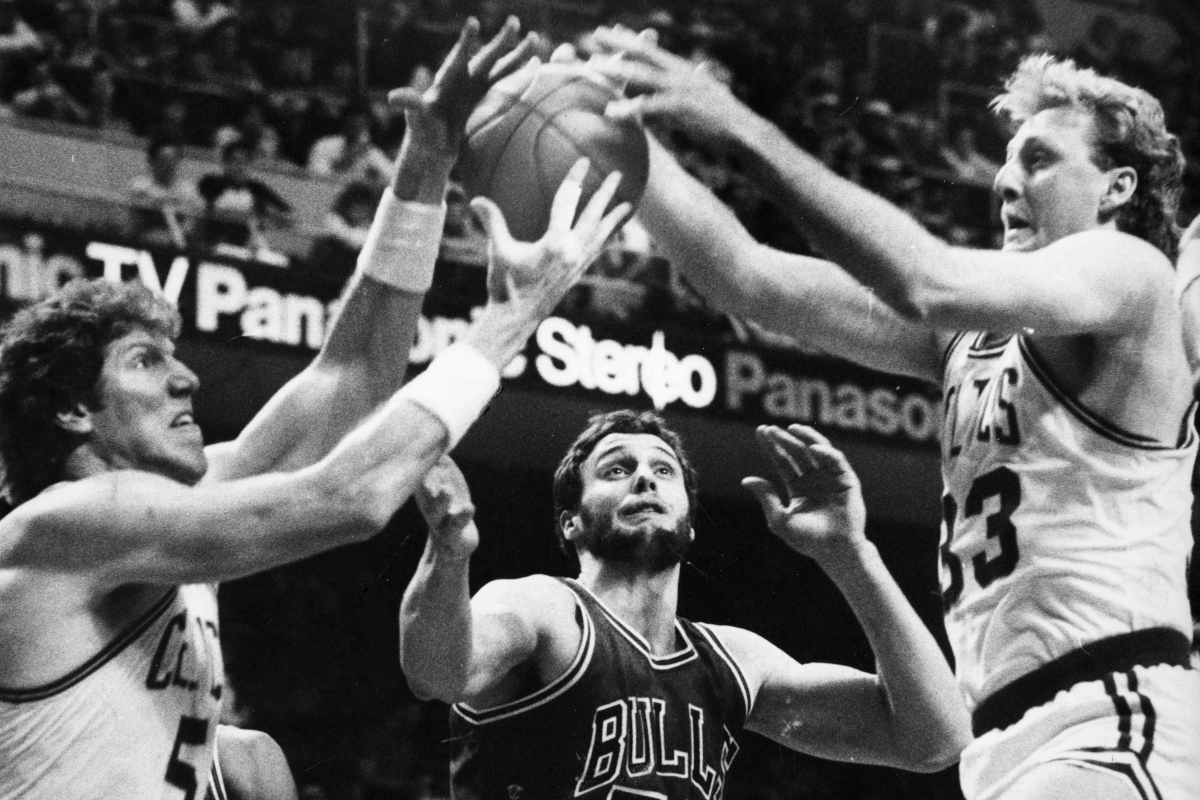 At a 2013 event at Indiana State University, Bill Walton was one of the guests on hand for the dedication of the Larry Bird statue.
Sharing the stage with Bird and former Celtics Quinn Buckner and Joe Kleine, Walton remembered a late-game moment with Bird early in the 1985–86 season. Walton recalled throwing the ball to Bird, who made two free throws after being fouled.
"So, the very next time, same exact thing. I throw it to Larry, two more free throws. Next time, Larry's guarded. I throw it to (Dennis Johnson). DJ goes up there and knocks down two free throws. Next time, Larry's guarded, DJ's guarded, so I throw it to Danny Ainge, who's the best free-throw shooter on the team.

"As Danny's walking up there to shoot the free throws, Larry walks up to me and says, 'Hey, Walton. I know this is your first game here, but if you want to stay on this team, you throw the ball to me every time.'"

Bill Walton
Walton, of course, also had very kind things to say about Bird as a teammate and as a friend. Though they spent only a brief part of their careers together, there is a tight bond between Larry Bird and Bill Walton.
Bill Walton's career waned quickly after the 1986 championship
Bill Walton set a career-high in 1985-86, playing in 80 of the Celtics' 82 games. He had never missed fewer than 15 games in a season before that. But the end came quickly. Another foot injury sidelined Walton for all but 10 regular-season games in 1986–87. He gutted out 12 of Boston's 23 playoff games in their failed title defense in 1987, but those would be the last games of Walton's career.
He missed all of 1987–88 with foot problems and retired in June 1988. His Hall of Fame selection in 1993 was as much for his storied collegiate career at UCLA as his truncated NBA days. But Walton's contributions to Larry Bird's final NBA championship helped forge a lifetime bond between the two greats from different eras.
Historical data courtesy of Basketball Reference.