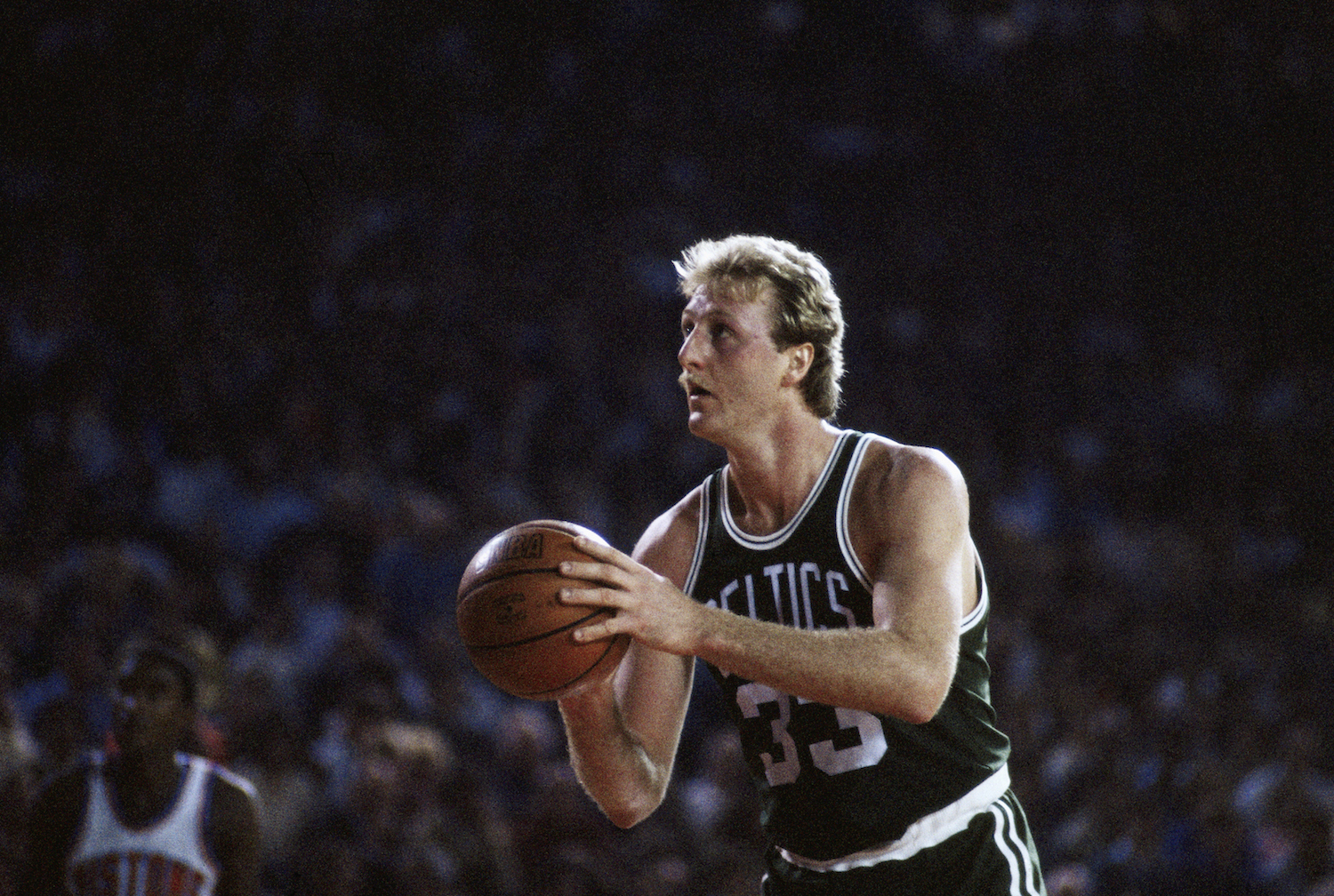 Larry Bird Would Think About Something Other Than Basketball Every Time He Took the Court
While Larry Bird had an iconic NBA career with the Boston Celtics, he didn't think about basketball once he stepped on the court.
During his time on the hardwood, Larry Bird established himself as one of basketball's top marksmen. While the Boston Celtics great was capable of scoring any way he wanted, he was especially deadly from three-point range. The forward, it seemed, was always "in the zone."
When Larry Bird hit the court, however, he wasn't worried about trying to find his stroke or make the next play. In fact, the forward actually let his mind wander to an incredible degree and preferred to focus on things other than basketball.
Larry Bird overcame a false start to become an NCAA star
These days, it's impossible to imagine Larry Bird playing in anything other than the iconic green and white of the Boston Celtics. Before ever turning pro, however, the forward had to cut his teeth in the NCAA ranks.
Bird began his college career at the University of Indiana, but didn't feel at home in Bloomington; after growing up in French Lick, the campus seemed huge and overwhelming. The forward headed back home before suiting up for a single game.
Bird started working as a garbage man and, by his own account, came to like the job. Indiana State University basketball coach Bill Hodges, however, knew what the forward was capable of. He convinced Larry Legend to give college basketball another try, this time with the Sycamores.
It's safe to say that Hodges' persistence paid off. Bird spent three seasons at Indiana State; he averaged 30.3 points per game, claimed National Player of the Year honors, and led the Sycamores to the 1979 NCAA title game, where they lost to Magic Johnson and the Michigan State Spartans.
Larry Bird thought about his grandmother, not basketball
Given his incredible career and relentless will to win, it's easy to assume that Larry Bird was laser-focused on the smallest details every time he took the court. In reality, though, the forward claims that he let things happen by feel.
"I wasn't thinking," Bird told Scott Horner of the Indianapolis Star. "I was thinking about my grandmother, wondering what she's doing today. I was totally out of that arena. I was just playing by flow."
The same was true when the sharpshooter entered the zone. Rather than thinking about his next shot or a witty piece of trash talk, Larry Legend's head wasn't exactly in the game.
"My mind was so far away from basketball when that happens. It doesn't make a lot of sense, but it's true."
Whatever he was thinking about, it certainly worked
As Larry Bird himself noted, it seems counterintuitive to try to focus on things other than basketball during the game. Whatever the forward did, however, worked out in the end.
When Bird headed to Boston in 1979, he immediately made an impact at the professional level. The forward averaged 21.3 points per game en route to the Rookie of the Year title; perhaps more importantly, he helped the Celtics get back to winning ways.
After that hot start, Larry Legend became one of basketball's top talents. During his 13 seasons with the Celtics, he did it all; the forward averaged 24.3 points, 10 rebounds, and 6.3 assists per game, took home three consecutive MVP titles, and won three NBA championships. In a sports-crazed town like Boston, that made him an icon.
On paper, Larry Bird's resume speaks for itself. Knowing that he accomplished everything will thinking about his grandma, rather than basketball, however, might make his career even more impressive.