Larry Bird's 'Best Teammate' Worked as a Federal Prison Guard Before Becoming The Legend's Own On-Court Bodyguard When He Joined the Boston Celtics
As Larry Bird's career got into full swing, The Hick from French Lick was more than able to hold his own when it came to any on-court altercations — physical or verbal. But when he arrived with the Boston Celtics as a rookie, he was shy and timid, coming from a small Indiana town and a small Indiana college. He had a teammate who always had his back, though — one who was tough enough to handle anything after his work as a federal prison guard, and one who The Legend called his "best teammate."
ML Carr eventually became a coach (unsuccessfully) in Boston during the mid-'90s. But during the early portion of Bird's career, Carr played the role of the three-time MVP's personal on-court enforcer.
ML Carr wasn't a star, but he played a crucial role in Boston's dynasty
Carr played 10 seasons in the NBA and averaged 10.0 points and 4.5 rebounds. He was known for his toughness, effort, and defense more than anything else. He was a member of the 1978-79 All-Defensive Team and won the steals title that year.
His best statistical season came as a member of the Detroit Pistons the year before Red Auerbach brought him to Boston. And in a roundabout way, that trade also landed the Celtics Kevin McHale and Robert Parish.
Bird and Carr were key players on a Boston team that jumped from 29-53 in 1978-79 to 61-21 and a berth in the Eastern Conference Finals in '79-80, Larry's rookie campaign.
Auerbach drafted McHale and acquired Parish the next season, and the Celtics won the 1981 NBA Championship.
Carr won two titles alongside Bird, McHale, and Parish, but he played another pivotal role in Boston during the first few years of Larry's career.
Carr was Larry Bird's bodyguard during The Legend's early Celtics career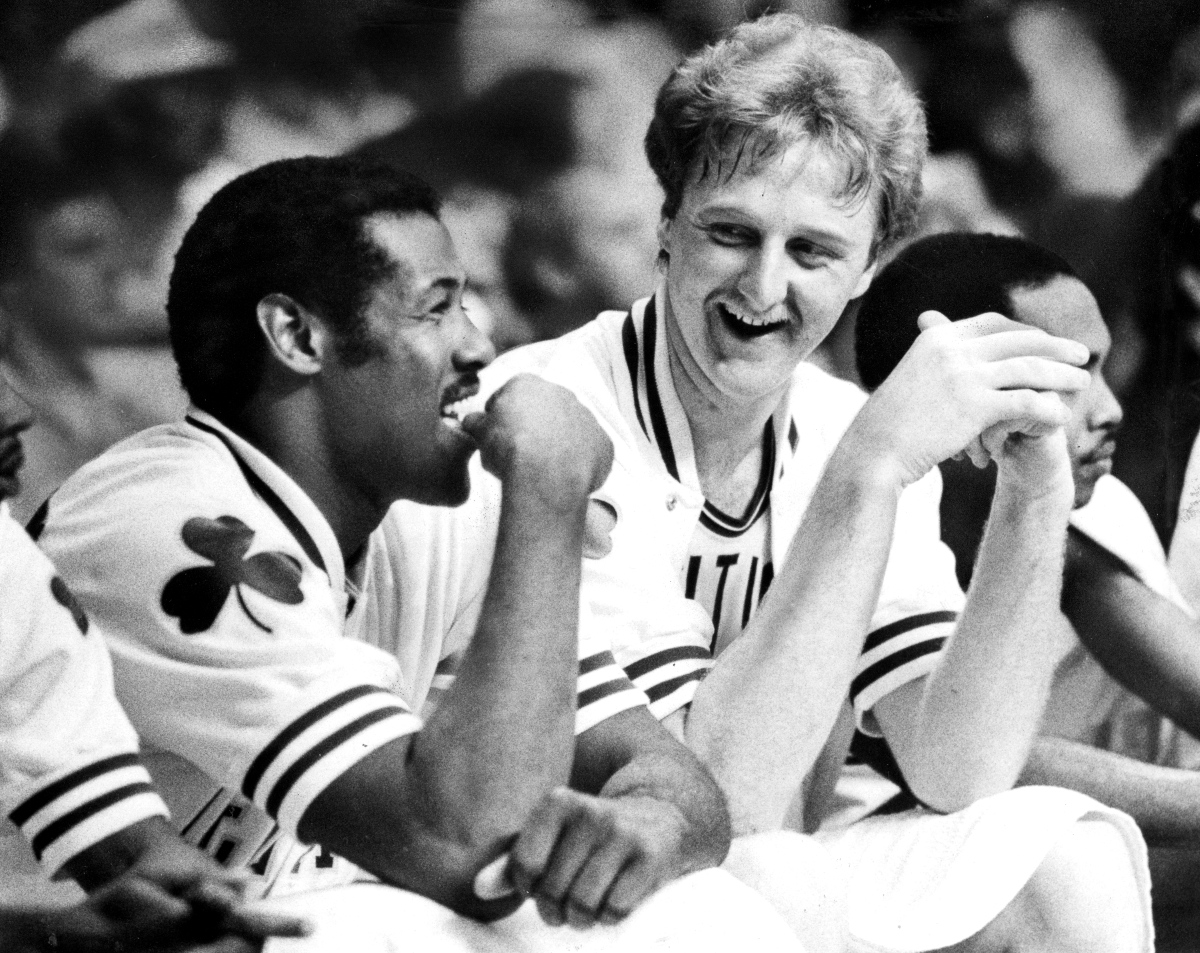 Before he became a Boston Celtic and won two titles, Carr worked as a federal prison guard, according to Dan Shaughnessy's book Wish It Lasted Forever: Life With The Larry Bird Celtics (h/t WBUR).
Before Bird came into his own as a pro, Carr was the rookie's first line of defense on the floor. Shaughnessy wrote:
Carr is the player who supplied protection when Bird was a rookie in the NBA. Anybody who wanted to get tough with Bird had to deal with M.L. A federal prison guard before he was a Celtic, Carr likes to say, "You can't rattle me. I was in the big house. I told Maurice Lucas and all those other 'enforcers' that they'd have to go through me first. Those guys and those little NBA arenas were nothing compared with what I'd already dealt with."

In a serious moment of reflection, Medicare-eligible Bird admits, "M.L. was my best teammate. He always had my back."

ML Carr's role protecting Larry Bird via Dan Shaughnessy's book Wish It Lasted Forever: Life With The Larry Bird Celtics
Eventually, Larry became perfectly capable of handling any and all comers. Plenty of legendary (no pun intended) stories exist to prove it. But ML had Bird's back first.
Carr was one of the catalysts for Bird's Boston dynasty
Lunchbox had a decade-long NBA career. He was a member of the Celtics' first two titles teams in the '80s — 1981 and 1984.
He left Boston in 1985, one season before the triumvirate won its third title.
During Carr's tenure with the Celtics — in addition to his two titles — Bird was the Rookie of the Year and won an All-Star Game MVP, a Finals MVP, and two NBA MVPs.
He had one of the most incredible careers in basketball history, and it all started with Carr as his small forward, his bodyguard, and his "best teammate."
All statistics courtesy of Basketball Reference.