Larry Fitzgerald Is Placing His Final Years on Rising Star Kyler Murray's Shoulders
Larry Fitzgerald is fully on board the Kyler Murray train — and as Fitzgerald's NFL career winds down, he doesn't have much of a choice.
Fitzgerald saw first-hand last year how dangerous Murray, the No. 1 overall pick in 2019, can be at the NFL level. If Fitzgerald wants to play in another playoff game with the Arizona Cardinals, he needs Murray to take the next step this fall.
Larry Fitzgerald has had an amazing NFL career
RELATED: Larry Fitzgerald Has Racked up a Large Net Worth While Continuing to Defy Father Time With the Cardinals
Larry Fitzgerald is one of the few players remaining from the 2004 NFL draft. With tight end Benjamin Watson's recent retirement, Fitzgerald is the only active skill player left.
Punter Andy Lee, Fitzgerald's teammate in Arizona, is the only other non-quarterback drafted that year who is still on an active roster.
The Cardinals certainly hope Fitzgerald can keep playing at a high level for the next few years. The former first-round pick has 1,378 career catches for 17,038 yards and 120 touchdowns in 16 NFL seasons.
Fitzgerald is 172 career catches behind Jerry Rice for the most in NFL history. The future Hall of Famer needs two more big seasons to reach Rice; the catch record is certainly more feasible for Fitzgerald than Rice's receiving yards record (Fitzgerald is over 5,000 yards behind Rice) or the touchdown mark.
Fitzgerald needs another 78 touchdowns to pass Rice for the most in NFL history.
Fitzgerald doesn't have many years left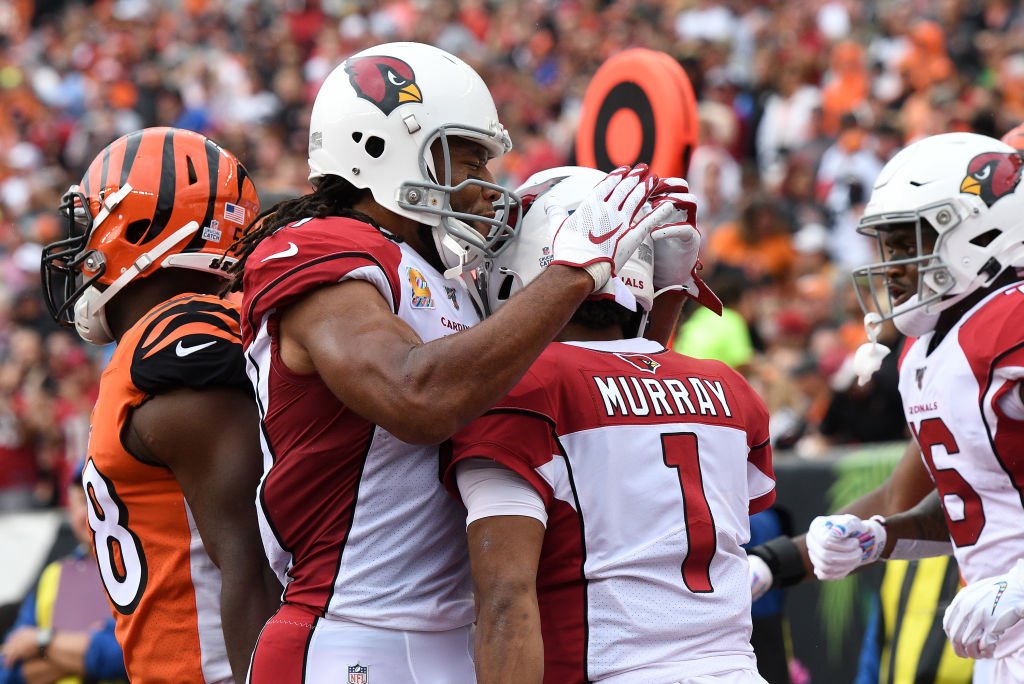 RELATED: Is DeAndre Hopkins the Best Wide Receiver Larry Fitzgerald Has Played With?
Larry Fitzgerald is nearing Brett Favre and Tom Brady for the most 'will he retire, or won't he?' seasons in NFL history.
In fairness to Fitzgerald, the media is more responsible for those questions than he is. Fitzgerald will play the 2020 season at 37 years old and remains in great shape.
At this point, it seems unlikely Fitzgerald will play into his 40s the way Jerry Rice did. The 2020 season very well could be Fitzgerald's final run in the NFL.
Larry Fitzgerald is excited about his future with Kyler Murray
RELATED: Kyler Murray Looks Like Genius Choosing Football After Oakland A's Awful Announcement
For Larry Fitzgerald to end his career in style — if style is a playoff appearance — he'll need a big performance from the players around him.
Arizona traded for All-Pro receiver DeAndre Hopkins this spring. The duo of Hopkins and Fitzgerald, assuming both stay healthy and productive, is a perfect duo for young quarterback Kyler Murray.
Fitzgerald recently expressed his optimism for Murray's future and what he brings to the Cardinals organization, according to the team's official website.
"Talking to him, he loves being around us. He wants to take this to the next level and build on what he was able to accomplish last year, NFL Rookie of the Year. He's got a lot of guys who want to play well for him, and he wants to do the same for us."
The 2020 season marks 12 years since Larry Fitzgerald came so close to winning a Super Bowl. If Fitzgerald wants to end his career with that elusive ring, Murray needs to take the next step this fall.
Luckily, Murray has an excited and hopeful Larry Fitzgerald in his corner. That could prove vital when the real games begin in September.