The Las Vegas Raiders Executed a Dumbfounding Roster Move Which Proves Mike Mayock Isn't Fit to Be an NFL GM
The Las Vegas Raiders have been a frustrating team under general manager Mike Mayock. Following yet another controversial roster decision, it doesn't appear things are set to get much better in Nevada.
With Week 1 right around the corner, the Raiders announced they are parting ways with linebacker Tanner Muse.
A third-round pick out of Clemson in 2020, Muse missed his rookie season with a toe injury. However, upon recovering this past offseason, Muse spent most of training camp operating as a starter and key special teams player for the Raiders.
The Las Vegas Raiders surprisingly released LB Tanner Muse
While Muse has yet to log an official NFL snap during the regular season, the news that the Raiders flat-out released him is shocking. The Raiders are relatively deep at linebacker following the additions of K.J. Wright and Denzel Perryman, but Muse is still a recent third-round pick. It's rare for a front office to give up on a player that fast.
What makes things even more surprising is the before-mentioned special teams' role that Muse reportedly carved out for himself during training camp. Even if the Raiders weren't comfortable rostering Muse as an every-down starter, keeping him around for his special teams' ability seems like a no-brainer. It's fairly common for young defenders to earn their way into a prominent role on defense by first impressing on special teams.
Muse wasn't even afforded that opportunity. At least not with the Raiders.
This decision reflects poorly on GM Mike Mayock
It's rather unclear who has the most say regarding personnel decisions between general manager Mike Mayock and head coach Jon Gruden. However, most of the blame for Muse's release appears to be falling on Mayock's shoulders.
Not only is Mayock technically in charge of roster-related moves, but he very infamously hyped up having three third-round picks heading into the 2020 NFL Draft.
Mayock selected Lynn Bowden with one of those picks, another player who is no longer on the Raiders' 53-man roster.
Between Muse and Bowden, Mayock burned two third-round picks on players who never took a regular-season snap for the Raiders. That's embarrassing.
The Las Vegas Raiders may part ways with Mayock after this year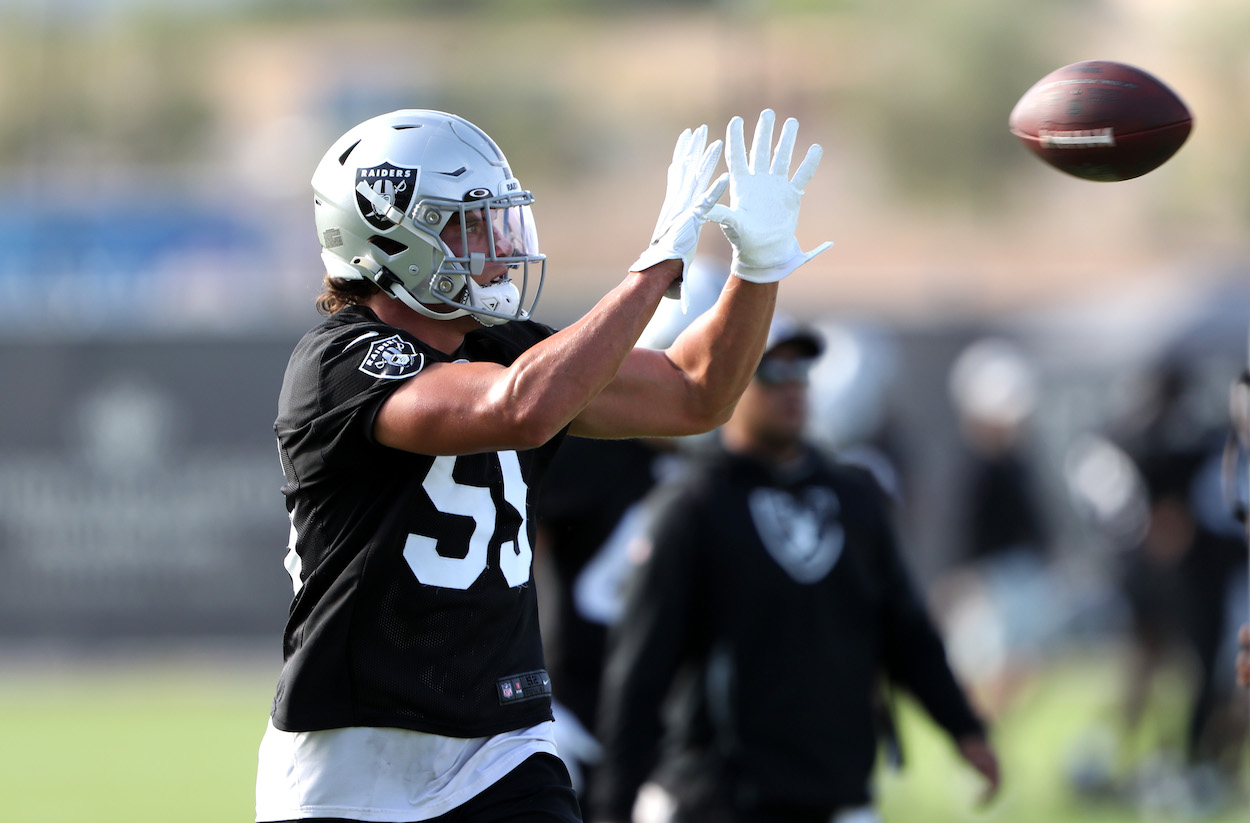 The Raiders have been a disappointing team under the guidance of Mayock and Gruden, and it feels like change is coming in Las Vegas sooner rather than later. Firing Gruden seems like an improbable route for the Raiders due to his lengthy contract, whereas Mayock's seat is far warmer.
Between the team's overall lack of success and the general mishandling of the roster, the Raiders firing Mayock after the 2021 season is justified. Assuming the Raiders fail to make the postseason, it's a borderline foregone conclusion that someone will get axed in the Las Vegas front office.
Cutting a former third-round pick may feel like a minor detail to make such grand claims about. However, this is just the latest example of a long list of incidents under Mayock. The Raiders are trending in the wrong direction whether they want to admit it or not. Firing their current GM could be a step back onto the right path.