The Las Vegas Raiders Handed Marcus Mariota a $3.5 Million Ultimatum: It's This or Nothing
This NFL offseason has seen quarterbacks move from team to team on an unprecedented scale, and the free agency period has barely even started. One quarterback who probably won't be changing places, however, is Marcus Mariota. This Tuesday, he had no choice but to sign a one-year extension with the Las Vegas Raiders.
Marcus Mariota reluctantly signs a one-year deal with Las Vegas
After some tense negotiations, Marcus Mariota has reportedly agreed to sign a one-year, $3.5 million contract with the Las Vegas Raiders, according to NFL reporter Ian Rapoport. Earlier this week, the Raiders asked Mariota to sign for just $3 million to reduce the team's salary cap crunch. Eventually, he and the team agreed to compromise at $500,000 higher.
This contract also offers the ability to make up to $8 million worth of incentives. Unfortunately, since Mariota is currently chained to the bench as Derek Carr's backup, it's unlikely that he'll see any of that money.
For Mariota, this new deal amounts to a massive pay cut. Originally, he was set to make $10.725 million in 2021, which would have been the second year of the two-year contract he signed last year. If the Raiders traded him, his new team would have had to inherit that incentive-laden contract. Unfortunately, with the quarterback market drying up, it was either a pay cut or a release for Mariota.
Marcus Mariota barely played for the Las Vegas Raiders in 2021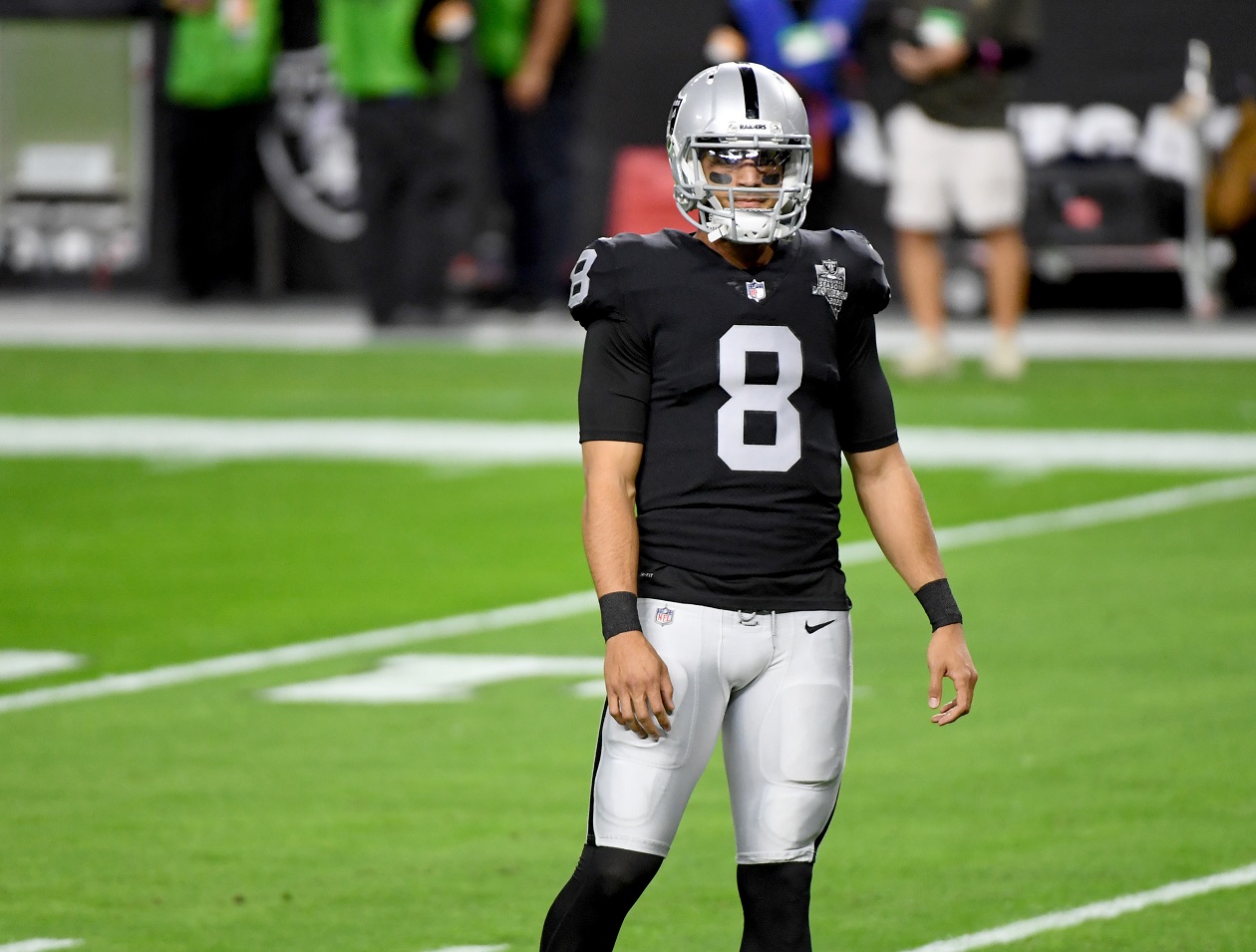 Not helping matters for Mariota is the fact that he barely played a snap for the Las Vegas Raiders last season. There was not even a pretense of a quarterback battle in training camp. Jon Gruden placed his faith in Derek Carr for the 2020 season, and Mariota was consigned to the bench.
The former Heisman Trophy winner made his only appearance of the season in the Raiders' week 15 game against the Los Angeles Chargers, relieving the injured Derek Carr. Mariota performed admirably, going 17 of 28 for 226 yards, one touchdown, and one interception. He also rushed nine times for 88 yards and another touchdown. Unfortunately, it wasn't enough, as the Raiders lost 30-27.
Derek Carr returned for the next week's game against Miami, forcing Mariota to return to the bench. The Raiders lost that game and missed the playoffs.
The Las Vegas Raiders might still trade their quarterback
Mariota's new deal doesn't necessarily mean he'll spend next season in a Las Vegas Raiders uniform. On the contrary, it makes him easier to trade. In fact, it would not be surprising if the Raiders choose to go in that direction, as Derek Carr is Jon Gruden's clear number-one choice.
While the quarterback market has dried up in the past two weeks, it hasn't completely stalled. There are still some teams in need of a quality backup, if not a decent starter. Marcus Mariota is undeniably both of these things. His resume is nothing to sneeze at. He's a Heisman Trophy winner who once led the Tennessee Titans to a memorable playoff victory against Andy Reid's Kansas City Chiefs.
It's likely that the only thing that scared teams off of Mariota was his high price tag. As of Tuesday, that should no longer be a concern.