The Las Vegas Raiders Just Made Derek Carr's Life Much More Difficult
The Las Vegas Raiders have been active in the trade market this NFL offseason. They've been trying to clear up some cap space for free agency, which begins on March 17. The team will save a considerable amount of money by offloading a huge contract.
The Raiders are letting go of some elite protection on their offensive line, which could come back to bite them later on. The team is saving money toward their cap but has made Derek Carr's life much more difficult in the process.
The Las Vegas Raiders are trading Trent Brown
RELATED: How Did NFL Coach Jon Gruden Get His 'Chucky' Nickname?
The Las Vegas Raiders are expected to trade right tackle Trent Brown to the New England Patriots, according to NFL Network's Ian Rapoport. The two sides have worked on a deal for the six-year tackle since the Raiders made him available on the trade market. Brown reworked his current deal into a new one-year contract worth $11 million. He was scheduled to make $29.5 million in the final two years of his four-year, $66 million deal with Las Vegas.
The Patriots have experience with the Florida product, as he was on their team during the 2018 season. Brown blossomed into a star that year and served as an anchor for New England's O-line. He won the Super Bowl in his lone season with the Pats. 
According to Rapoport, Las Vegas is shipping Brown and a 2022 fifth-round pick to New England in exchange for their 2022 seventh-round pick. The Patriots hope they can help the champion tackle return to his dominant form from 2018.
New England could be seen as the early winner in this trade. The Patriots know that Brown is a talented player and are willing to bring him back, hoping that Bill Belichick can reignite his career. The Raiders could end up regretting this situation because they just made Derek Carr's life a lot harder.
The Raiders just sacrificed Derek Carr's protection for money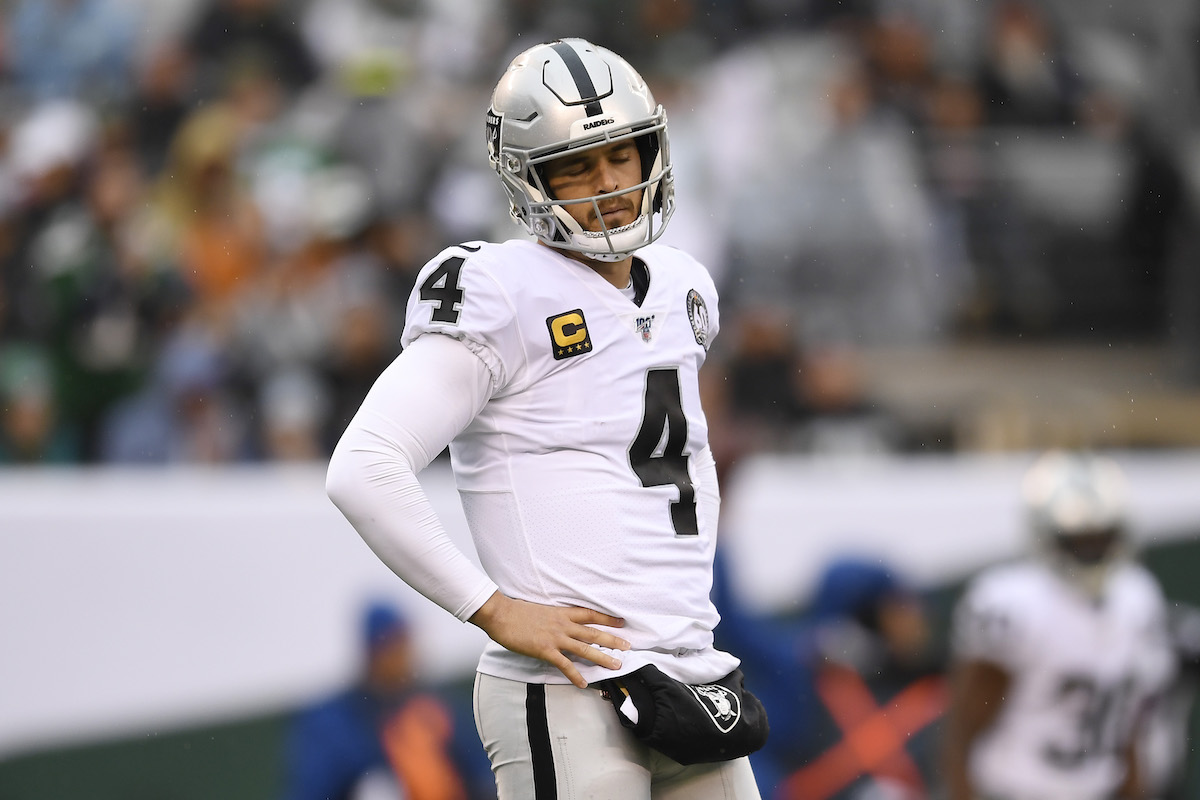 RELATED: Jon Gruden and the Las Vegas Raiders Just Decided Derek Carr's Future With the Team
If anyone should be upset about the Raiders trading Trent Brown, it should be Derek Carr. The three-time Pro-Bowler has had the luxury of elite protection with the 6 foot, 8 inch lineman. In his two seasons with Las Vegas, the six-year lineman didn't give up a single sack. He also dominated the run game, helping Josh Jacobs bloom into a superstar. However, Brown's availability made him expendable to Las Vegas.
The 27-year-old tackle has dealt with various injuries during his two years with the Raiders. He missed five games in 2019 but still played well enough to earn a Pro-Bowl nod. In 2020, however, Brown missed 11 games because of COVID-19 and other injuries. Raiders general manager Mike Mayock cited Brown's health as a cause for concern in his end-of-season press conference.
"When he's healthy, he's dominant. And you've got to juxtapose that with his inability to play, week to week, over a two-year period. We've got to get a more consistent player," Mayock said during his March 3 press conference.
Las Vegas believes that Brown isn't worth the remaining $29.5 million on his contract. By trading the massive right tackle, the Raiders saved $14 million toward their cap. However, they have another hole that must be filled on their offensive line, leaving Derek Carr with little protection heading into offseason programs.
The Las Vegas Raiders have holes to fill on the offensive line
RELATED: Derek Carr's Future With the Las Vegas Raiders Is Even More Confusing Thanks to GM Mike Mayock
Las Vegas has cleared up some considerable cap space since the season ended but at the expense of their starting offensive line. The team released Richie Incognito and Gabe Jackson in early March, saving them over $14 million toward their cap. Trading Brown leaves Rodney Hudson and Kolton Miller as the remaining lineman from the Raiders' 2020 O-line.
The Raiders will have to address the offensive line needs via free agency or the draft. Many serviceable tackles could be off the market because their teams placed the franchise tag on them. On potential replacement for Brown is Trent Williams. He's shown he's still a dominant tackle, and the Raiders could pursue him if the San Francisco 49ers let him walk.
On the interior, Las Vegas has some options to replace Jackson and Incognito. Joe Thuney could hit the free-agent market and has been a dominant force for the Patriots. Lane Taylor has offered excellent protection to Aaron Rodgers in Green Bay and could be looking for a new home if the Packers don't re-sign him. The Raiders could use their No. 17 pick in the draft to trade up for a lineman or hope one falls in their lap.
The Las Vegas Raiders don't have much protection for Derek Carr heading into free agency. The team has let go of three starters, and Trent Brown is the latest. The team will have to do their homework in the coming weeks as they begin to rebuild their offensive line.
Stats courtesy of Pro Football Reference