The Las Vegas Raiders Just Sabotaged Their 2021 Season By Decimating Their Offensive Line
The Las Vegas Raiders did not exactly make the best first impression on their new hometown in 2020. They threw away a playoff berth after losing five out of six games late in the year, and some of those losses were just plain baffling. You would expect general manager Mike Mayock to make careful and bold additions through free agency to try and correct this. Instead, he did the exact opposite by cutting Pro Bowl center Rodney Hudson.
The Las Vegas Raiders release Rodney Hudson in a baffling move
RELATED: Raiders CB Kemah Siverand May Have Killed His NFL Career After His Second Stupid Decision in 7 Months
NFL reporter Ian Rapoport tweeted about the surprising story that the Las Vegas Raiders would release center Rodney Hudson. During his six seasons with the Raiders, Hudson performed his duty with distinction and was named to the AFC Pro Bowl roster three times.
The talent of offensive linemen is hard to quantify in numbers because they don't make highlight-reel plays in the same way that most other positions do. Indeed, offensive linemen have perhaps the most thankless task of any players on the field. However, Pro Football Focus gave him a pass-blocking grade of 93.6 for his performance over the past six seasons, the best of any center.
We're not sure how they calculate that, but that probably means he did a good job.
It is rather surprising that the Raiders did not even try to pursue a trade for him. There are multiple teams across the NFL who could use a center of his caliber. With one month to go before the NFL Draft, the Raiders could easily have muscled some extra draft picks out of one of those teams in exchange for Hudson. Making this even more surprising is that, not too long ago, Raiders offensive coordinator Greg Olson called Hudson an important part of the team.
"He's like a quarterback of the offensive line, he gets everything set, makes all the calls," Olson said to ProFootballTalk. "So he's a very valuable piece of our offense and we're really just fortunate to have him." Apparently, that message didn't get through to Mayock.
The Raiders' offensive line has been remade from scratch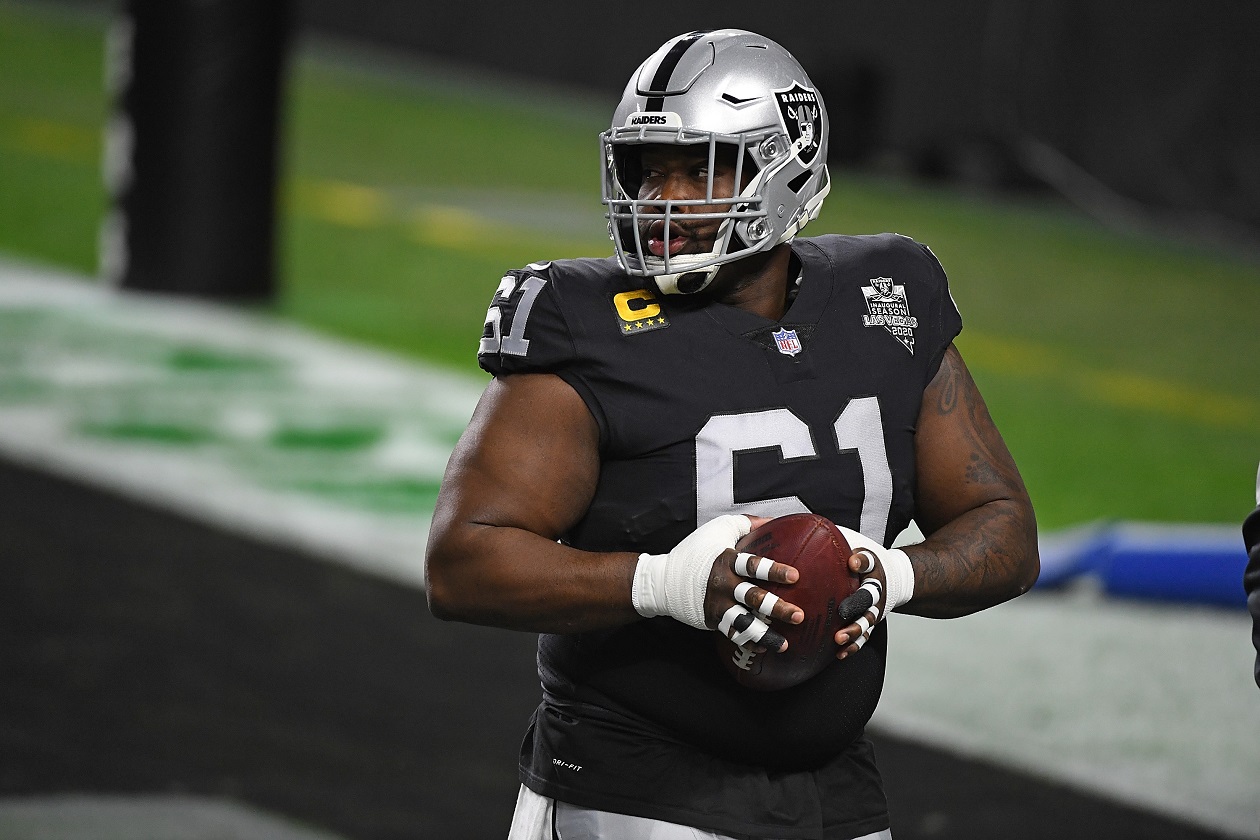 RELATED: Derek Carr's Future With the Las Vegas Raiders Is Even More Confusing Thanks to GM Mike Mayock
The Raiders' decision to release Rodney Hudson is only the latest in a series of moves that have totally remade Las Vegas' offensive line.
On March 5, the Raiders cut controversial guard Richie Incognito. Four days later, they traded tackle Trent Brown and a 2022 seventh-round pick to the New England Patriots in exchange for a 2022 fifth-round pick. As if that weren't enough, according to USA Today, right tackle Gabe Jackson is next on the chopping block.
Assuming Derek Carr even stays in Las Vegas, his team has given him much less to work with. He can't perform his job to the best of his ability if he doesn't have time to throw the ball. Granted, there is a wealth of offensive line talent in this year's draft, but the jury's still out on whether they'll make an adequate replacement.
Cutting Rodney Hudson does not actually help the Raiders' cap
Most baffling of all is that there doesn't seem to be any real motive for the Raiders to release their Pro Bowl center — at least none that we can discern.
At first, you might think that the Raiders did this to free up salary-cap space. After all, on the same day that this happened, the team also snatched linebacker Yannick Ngakoue from the Jacksonville Jaguars. That theory goes out the window when you actually look at the numbers.
In 2019, Hudson signed a three-year contract extension with the then-Oakland Raiders which made him the highest-paid center in the NFL. At the time of his release, he still had three years left on his contract, which meant that he carried millions of dollars of "dead cap". By cutting him before June 1, the Raiders actually lost nearly $2 million.
According to Spotrac, they had done the sensible thing and initiated a trade, they would have saved just over $1.1 million and maybe received some draft picks out of it. Of course, that's not what they did.