'Last Chance U: Basketball': Coach John Mosley Shares How COVID-19 Affected His Team: 'They Need to Be Here. They Need Structure'
For its first five seasons, Netflix's Last Chance U followed the lives of junior college football players. But the showrunners changed things up for the sixth season, focusing on a JUCO basketball program in East LA. Like its football counterpart, Last Chance U: Basketball is as much about working through life's challenges as it is about athletics.
Last Chance U: Basketball had to contend with a factor its predecessor did not: the coronavirus pandemic. East LA men's basketball coach, John Mosley, recently opened up about how COVID-19 affected the team. Let's look at Last Chance U: Basketball and Mosley's comments about the shutdown.
'Last Chance U: Basketball' and its coach, John Mosley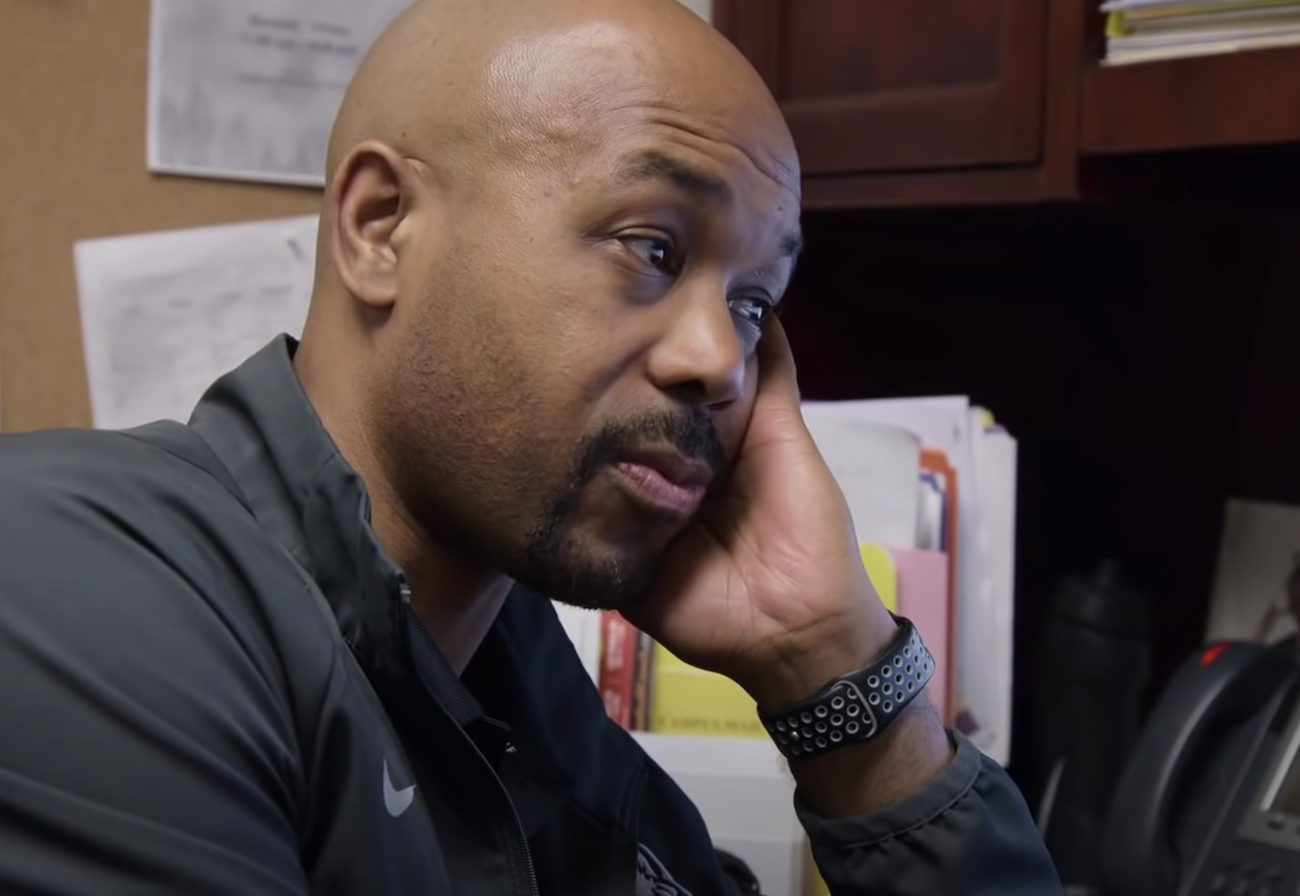 Last Chance U: Basketball follows the fate of basketball players at East Los Angeles College (ELAC), a community college located in the LA suburb of Monterey Park. The show tracks the ELAC Huskies throughout a single season, as they try to win their way to a state title.
Aside from the players themselves, a large portion of the show is dedicated to the tireless efforts of head coach John Mosley. Mosley has a unique connection to ELAC basketball. According to The Daily Cardinal, he played for the Huskies himself as a young man, establishing himself as the "most prolific point guard in the school's history."
Mosley's role goes far beyond that of a coach. He mops the basketball floors; he teaches spin classes, and he delivers sermons at his local church. Mosley also lobbies tirelessly on behalf of his players, helping them work past the hurdles they face so they can develop into responsible young men.
Key players on the 'Last Chance U' basketball team
Arguably the most talented player for the ELAC Huskies is power forward Joe Hampton. Hampton even spent time playing Division I basketball at Penn State, before leaving because of "personal reasons." At one point, Hampton even spent time in jail because of warrants for theft and bank fraud, according to The Cinemaholic.
Another key Huskies player is guard and team captain Deshaun Highler. His arc on the show centers around the grief he experienced following his mother's death due to cancer. Both Highler and Hampton work through their respective issues on the show. (Warning: The next section contains spoilers.)
COVID-19's impact on the ELAC team
Under coach John Mosley's guidance, the ELAC Huskies put together a truly impressive season, going 29–1. They made it all the way to the quarterfinals of the California Community College Athletic Association playoffs. At that point, however, in March 2020, the coronavirus pandemic became serious enough that the tournament was canceled.
In other words, the Huskies never got their hard-won chance to compete for a state title. That outcome weighed heavy on coach Mosley. In an interview with Esquire, he explained his thought process at the time, saying "it feels like I'm letting them down." He'd seen the sacrifices his players made. It just didn't seem fair for things to end the way they did.
Mosley went on to explain that things only got harder as the pandemic stretched out, impacting his ability to be there for his players. His feelings manifested as a sense of frustration with the system as well as the way that the pandemic was handled both locally and nationally.
Mosley also knew that his players were easily overlooked by society as community college students. As he put it, "And what they truly need, it's not basketball. Do they need to see me? They need to be here. They need structure and for a whole year, guys like Joe [Hampton] had not had me."