Late Bucs Owner Malcolm Glazer Tried to Buy 4 Sports Franchises Before Landing Tampa Bay
Malcolm Glazer's legacy as a sports owner lives on through his family's continued ownership of the Tampa Bay Buccaneers. The late billionaire always had dreams of owning a sports franchise. Glazer even tried on four occasions to buy, expand, or build teams. Through these failures came eventual triumph. Though he has passed, he's still an inspiration to the Bucs.
Malcolm Glazer grows up
RELATED: It's Sometimes Easy to Forget That Bruce Arians' Son Played in the NFL
Glazer's father died when he was just entering adulthood, according to the New York Times. A pawnbroker and watch-repairman by trade, he inherited some of his skills and business acumen. After dropping out of college to help raise his younger siblings with his mom, Glazer got the real-world experiences needed to make it in business.
He opened his own watch repair shop and jewelry store with the help of his mother. As the money came in, he began investing in real estate, too. By the time his mother passed away in 1980, Glazer and his mother amassed a considerable fortune that turned into a legal battle between him and his siblings. They eventually settled, but with Glazer's biggest inspiration gone, he began to make bigger deals. 
While his business empire and real estate holdings made him a rich man, Glazer had bigger dreams of owning a sports team. He tried to get one several times before finally succeeding.
Glazer's attempts to buy a sports team
RELATED: Bruce Arians' Coaching Staff Is a Perfect Example of Diversity in the NFL
Glazer first tried to get into the sports ownership game in the early '90s, reports the Tampa Bay Times. After becoming one of the world's richest men through all his business and real estate deals, he had his eyes set on reuniting Baltimore, who lost their Colts to Indianapolis years earlier, with the NFL. However, when it came time to put the money toward expansion talks, Glazer balked.
He tried and failed to purchase the San Diego Padres and Pittsburgh Pirates in the ensuing years to no avail. His most ambitious project yet, however, was America's team. Historically, teams have had one home city. However, Glazer had an idea to expand this, proposing a baseball team called America's Team that would split its home games between four locales.
That plan fell through. However, when the Tampa Bay Buccaneers went on the market, he put down the $150 million needed to make his dream a reality. For the rest of his life, Glazer was a well-known sports owner.
Glazer on sports ownership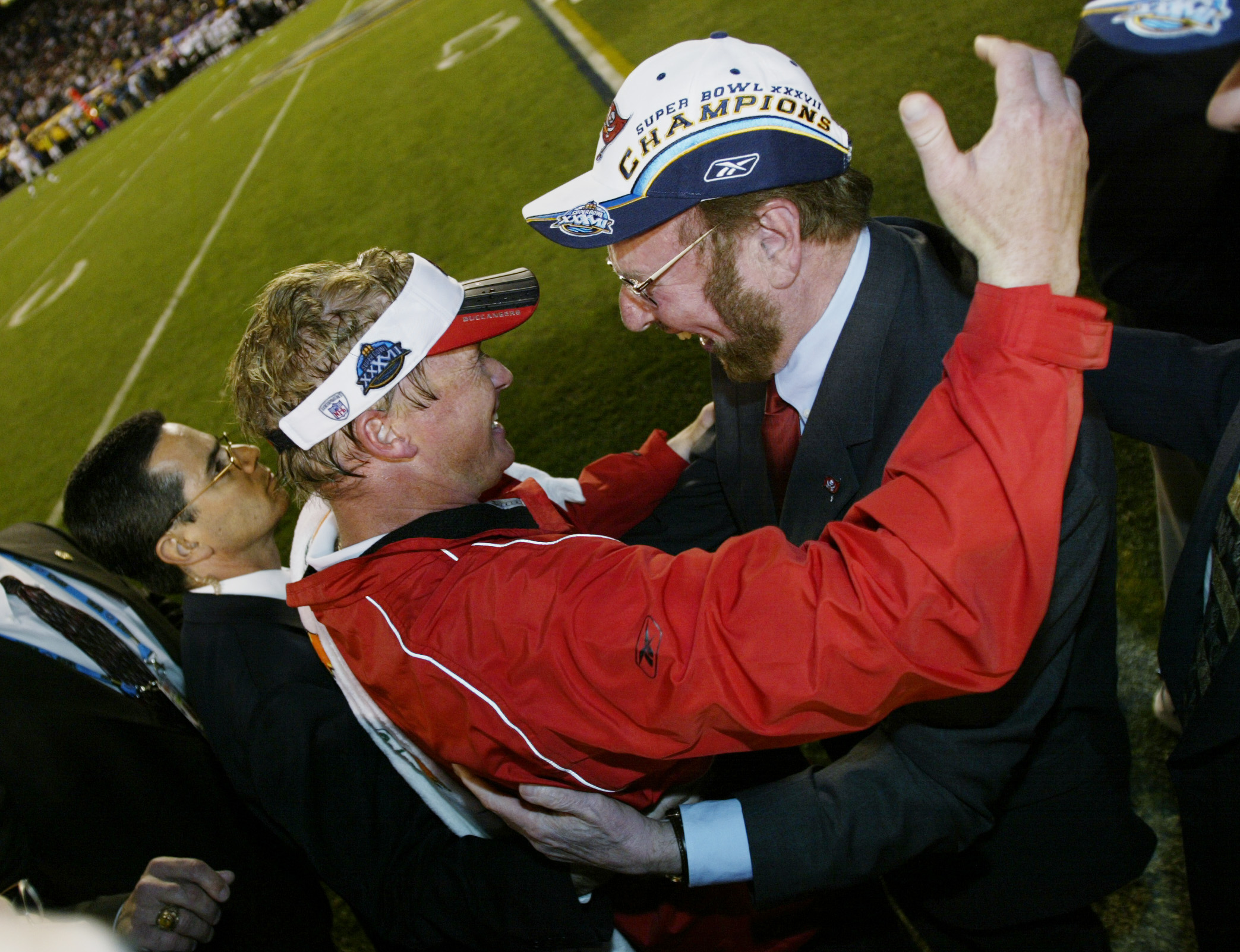 Glazer has a complicated legacy in sports. While Buccaneers fans typically have a soft spot for the family — especially with its reemergence as a Super Bowl contender for the first time since Jon Gruden led the team to one in 2003, his work with Manchester United leaves a lot to be desired. As a public-owned team, the Glazers' majority stake puts a target on their back.
However, Glazer was always up for the challenges. He spoke about owning a team with Manchester Evening News in 2005, just before moving to acquire his majority share:
"While we may be the owners, no one really owns the club. The fans, the supporters are the owners of the club and we are the stewards of the club. We have our club in the U.S., the Tampa Bay Buccaneers, which we have been involved in for 10 years, and there's nothing like it … When you're involved in sport, it's all about the competition, and that's what this is all about, the competition on the pitch, to compete at the highest level. This is where it is."
He doubled down on this in later comments, saying being an owner means connecting the team with the fans, players, and city they play in. "Being involved in sports, being an owner in sports, nothing can prepare you for that," he told the paper. "I think we've seen that. It's something you learn as you go along."
Glazer passed away in 2014, but his family still owns both teams. His success as a sports failure might explain how he got there, but even his failures like America's Team show someone willing to think outside of the box to reach his dreams. It also explains why his children keep the brand alive with Glazer's memory fully intact.