Latest Ezekiel Elliott Update Should Cause Major Concerns for Cowboys Fans
The latest update on Ezekiel Elliott won't make Cowboys fans feel particularly optimistic about what lies ahead for the star running back.
Dak Prescott deserves tremendous credit for helping the Dallas Cowboys get off to a 6-1 start. However, the superstar quarterback added three losses to his NFL resume this month largely because of issues beyond his control.
Besides Dan Quinn's defense failing to show up against the Denver Broncos and Las Vegas Raiders, Ezekiel Elliott's limited impact also played a role in Mike McCarthy's squad's disappointing November record of 1-3.
Unfortunately for Cowboys fans, the latest update on the team's star running back should cause major concerns.
Ezekiel Elliott has been trending in the wrong direction in recent weeks
Like basically every member of the Dallas offense, Ezekiel Elliott started the season on a tear. Coming off a lackluster 2020 campaign that included a career-low 979 rushing yards, the highly paid back racked up five touchdowns in his first five games.
However, Elliott has watched his production and usage slip since he carried the ball 21 times for 110 yards in a Week 5 win over the New York Giants.
In fact, things have gone from bad to worse.
After averaging 5.1 yards on 10 carries in a Week 9 loss against the Broncos, Elliott mustered 2.93 yards per carry in a blowout win over the Atlanta Falcons. He followed up with a rather unimpressive night against the Kansas City Chiefs that included 32 rushing yards and 36 receiving yards on 46 snaps.
Although Elliott found the end zone during Dallas' Thanksgiving Day defeat, he couldn't find many open running lanes. He turned nine carries into a paltry 25 yards, and he only gained 24 yards on six receptions.
Of course, the three-time Pro Bowler hasn't been operating at full capacity. And the latest update on Elliott's nagging knee injury doesn't sound promising for a Cowboys team that needs to get back on track before it's too late.
The latest update on the star running back should cause major concerns for Dallas fans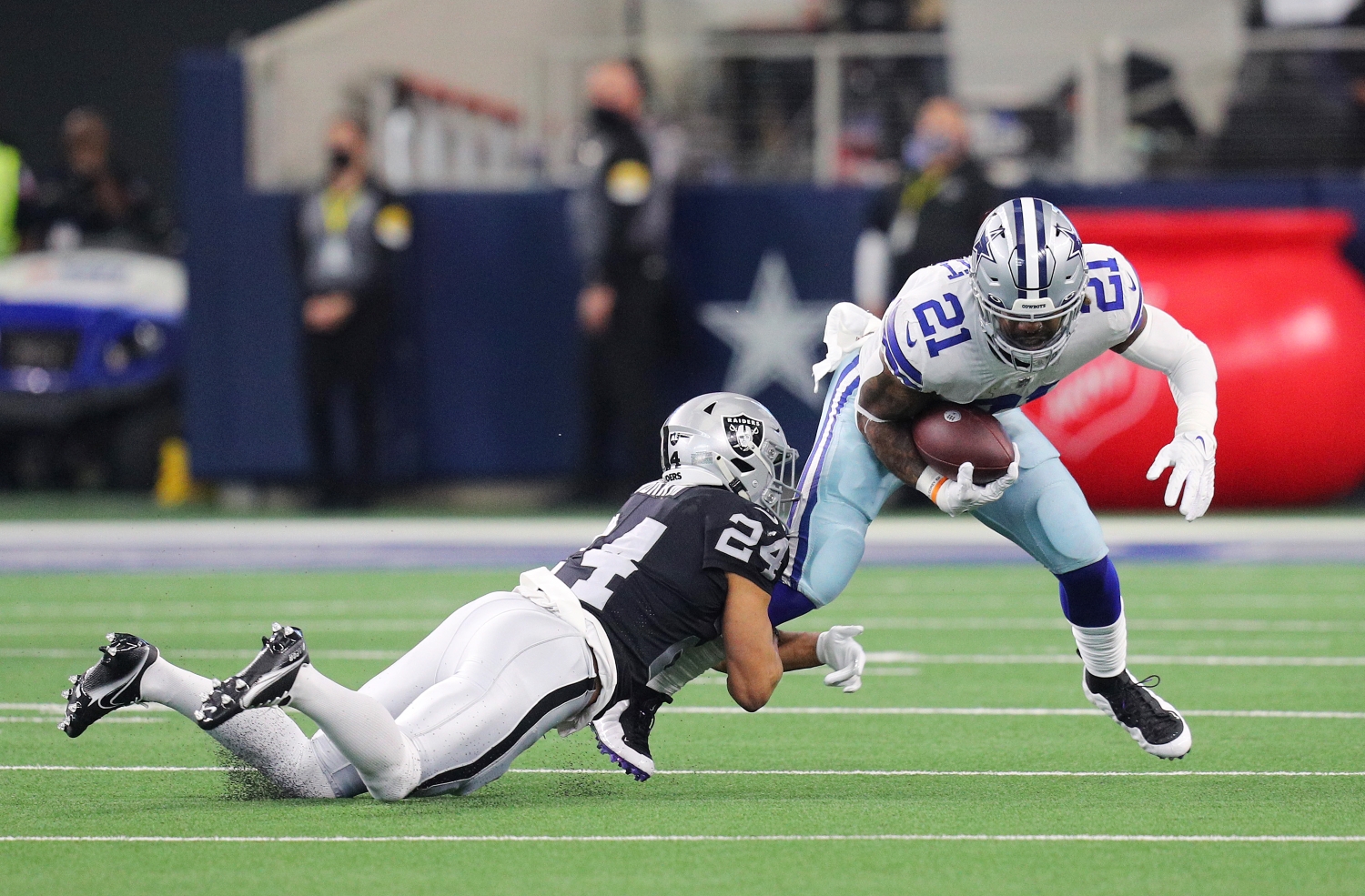 Dallas fans have seen Elliott go from being one of the team's top playmakers to looking like a shell of himself in just a matter of weeks.
And based on a report from ESPN's Ed Werder, they shouldn't be surprised if they don't see the banged-up running back on the field when the Cowboys face the New Orleans Saints on Thursday Night Football.
"The Dallas Cowboys will consider providing running back Ezekiel Elliott some time off to heal from the knee injury he has been managing, including the possibility of holding him out of next Thursday night's game in New Orleans, a source told ESPN," Werder wrote Friday. "The source does not believed that placing Elliott on injured reserve is a consideration at this time."
While that last part might make Cowboys fans feel at ease, the fact Mike McCarthy used the word "concerned" when discussing Elliott's injury should raise concerns about what lies ahead for the star running back. After all, if a bone bruise has already caused Elliott to become less effective before December hits, what's to say the issue won't linger for the rest of the season or pop up in the playoffs?
The physically gifted back runs with a style McCarthy deemed as "ferocious." Can Elliott live up to that word if his knee isn't at 100%?
Even if he gets some time off to heal, he could easily experience a setback given the nature of his job description. After all, Elliott absorbs huge blows not only as a ball carrier but also as a pass protector. For a team that has legitimate Super Bowl aspirations, having one of your most valuable players dealing with a knee problem doesn't seem like a recipe for success.
Tony Pollard has a prime opportunity to secure his future with the Cowboys
Luckily for the Cowboys, they have quality depth at the running back position. And if Elliott misses the Saints game, that means Dallas fans will get to see Tony Pollard utilized a full-time role.
Despite having just two starts on his NFL resume, the 2019 fourth-round pick carries tremendous value. Tipping the scales at 6-feet, 209 pounds, Pollard brings excellent speed and explosive athleticism to the mix. A do-it-all playmaker who's averaged 5.3 yards on 100 carries and totaled 256 yards on 29 receptions, he has a prime opportunity to prove he deserves to get paid.
Pollard only has one year remaining on his rookie deal, which means Dallas will have to make a decision soon about whether to keep him around for the foreseeable future. With Elliott under contract through 2026, though, will Jerry Jones want to commit millions of guaranteed dollars on another running back?
Then again, perhaps the Cowboys will do everything possible to retain Pollard's services.
After all, they can get out of Ezekiel Elliott's deal after the 2022 season for a dead cap hit of just under $12 million. And between his pricey contract and durability concerns, it may be time to consider moving in a different direction at the position anyways.
All statistics courtesy of Pro Football Reference. All contract data courtesy of Spotrac.