The Latest Klay Thompson Injury Update Suggests Stephen Curry Will Have to Carry the Load Early, but it's the Only Choice for the Warriors to Make
Golden State Warriors star Klay Thompson continues to work toward returning from a devastating Achilles injury. Still, the lack of specificity regarding his latest status update indicates the Dubs will slowly work him into the rotation. It also means Stephen Curry will again have to shoulder the load early in the season.
Curry is up for that challenge. He's coming off one of the finest individual seasons of his career, having won the scoring title this past season. That said, he cannot carry the Warriors on his back if Golden State hopes to challenge for a championship in a loaded Western Conference.
Steph and the Dubs need Thompson on the floor. But Golden State doesn't have any option but to exhibit extreme caution with the second Splash Brother.
The Warriors stated Klay Thompson is making "good progress" in recovery from Achilles injury
The Warriors announced Monday that Klay Thompson is indeed on track to return for the 2021-22 NBA season. Exactly when he returns, however, remains unknown.
Golden State issued a follow-up statement saying the "exact time" for Thompson's return has yet to be determined, adding that he will take part in "various controlled drills" during training camp.
That doesn't give Warriors fans a whole lot to be excited about regarding Klay's comeback. The vagueness of the statement might as well indicate he won't return before Christmas. Then again, Golden State doesn't want to make any false promises. Plus, there's precedent for Achilles injuries and more extended recovery periods.
Brooklyn Nets star Kevin Durant might have tried to return near the end of the 2019-20 season after the campaign was interrupted by the coronavirus pandemic. However, the Nets were nowhere close to title contention at the time, and it didn't make sense to throw KD back into the fire and risk re-injury.
Similarly, the Warriors cannot determine their contender status so early in the season. Thus, they'll take a wait-and-see approach with Thompson. However, that means the onus is on Curry to perform to last season's standards.
Stephen Curry must shoulder the early burden without his fellow Splash Brother
Stephen Curry is likely quite eager for Klay Thompson to return to the rotation. But until that day comes, he figures to carry the Warriors through the early part of the season.
Thompson isn't the only one working back from a significant injury. Warriors center James Wiseman is rehabbing from a torn meniscus he suffered in April. Wiseman hopes to be ready for the start of training camp, but he might need time to get acclimated before making strides in his second season.
Meanwhile, the Dubs lost Kelly Oubre Jr. to free agency and will rely on rookies Moses Moody and Jonathan Kuminga to soak up some minutes at the wing spots.
The relative uncertainty of Golden State's lineups places more pressure on Curry to be a mirror image of his 2020-21 self. That version of Steph averaged 32.0 points, 5.8 assists, and 5.5 rebounds while shooting 42.1% from beyond the arc on 12.1 attempts per contest.
The Warriors are once again going to ask a lot of their MVP. But Golden State really doesn't have any other choice.
The Warriors cannot afford to rush Klay Thompson's return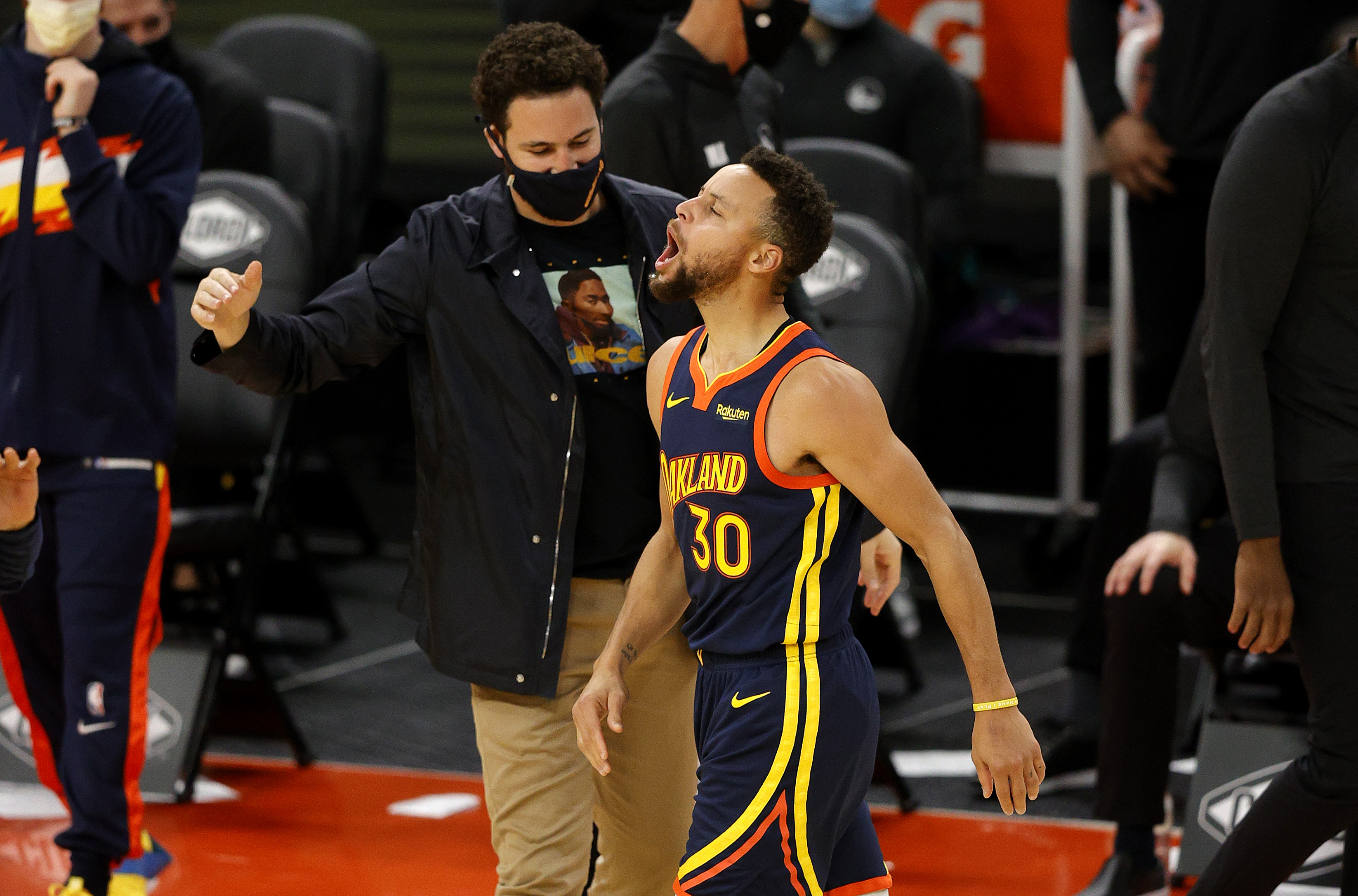 Golden State needs Klay Thompson to have any chance of winning another NBA championship. He's an elite perimeter defender and vital second scoring option.
But the Dubs need a fully healthy version of Klay, not a watered-down installment who could show timidity about his ability to run, cut, and jump. Given Thompson's recent injury history, it's only fitting that Golden State proceeds with caution.
Thompson has had two serious lower-body injuries in consecutive seasons. He suffered a torn ACL in Game 6 of the 2019 NBA Finals before sustaining the Achilles injury on draft night last year. The Warriors need to ensure he's stronger than ever before feeling comfortable getting him back on the floor.
The Warriors could struggle to establish a solid early footing with so much reliance on Curry to continue putting up historic numbers. Still, the long game is far more critical when it comes to Thompson's health and Golden State's hopes of getting back to the NBA mountaintop.
Stats courtesy of Basketball Reference.
RELATED: Klay Thompson's Epic Game 6 Performance Against the Thunder Prompted Charles Barkley to Coin an Awful New Nickname