Latest Leaks From Ben Simmons' Camp Prove His Shooting Is the Least of His Problems
After several members of the Philadelphia 76ers organization spoke at length about hopes to resolve the ongoing standoff with holdout All-Star point guard Ben Simmons, members of his inner circle quickly took a torch to those sentiments. Simmons reportedly was unmoved by superstar Joel Embiid, president of basketball operations Daryl Morey, and coach Doc Rivers. The bottom line is that his resolve to never don the red-white-and-blue togs of the 76ers is unwavering.
Most of the blame for Philadelphia's flameout in Game 7 against the Atlanta Hawks in the second round of last year's playoffs fell on Simmons. He was ghastly in the series, passing up open shots late in games and shooting 33.3% from the free-throw line. But the latest nugget coming from his camp is the most stunning yet and begs the question: Just with whom can Ben Simmons play?
Embiid thoughtful, Morey optimistic during Philadelphia 76ers media day
Though Ben Simmons wasn't at the media day activities, he was far and away the hot topic. All-Stars opting not to show up gets everyone's attention, it seems.
Embiid was candid and careful when asked about his thoughts on the Simmons situation, per NBC Sports Philadelphia.
"Honestly, I would probably say, 'I'm disappointed,'" Embiid said in response to a question on what he would tell Simmons. "Obviously, we haven't won anything. Just going by what's been said through the media and you guys tweeting through your sources and stuff, I would look at it in a way of, look at what we've been able to do.
"Obviously, we haven't done anything in the (playoffs), and I've got to be better; everybody's got to be better. But in the regular season, we've been so good and so dominant that we know it's working."
Morey likened the situation to the recent Aaron Rodgers drama with the NFL's Green Bay Packers.
"I watched (Sunday) night a player lead their team to victory where a thousand pounds of digital ink were spilled on how much he would never play for that team again," Morey said. "Look, every situation is different, but we have a lot of optimism that we can make it work here. … Ben's a great player, and we expect him back. We expect him to be a 76er."
As for Rivers, he may have thrown gasoline on the fire by suggesting Simmons is shying away from the notoriously demanding Philadelphia fan base.
The inner circle of Ben Simmons says it's over between the player and the Philadelphia 76ers
Sam Amick of The Athletic reported that people close to Ben Simmons had two significant points after media day.
The first was that Morey's words were hollow.
"It's total bulls***," a source familiar with Simmons' outlook told Amick.
The broader point had to do with the four-year-long partnership between Simmons and Embiid. The point guard doesn't believe he can play how he needs to while paired with Embiid. The source was emphatic about Simmons' feelings about the fit:
"It has run its course."
But if Simmons can't play with Embiid, one of the most dynamic offensive forces in the NBA, it casts doubt whether there is a fit anywhere for Simmons.
Ben Simmons wants driving lanes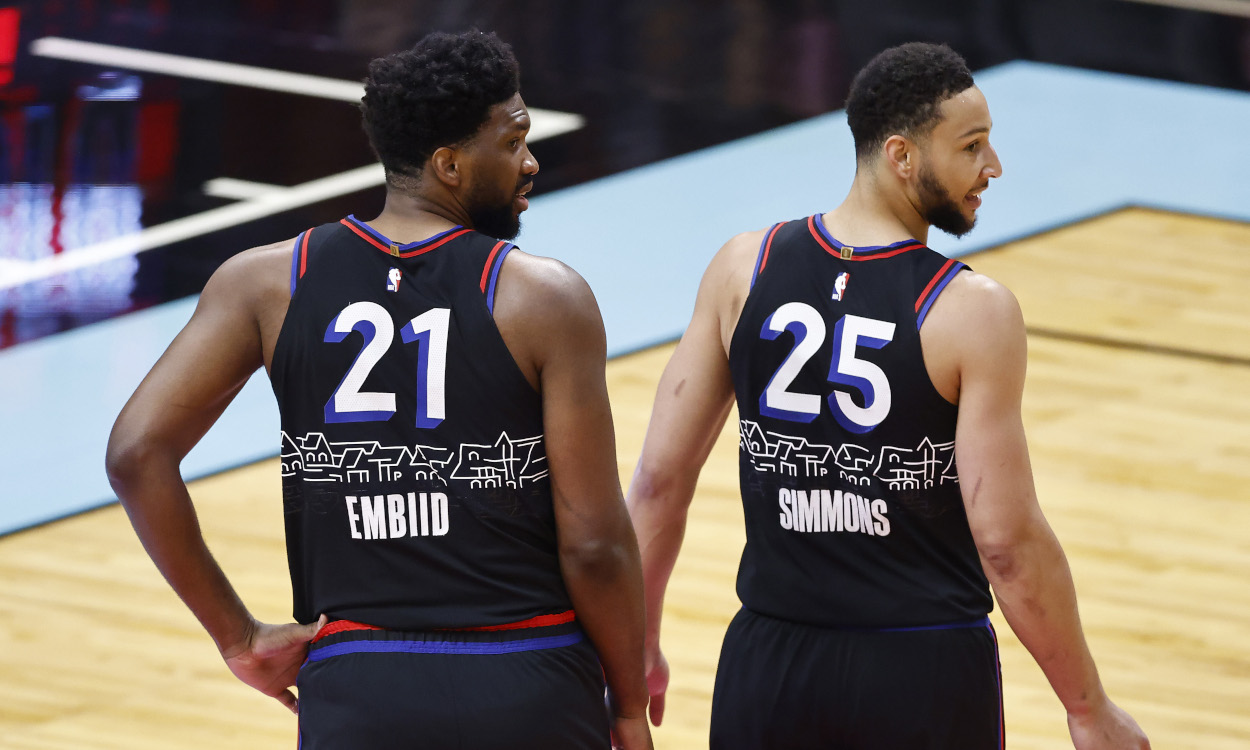 While a source close to Ben Simmons told Amick there are no personal issues between the Defensive Player of the Year runner-up and the All-NBA big man. However, Simmons reportedly believes Embiid's presence in the paint impeded his game.
But Embiid is not a traditional center by any means. He was a 37.7% shooter from 3-point range last season, averaging three attempts per game. Further, he takes more than half his shots from mid-range and beyond the arc. Yes, Embiid is a dynamic finisher, knocking down 73.6% of his attempts at the rim. But that constituted only 21.9% of his shot selection.
Essentially, what Simmons is saying is that he needs to be in a five-out system with the ball in his hands to drive and kick to shooters. That's a common strategy of the pace-and-space NBA. But Simmons' reluctance to shoot from outside the shadow of the rim complicates things.
Driving and passing is an excellent strategy in theory. But it's much harder to accomplish when a defender can lag off Simmons. The defensive strategy is to cover the shooters and force Simmons to beat you from midrange and beyond.
Since he's never shown he can do so, it's hard to envision a better fit for him than in a system with a modern big in Embiid and shooters such as Danny Green and Tobias Harris.
And that doesn't even get into the issue of getting anywhere near a decent return for Ben Simmons.
Statistics courtesy of Basketball Reference.
RELATED: Philadelphia 76ers Rumored to Be Nearing a Ben Simmons Trade With a Shocking Sleeper Team in Play