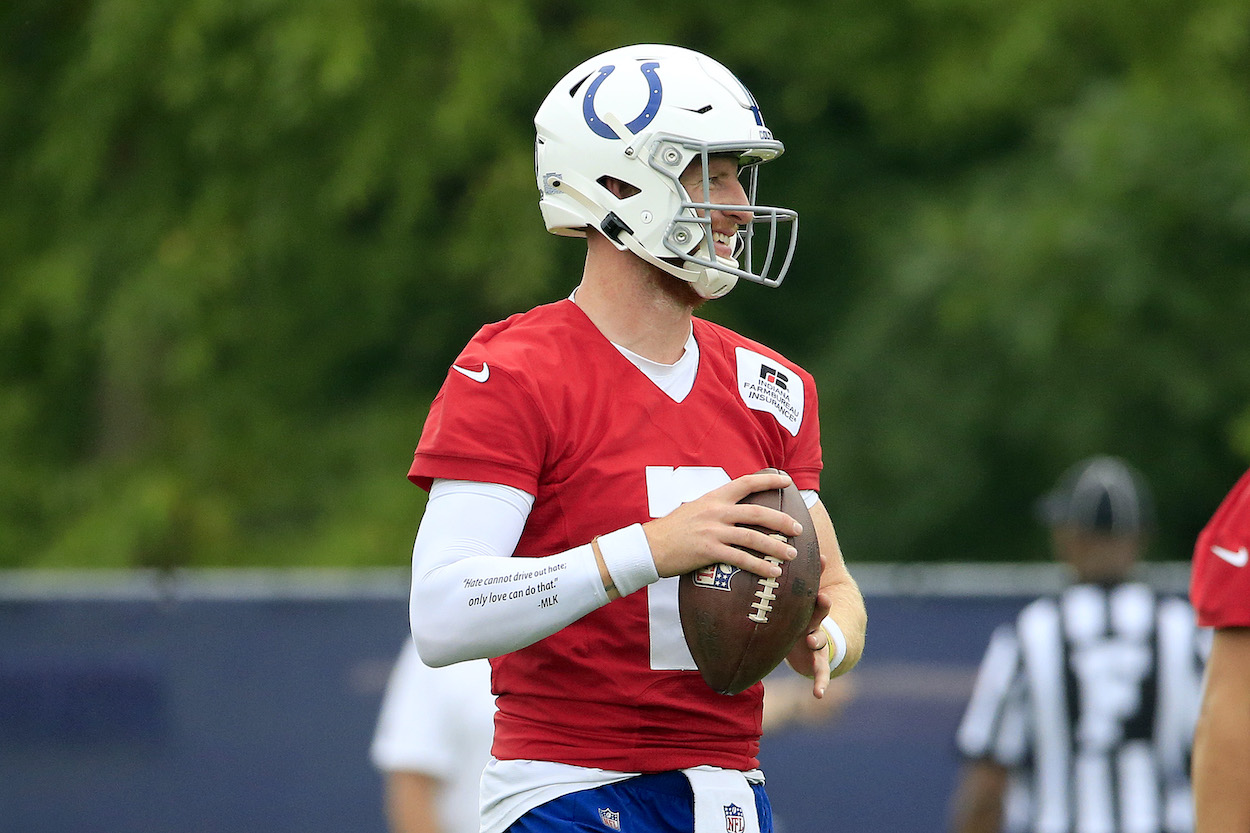 The Latest Report on Carson Wentz's Injury Is Just as Encouraging for the Eagles as It Is for the Colts
Carson Wentz is now on pace to start in Week 1 for the Colts.
When the Indianapolis Colts traded for Carson Wentz earlier this year, they knew the risks that came along with him. Wentz has an extensive injury history throughout his relatively short career in the NFL, but the Colts were hoping a change of scenery would do wonders for the fragile quarterback.
The risky investment came back to bite them sooner than they expected, though, as Wentz went down with a foot injury in training camp that needed surgery to repair. The initial diagnosis was that the QB could be out for 5-12 weeks, but the latest report out of camp has Indianapolis fans jumping for joy.
Eagles fans, too.
The latest report on Carson Wentz's injury is a positive one for the Colts
Colts fans had mixed feelings about trading for Wentz this offseason. On one hand, he's an extremely talented QB when everything is clicking around him, and he can take Indianapolis to the next level as long as he stays on the field. But on the other, he's an injury-prone player who also has little playoff experience. Maybe he's not the guy to lead this star-studded roster to the heights they think they can reach.
Early in training camp, the Colts' worst nightmare came true when Wentz injured his foot on a rollout during a simple drill. It was later revealed that the QB had a broken bone in his foot that possibly dates back to his high school playing days.
Wentz underwent surgery on Aug. 2, and the team said he would be out for 5-12 weeks. Based on that timeline, he could've been sidelined for the first seven games of the 2021 season.
But that apparently won't be the case at all.
On Wednesday morning, Chris Mortensen of ESPN reported in a tweet that Wentz (and right guard Quenton Nelson) is "trending to open the season as the starter." Both Wentz and Nelson have been back at practice this week without walking boots.
The Colts must love where their new QB stands in his early recovery, and so should the Eagles.
The Eagles are just as excited about Wentz's latest injury update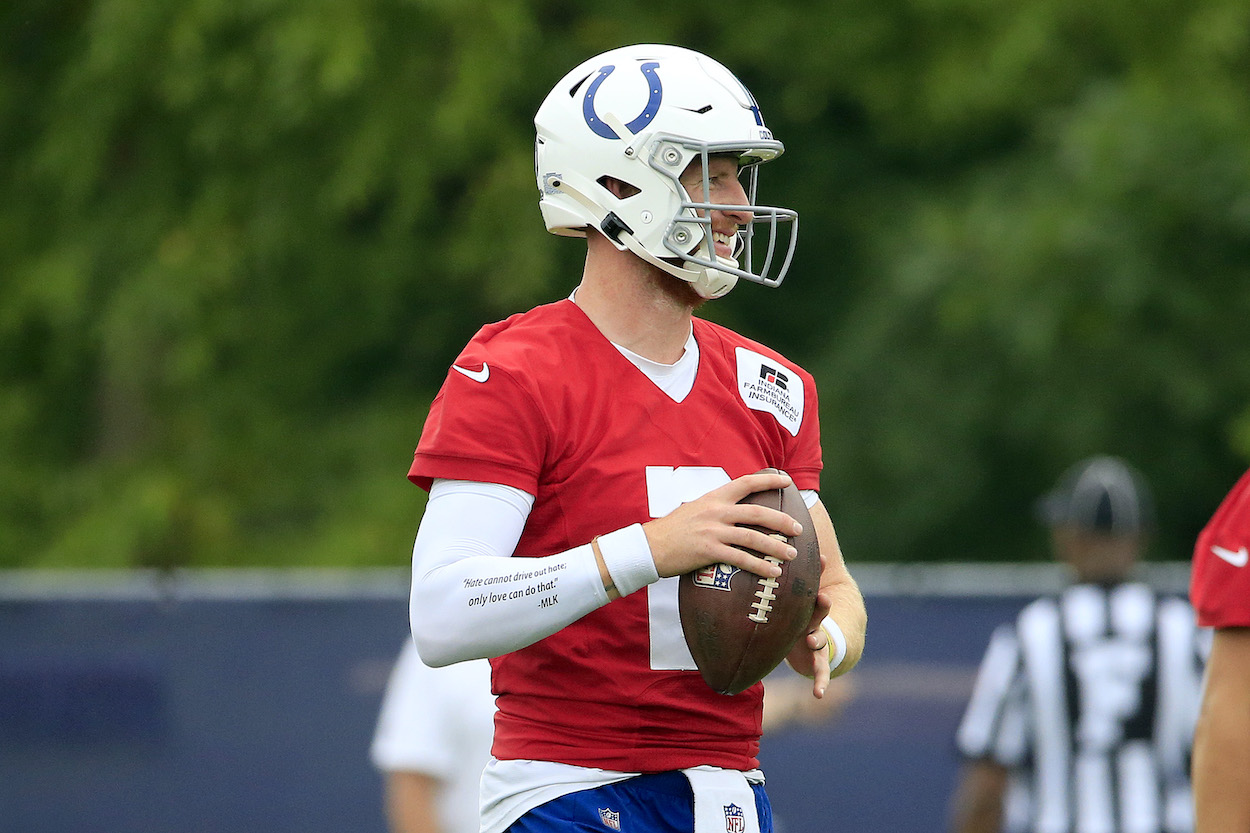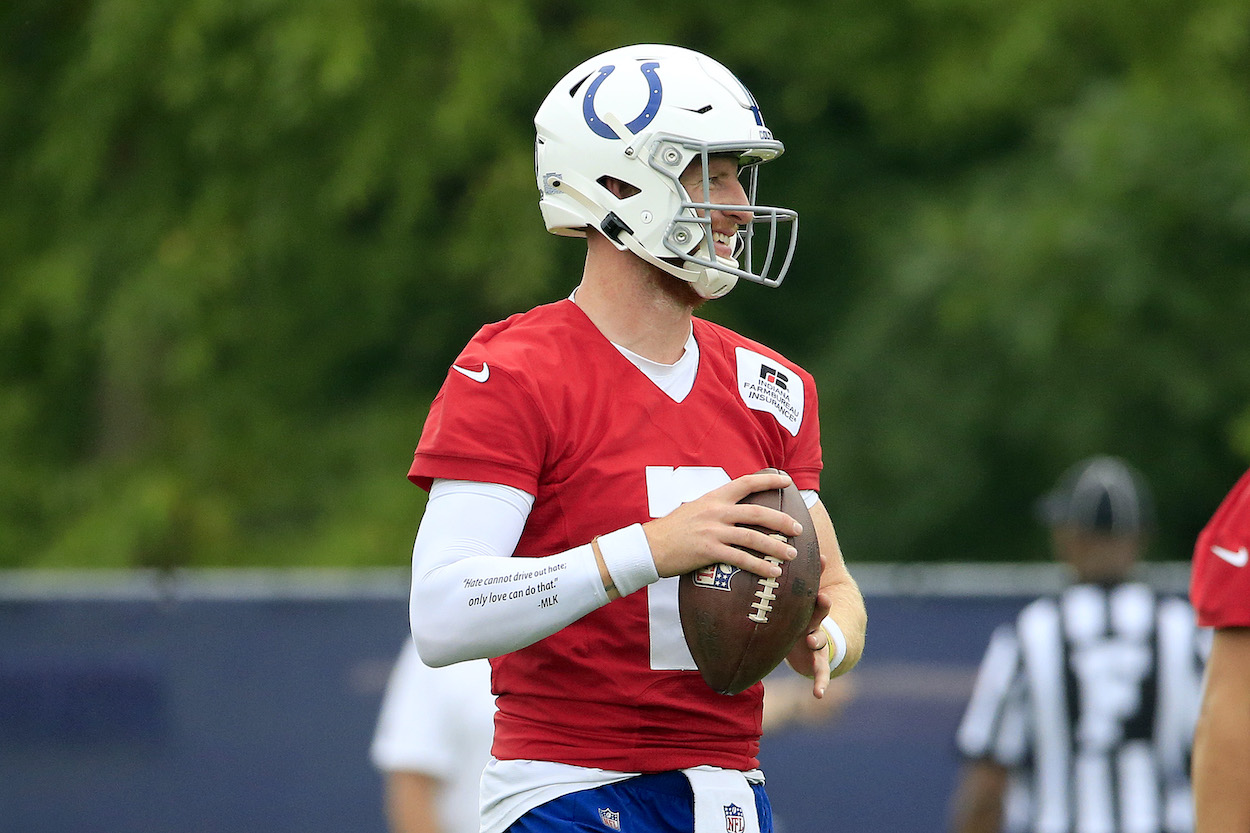 The Colts are obviously the most satisfied party in regards to Wentz's recent injury update, but the Eagles aren't far behind. Remember, Philadelphia earns a first-round pick from Indianapolis in 2022 if Wentz plays 75% of the team's snaps this season (or 70% if the Colts make the playoffs). If he doesn't play 75% of the snaps, that draft pick will turn into a second-rounder.
When the 5-12 week timetable was initially revealed, Eagles general manager Howie Roseman probably sunk into his chair in pain. 'How can this guy still be haunting me from 600 miles away?' he must've thought.
But if Wentz can return to the field by Week 1 and stay healthy for a majority of the season, Roseman will be all smiles once again.
Eagles fans face a confusing dilemma with their ex-franchise QB
After the Eagles sent Wentz out of town earlier this offseason, Philly fans couldn't have been more thrilled. The top draft pick from 2016 was supposed to be their savior, but injuries and declining play derailed what could've been a prosperous marriage. Wentz took no accountability for his actions while he was stinking up the Linc in 2020. He cut off coaches and players and went dark after he was benched for Jalen Hurts.
It was time for both sides to move on, and fans knew it.
The passionate fan base was excited to root against Wentz when he moved on to another team, but the conditional second-round pick changed everything. Now, Eagles fans will be forced to root for Wentz to at least stay healthy this season. Hey, he can throw the most interceptions in the NFL and not win a single game with the Colts in 2021. As long as he plays 75% of the team's snaps, the 2-1-5 will be thrilled.
So, Wentz will enter his first season in Indy with two cities behind him. Only, they'll be supporting him for two completely different reasons.