The Latest Saquon Barkley Injury Update Should Only Accelerate the Timeline on a Difficult Admission
Article Highlights:
The New York Giants need to consider moving on from injury-prone running back Saquon Barkley
The Penn State product has been limited to 3.1 yards per carry in seven games since the start of 2020
Will the Giants trade Barkley in the spring of 2022?
At this stage in the game, the New York Giants have almost certainly acknowledged they erred in selecting Penn State running back Saquon Barkley second overall in 2018. 
That's with all due respect to Barkley, who won the NFL Offensive Rookie of the Year Award and burst onto the scene in his first season. It's certainly not his fault that injuries have mounted up and not only kept him off the field but also sapped him of his effectiveness.
Unfortunately, reality is often unfair, and the Giants need to accept that Barkley, who turns 25 in February, cannot be a part of their long-term plans.
The Giants need to officially accept that Saquon Barkley is not a player they can build around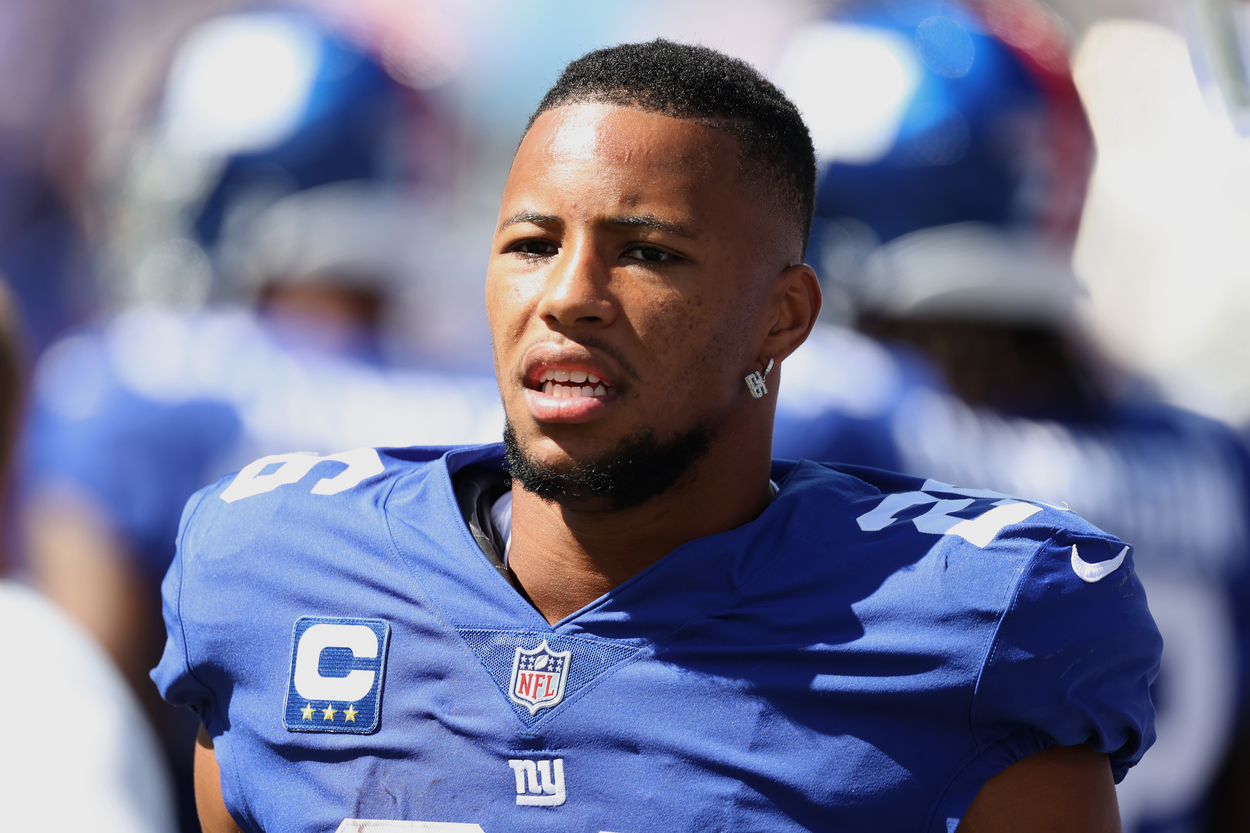 In hindsight, the odds were always stacked against Barkley. The Giants, who entered the 2018 season with an aging Eli Manning at quarterback, hoped he'd be a generational, do-it-all running back who could carry a team the way the likes of Adrian Peterson and LaDainian Tomlinson once did.
We're not saying selecting Wyoming quarterback Josh Allen (the seventh overall pick), making a play for Louisville signal-caller Lamar Jackson (32nd overall), or even waiting to select a quarterback and drafting Notre Dame guard Quinton Nelson (sixth overall) would have been guaranteed success stories. But one can only wonder what would have happened if the Giants used conventional wisdom and didn't draft a running back so early.
Barkley, who averaged 3.6 yards per carry and scored three total touchdowns in his first four games this year, suffered a low-ankle sprain in Week 5. The Giants ruled him out for a crucial Monday Night Football showdown with Patrick Mahomes and the struggling Kansas City Chiefs.
Here's the reality on Barkley, who will be a free agent after the 2022 season. He's averaged 3.1 yards per carry in seven games since the start of 2020. At 24, he's dealt with numerous ankle injuries dating back to his freshman year at Penn State.
The Giants have to accept at this point, assuming they still haven't, that they cannot build a team around Barkley. How can any franchise, especially one likely to make a general manager change, give an injury-prone running back a massive extension and expect to win going forward?
The Giants' front office has made many questionable decisions in recent years, but even they have to know that extending Barkley is the wrong move.
Barkley's contract situation will create interesting questions next spring
When the Giants picked up Barkley's fifth-year option earlier this year, they guaranteed his 2022 salary at $7.21 million. Luckily for the Penn State product, he'll get to cash in before potentially hitting a quiet free-agent market in 2023.
It will certainly be worth monitoring what exactly the Giants do with Barkley in the coming months. If owner John Mara cleans house and replaces general manager Dave Gettleman, a potential replacement may not want to keep the veteran running back around. The same applies to Joe Judge, the second-year head coach who remains on the hot seat.
If Barkley stays healthy in the season's second-half and looks sharp in the process, he might have a trade market next spring. Even with a $7 million salary, he'd make sense for a contending team with cap space. We'll forgive Baltimore Ravens and Los Angeles Chargers fans for salivating on their screens.
The only problem is, understandably, which version of Barkley would teams receive? And, conversely, which version of Barkley would the Giants be trading? The Giants can live with giving up on the 2018 Pro Bowl selection if what we've seen over the last two years is a guaranteed sign of things to come.
Sometimes, a team has to know when to move on. Something tells us that, considering Barkley's injury history, a potential divorce will look much more like the Los Angeles Rams parting ways with Todd Gurley as opposed to the Cincinnati Bengals trading Corey Dillon.
The Giants cannot repeat the Barkley mistake in the 2022 NFL Draft
As of publication, the Giants would hold the seventh and 11th overall picks, the latter courtesy of the Chicago Bears, in the 2022 NFL Draft. Barkley's current team has no shortage of holes, especially on the offensive line.
We have one piece of advice for the Giants: do not repeat the Barkley mistake and select a running back in the first round.
Much like Barkley in 2018, Michigan State's Kenneth Walker III could very well be a tempting pick early in the draft. The 5-foot-10, 210-pound junior carves through defenses with explosive cuts and next-level speed, traits that turn 7-yard gains into long touchdown runs.
Barkley wasn't the answer in 2018, and Walker won't be the answer in 2022. The Giants need to improve the offensive line and determine if quarterback Daniel Jones is the long-term answer. If they want a running back, they can draft one in the middle rounds — Notre Dame's Kyren Williams and UTSA's Sincere McCormick are intriguing prospects — or sign one in free agency.
But for the sake of avoiding repeating history and tormenting their fans even further, we have reason to believe not using a first-round pick on a running back is the safe call. Now, if the Giants haven't accepted that fact, we look forward to watching Walker score double-digit touchdowns on a 2-15 team next fall.
Like Sportscasting on Facebook. Follow us on Twitter @sportscasting19.
RELATED: Daniel Jones is Officially in Danger of Suffering Further Damage to His Disappointing Giants Legacy Due to No Fault of His Own