The Latest Tua Tagovailoa Injury Update Provides Hope for the Overmatched Miami Dolphins on Thursday Night Football
The Miami Dolphins are hoping that quarterback Tua Tagovaloa can play on Thursday Night Football, but that is not guaranteed.
In his second season with the Dolphins, Tua missed Miami's 17-9 win over the Houston Texans with a fracture in the middle finger of his throwing hand. He's been considered day-to-day this week, and though backup Jacoby Brissett is expected to be the starter, Miami has yet to rule out a surprise return to action for their young quarterback. 
With Lamar Jackson and the Baltimore Ravens coming to town, Miami's best chance is if Tagovailoa is able to play. A quarterback battle between Jackson and Tagovailoa is a much more exciting matchup than Jackson vs. Brissett, so those with a stake in the ratings of this game have to be hoping that Tua can pull off the comeback as well.
The Ravens and Dolphins both have some momentum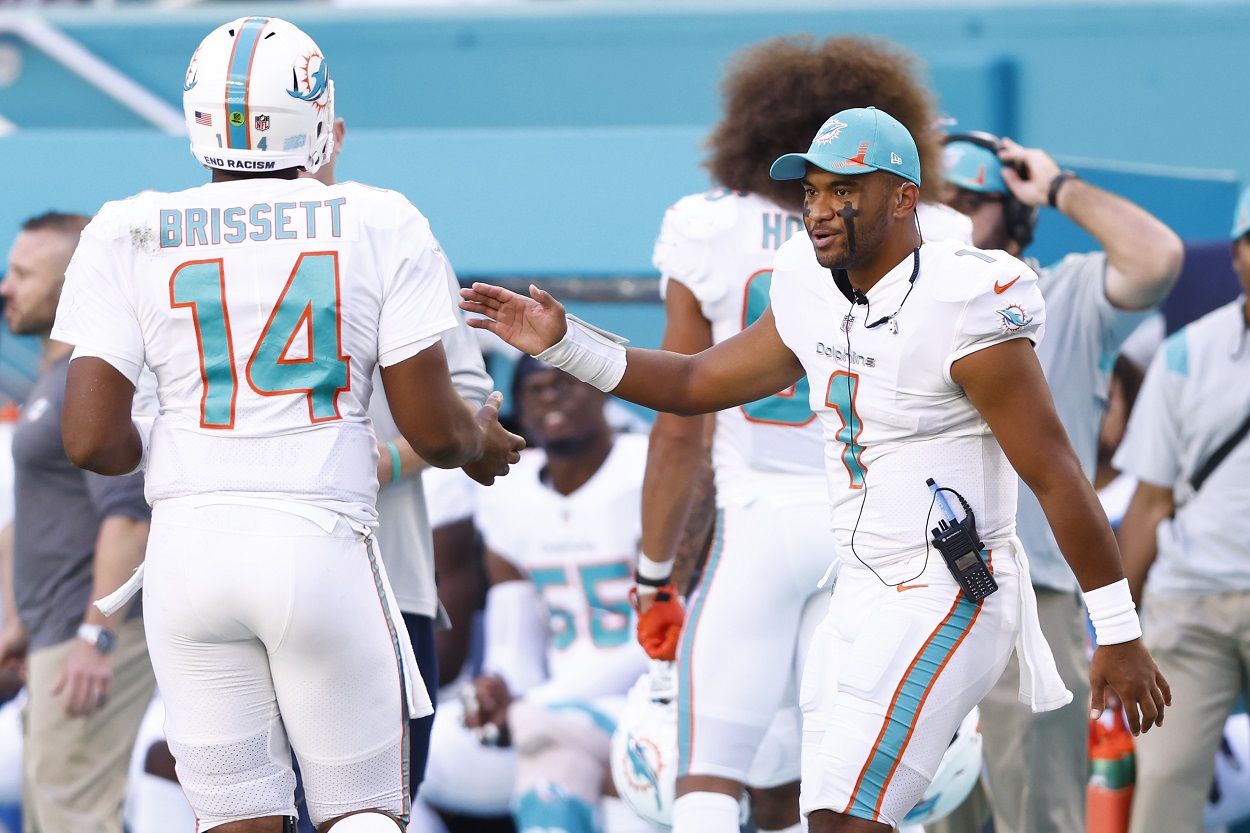 At 6-2, the Ravens are currently on top of a very competitive AFC North. They're coming off an overtime win over the Minnesota Vikings, so the short week may feel even shorter for a team that battled Minnesota to the very end of the overtime contest. Justin Tucker kicked a 36-yard field goal to give the Ravens a 34-31 win.
The Dolphins, as mentioned, are coming off a win themselves, and while a win over the terrible Texans may not move the needle all that much, every bit of momentum helps for a team that's 2-7 on the season.
Notably, Miami's win over Houston snapped a seven-game losing streak. 
"It gives [us] a lot of confidence that the work we're putting in is not going to waste," safety Eric Rowe said of the win, according to ESPN. "That's the biggest thing, because once you start believing that all the hard work you are putting in is not going anywhere, then ultimately you stop working hard, and then you lose even worse."
On paper, this game is a significant mismatch, and it doesn't favor the Dolphins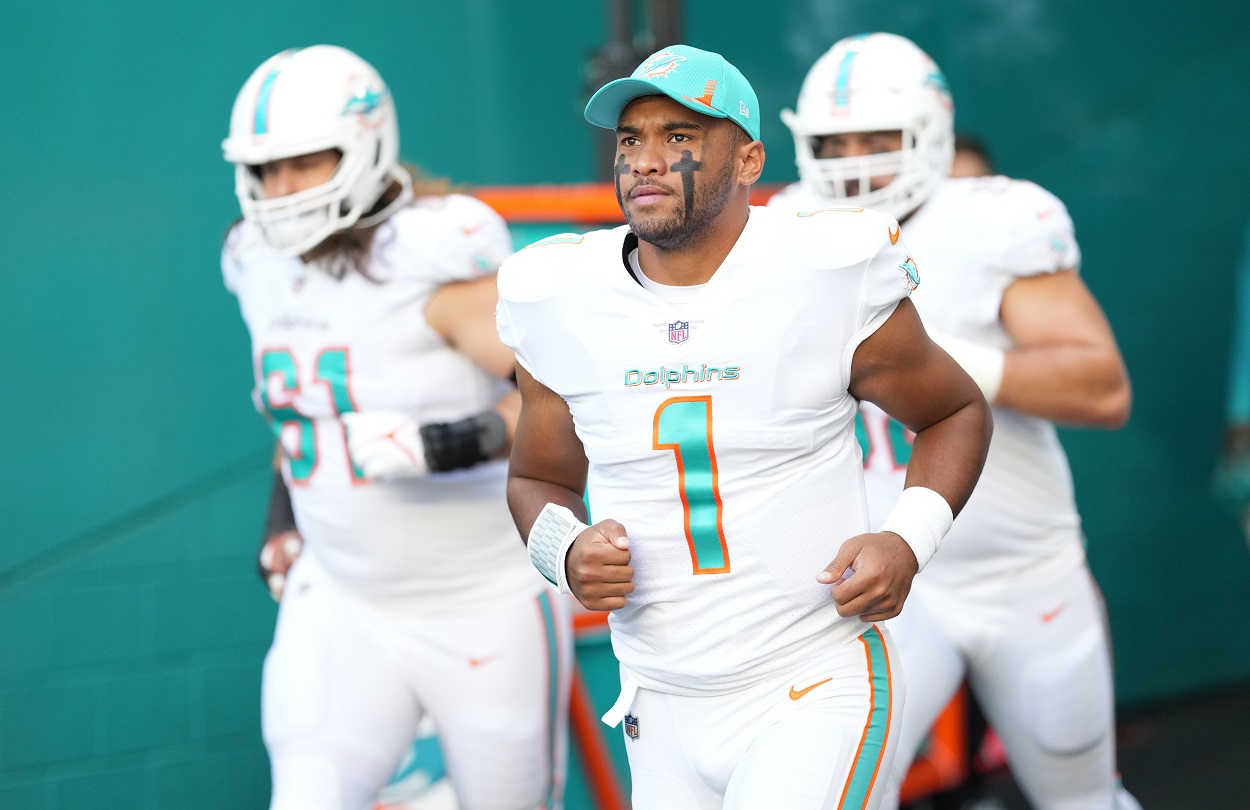 Though they are riding the high of a win, the Dolphins have some major work to do on Thursday Night Football. It's not going to be an easy contest, because at least on paper, everything is going against them.
The Ravens score 27.6 points per game, and Jackson is arguably the most explosive offensive player in the NFL. He's a yardage machine, able to pick up big chunks with his arm or legs. Baltimore puts up 442 yards per game and boasts big play-makers not named Jackson. Wide receiver Marquise Brown is averaging 14.8 yards per catch, and he has six touchdowns so far this season. Tight end Mark Andrews is among the best of the league and averaging 13.3 yards per catch; he's huge for the Ravens when it comes to moving the sticks.
For as explosive as Baltimore has been, Miami is quite the opposite.
The Dolphins average just 17.2 points per game and give up 26.9 on the defensive side of the ball. Miami's biggest weapon is tight end Mike Gesicki with 529 yards and two touchdowns on the season. 
Tua, when healthy, is arguably Miami's most dynamic offensive weapon, but that's the problem. Tagovailoa has missed multiple games this season due to injury. That has been part of the evaluation of Tagovailoa for the Dolphins. Availability is often-times thought of as the best ability in sports.
"Obviously, availability is very important. There's a lot of factors that play into that," head coach Brian Flores said. "It's not the only factor. The person, the player, the talent — I think Tua is competitive. He's smart. He wants to be out there. I think he's getting better."
"I think we all know that in order to continue to get better, you need to be out there and get the experience. I think he'll get that. This is another bump in the road for him but he'll get through it and he'll be fine."
The latest update on Tua Tagovailoa's injured finger
Cameron Wolfe of the NFL Network is reporting that Tua will work out a few hours before Thursday night's game to determine whether or not he can play. Brissett is the expected starter, but the Dolphins are "leaving the door open" for Tua.
"They're really watching what the grip is in his fingers. Really, the discomfort. It's not a pain issue for him," Wolfe reported. "It's the ability to throw the ball and really have ball security. That quarterback-center exchange is difficult with that middle finger."
"There is a chance," he went on to say. "They're going to give him a shot and see how he can do in the pregame workout."
Brissett is a consummate professional as an NFL quarterback, and yes, he did just lead the Dolphins to just their second win of the season. With that said, he's a reliable backup for a reason — he's not necessarily the guy you want leading your team for 17 games. As a spot starter, Brissett is good in a pinch or for a few games, but he's ultimately an average quarterback. He completed 26-of-46 passes against the Texans for 244 yards and a touchdown, but he did throw two interceptions.
To be fair, Tua isn't perfect.
There's a reason the Dolphins were reportedly highly interested in trading for Deshaun Watson, even though they botched that situation. Tua is inconsistent and mistake-prone, which isn't terribly surprising for a young quarterback, but it can lead to some frustrating moments.
The flip side to Tua is that he's proven that he can be a dynamic weapon as a quarterback when he's feeling it. 
When he's on, he has a strong arm and good escapability in the pocket. It's not always pretty, but he is a play-maker when he needs to be, and that's the type of player the Dolphins will need at quarterback if they want to have a fighting chance against the Ravens.
Tua vs. Jackson is still quite a mismatch, but it's the best shot the Dolphins have.
Stats courtesy of ESPN and Pro Football Reference.