The Latest Zach LaVine Injury Update Should Leave Bulls Fans Holding Their Breath
A depleted Chicago Bulls squad already had a shortage of trusty wing options and a legitimate need in that area before the Feb. 10 NBA trade deadline. They elected not to make a move, which looks even riskier considering the status of Zach LaVine's knee injury.
LaVine's efficient scoring and creation have made him one of the fastest-budding stars and an absolutely vital component to the Bulls' success. But physical setbacks have hampered him this season, and lingering knee soreness threatens his availability while jeopardizing Chicago's status as a championship contender.
Zach LaVine is having an All-Star season but has also dealt with injuries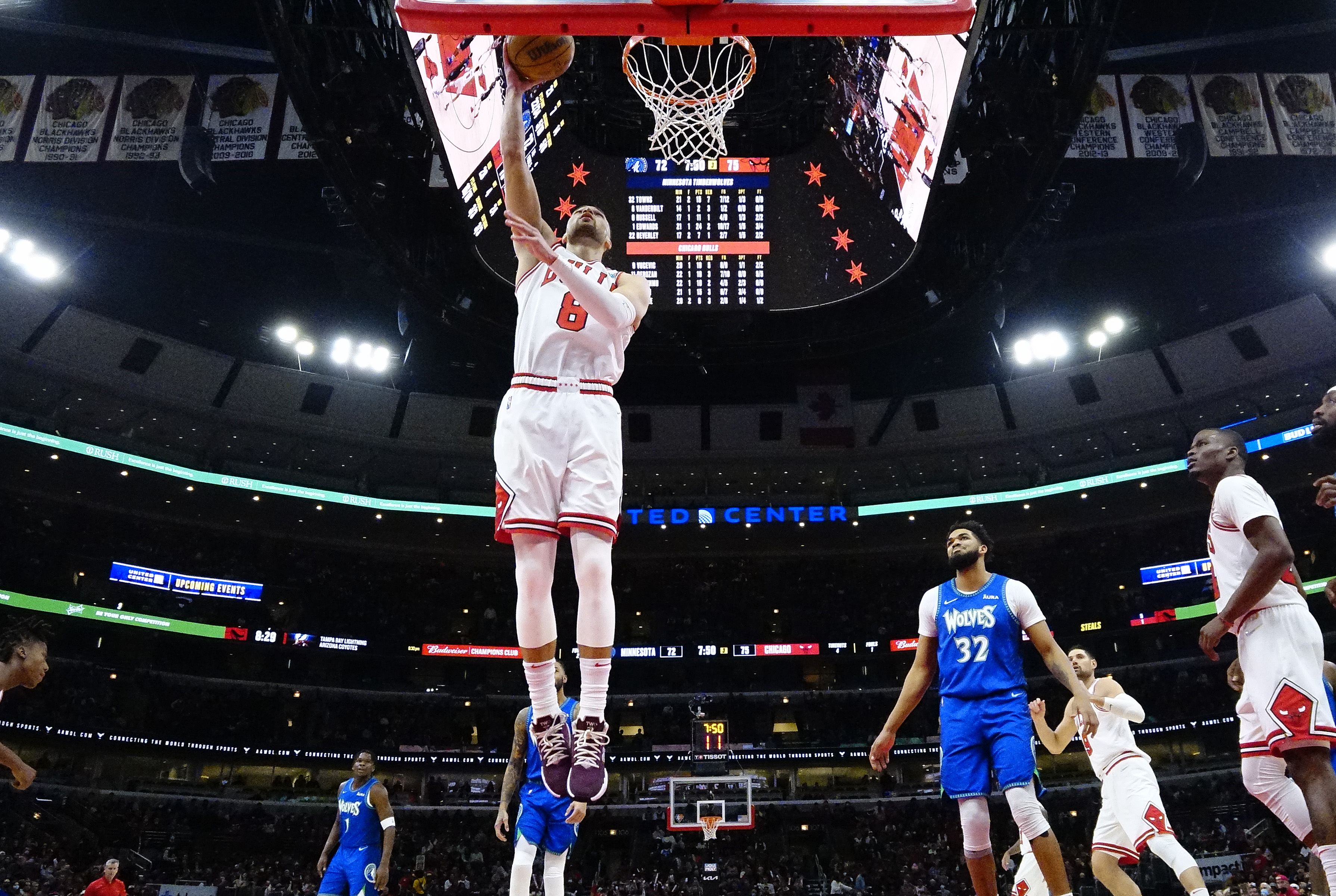 LaVine has long been deserving of more national acclaim. He has received just that with a selection to the 2022 NBA All-Star Game.
The 26-year-old has been brilliant for the Bulls. Through his first 47 games, LaVine averaged 24.6 points, 4.9 rebounds, and 4.5 assists. He is shooting over 48% from the field and nearly 40% from beyond the arc. That's outstanding scoring efficiency, and it's what makes LaVine such a big part of Chicago's success.
DeMar DeRozan continues to give the Bulls a steady scoring punch and back up his MVP claims. His dominance in the midrange and rim pressure generate offense. Still, LaVine's ability to shoot off the dribble and play-make getting downhill are every bit as crucial.
Unfortunately, LaVine hasn't always been able to give the Bulls those things.
Aside from spending time in health and safety protocols, back issues have plagued the two-time All-Star. However, the more concerning problem is a knee injury that could now keep LaVine out for the foreseeable future.
LaVine will see a specialist to examine his left knee
The city of Chicago held its collective breath when Zach LaVine left a Jan. 14 loss to the Golden State Warriors with a knee injury. Bulls fans could exhale after MRI results came back clean, but there's more reason for concern.
LaVine missed Saturday's win over the Oklahoma City Thunder with knee soreness. It's been giving him trouble for the better part of a month now.
On Sunday, Adrian Wojnarowski of ESPN reported that LaVine is flying to Los Angeles to see a specialist. The Bulls star originally entered the Three-Point Contest and still plans to participate in All-Star Weekend. However, he'll await further evaluation.
The fact that LaVine's soreness hasn't abated should concern everyone in the organization. Point guard Lonzo Ball dealt with the same problem before another evaluation revealed a slight meniscus tear.
Considering the Bulls are still without Ball and Alex Caruso, a potential long-term injury to LaVine would prove devastating. It might influence how Chicago operates in the buyout market.
The Bulls need reinforcements as soon as possible
The Bulls (36-21) are in a good position. They are currently the No. 2 seed in the Eastern Conference and one game back of the Miami Heat. At the same time, Chicago sits just four games ahead of the No. 7-seeded Boston Celtics.
In short, the Bulls cannot lose much ground. But they can't run their stars into the ground either.
Before sitting out Saturday's game, LaVine had averaged over 38 minutes in his previous three appearances. That's a bit unsustainable for a guy dealing with knee soreness, and yet the Bulls have needed those minutes because of how many players remain sidelined with injuries.
DeMar DeRozan faces a similar predicament. The five-time All-Star is averaging his highest minutes total (35.5) since the 2015-16 campaign, his age-26 season. He's taken on an especially heavy workload this month, averaging over 39 minutes in eight February contests.
DeRozan said before the trade deadline that he felt the Bulls did not need to make a move, despite the sizable minutes increase. But, as LaVine's situation indicates, Chicago definitely needs more bodies to alleviate some of the pressure on its superstars.
The Bulls might have to go hard after wing players hitting the buyout market. In the meantime, they'll hope that Zach LaVine's knee injury is nothing but a blip on the radar.
Stats courtesy of Basketball Reference.
RELATED: Michael Jordan's Combative Approach at UNC Informs His Antagonism of Bulls Teammates