Lauri Markkanen's Trade From the Chicago Bulls to the Cleveland Cavaliers Is About to Bring On a Career Renaissance
Lauri Markkanen has been toiling away in Chicago since he was drafted in 2017. He was selected by the Minnesota Timberwolves but immediately re-routed to the Bulls, where he showed promise but then faded and just about disappeared completely from the NBA radar. Markkanen asked for a trade this offseason, well aware he would never receive his opportunity in Chicago. He got what he asked for as he was dealt from the Bulls to the Cleveland Cavaliers. Now that he's in a new situation, Markkanen is about to enjoy a career renaissance.
Markkanen is heading into a position that better fits his skill set and will give him more opportunities. He fits in much better with the Cavs roster than he did in Chicago and is about to remind everyone in NBA circles why he was worthy of a top-10 pick.
Lauri Markkanen was traded to the Cleveland Cavaliers in a three-team deal that includes Larry Nance Jr. and Derrick Jones Jr.
Markkanen was the clear headliner and goes to Cleveland in a sign-and-trade deal that will see him earn $67 million in salary over four years with the Cavs. Jones will end up in Chicago, while Nance will join Damian Lillard and the Portland Trailblazers. Jones has one year left on his contract and averaged 6.8 points per game in 22.7 minutes last season. Nance's contract runs for two more years through his age 29 season, when he'll earn $9.67 million. Nance has a career stat line of 8.3 points, 6.7 rebounds, and 1.3 steals per game on 53% shooting from the floor and 33% shooting from three.
Both Nance and Jones are role players known for their athleticism, defense, and energy.
This wasn't exactly the blockbuster, superstar trade everyone has been waiting for, but it's not insignificant either.
Markkanen is about to have a career renaissance after getting out of Chicago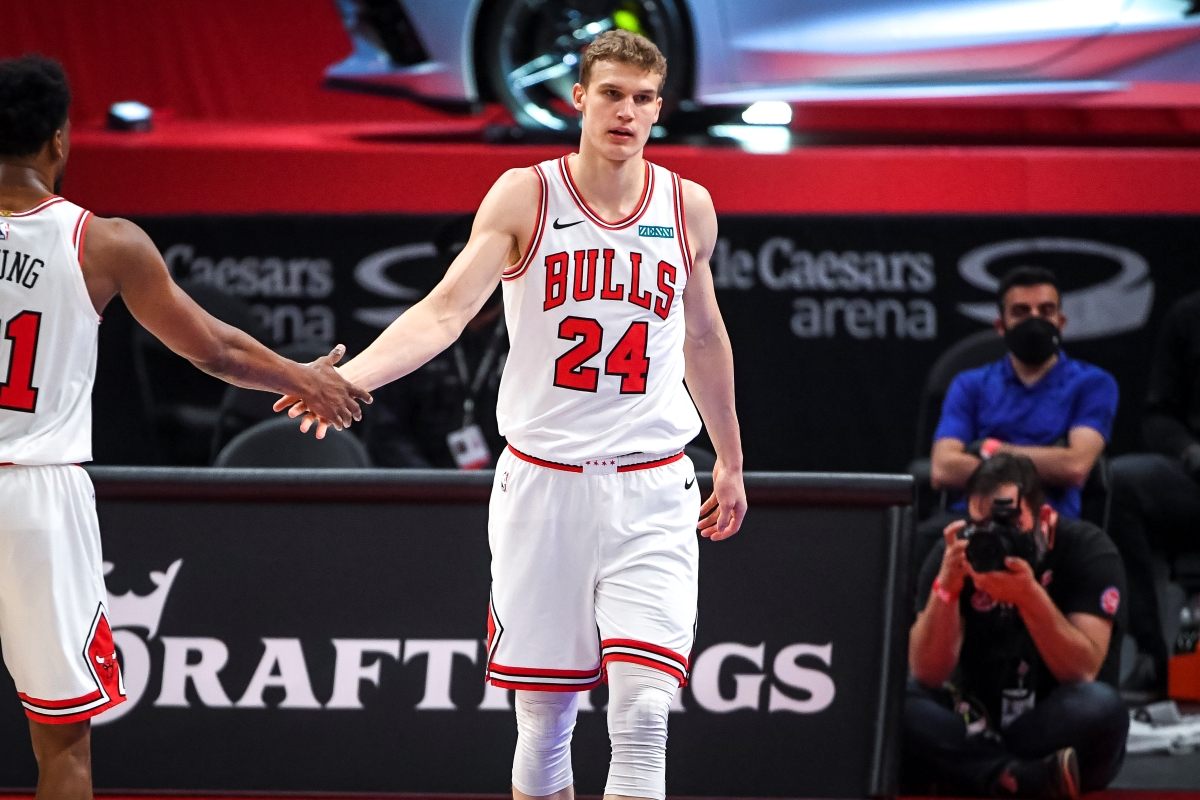 Markkanen was the seventh overall pick in the 2017 NBA Draft. In his lone season at Arizona, the 7-footer averaged 15.6 points and 7.2 rebounds on 58.4% shooting. Heading into the draft, his scouting report was that of a prototypical stretch big. He has guard-like skills in a center's body. The biggest knock on Markkanen was his defense, and that's what has seemingly held him back thus far in his NBA career.
He started every game but one during his career up until last season. Markkanen came off the bench for nearly half of Chicago's games last year, and he played a career-low in minutes. It was obvious his chances with the Bulls were all but gone.
But the power forward from Finland is still only 24 years old and still has all the skills that made him a lottery pick. Markkanen shot 40.2% from three on almost six attempts per game, even in a limited bench role, last year. He's an 84.5% career free-throw shooter, so the touch is there. The right fit simply didn't exist with head coach Billy Donovan in Chicago.
Lauri Markkanen is an ideal fit in Cleveland
The Finnisher's skill set will play much better in Cleveland. The Cavaliers have two scoring guards in Collin Sexton and Darius Garland. Markkanen will be able to slide right into the lineup as a spot-up shooter and a pick-and-pop threat. The Cavs' roster doesn't feature many off-the-dribble shot creators outside of Sexton and Garland — or a lot of offensive threats in general. Markkanen's minutes and shot attempts should both jump from what they were a season ago.
Cleveland is also the perfect landing spot for Markkanen to hide his defensive inadequacies. The team gave center Jarrett Allen a massive contract extension and selected Evan Mobley No. 3 overall in the 2021 draft. Allen is an athletic, high-level rim protector and rebounder. Mobley is a 7-footer projected to expand his offensive skill set, but this year he'll be asked to fill more of a defensive, rim-running role. Both big men are capable as the team's last line of defense.
Markkanen could fill a starting role immediately on the Cavs' depth chart, or he could play as an offensive spark off the bench. He can be more than just a sixth-man scorer, through, as his ability to screen and pop will open the floor for Cleveland's guards and wouldn't clog the lane as much as the combination of Mobley and Allen would.
The 7-footer needed a chance of scenery. He asked for it, and he got it. Markkanen is going to go from an afterthought in Chicago to an important piece in the Cleveland rebuild.
All statistics courtesy of Basketball-Reference and contract details courtesy of Spotrac.
RELATED: Ben Simmons' Hopeless Situation in Philadelphia is Making People Forget His Remarkable Talent