LaVar Ball's Early Career Explains His Sons' Athleticism But Not His Arrogance
Love him or hate him, every basketball fan has an opinion on LaVar Ball. His conduct surrounding his three sons is controversial and shows no signs of stopping. Does Ball's previous playing experience give him the license to talk so fragrantly about his sons? The father's past explains a lot.
For some, Ball is an innovative strategist whose hyperbolic statements about himself and his three sons give them opportunities they wouldn't have otherwise. Others see an impolite grifter desperate for fame who puts his sons under unnecessary pressure.
Ball's in-the-moment antics are so overwhelming that his own history is not often discussed. But the Ball family patriarch has an athletic past of his own, albeit a small one.
LaVar Ball played multiple sports
Ball attended Canoga Park High School in Los Angeles, where he played basketball and football for the school. Much better at the former than the latter, he focused on basketball when he went to West Los Angeles College of the Western State Conference. His favorite player was Charles Barkley, and he played in the style of his idol.
Ball set a school record for rebounds in a single season (316) in 1985. Then, he transferred to Washington State to try his luck in a major league, finding himself out of his depth. Ball averaged two points, two rebounds, and one assist in 26 games. He then transferred to California State University for a final season on the hardwood.
With his NBA prospects nonexistent, Ball returned to football, playing tight end for a year at Long Beach City College. Somewhat inexplicably, this small sample size was enough for the New York Jets to give Ball an NFL tryout.
In a way, this move was ahead of its time. Leaving basketball for football relatively late in life worked out for the likes of Antonio Gates and Jimmy Graham. Unfortunately, this did not work out for Ball because, according to former teammates, he was "garbage" on the field, according to Bleacher Report.
Ball played for the London Monarchs of the World League of American Football for a season, where he had 28 yards off of two punts. A two-month stint on the Carolina Panthers' practice team signaled the end of his pro ambitions. It wasn't all for naught, however. Ball used the football money to start a career as a personal trainer, something he still does to this day.
What makes him so divisive?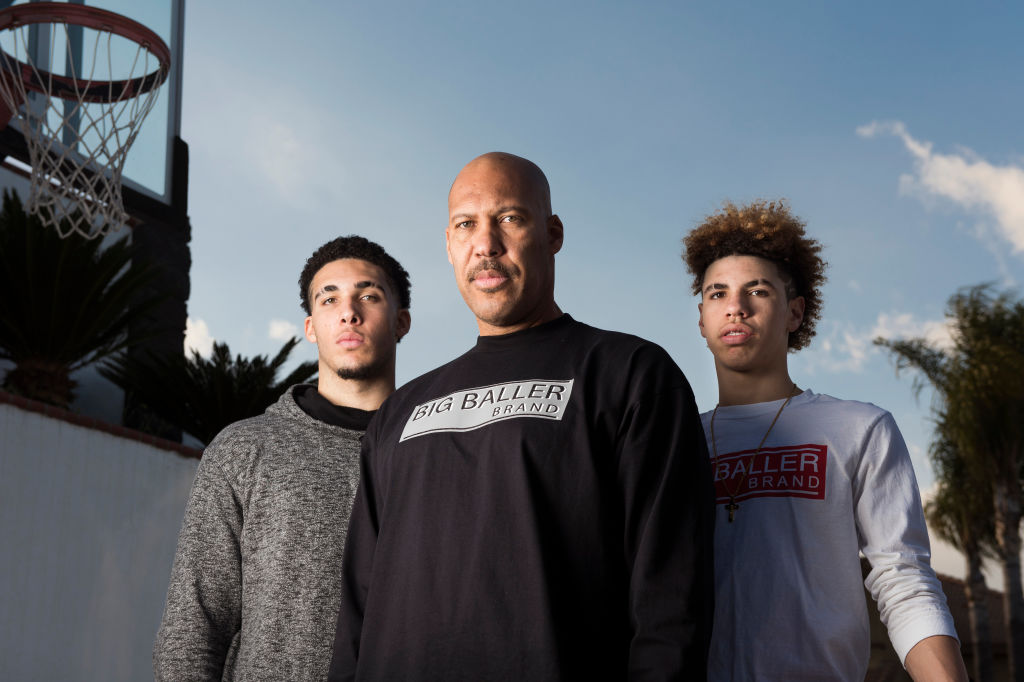 Maybe that past is why he goes so hard for Lonzo, LaMelo, and LiAngelo. He understands the ruthlessness of the sports world and how getting noticed at the right time can go a long way toward a career. This could explain why he says so many ridiculous things and why he set up the Big Baller Brand even when it seemed destined to fail.  
Nevertheless, his conduct impressed some and annoyed most. It wasn't just that Ball speaks with the cadence of a social media troll with big, blatantly false statements he'll never admit are wrong. It was also the feeling that he could show up on ESPN's First Take at any moment to have a screaming contest with Stephen A. Smith. 
A wrestling villain come to life, Ball's proclivity for hot takes and good ratings shielded him on the occasions when he truly crossed the line, like when he told a Fox Sports presenter to "stay in her lane" and made a $60 shirt commemorating the moment during the controversy.
Does LaVar's personality help or hurt his sons' basketball dreams?
His athletic background did give his children a platform for sports. Lonzo may not be as good as people thought, but he's still an upper-level NBA player. LaMelo will be a lottery pick when the next NBA draft takes place. LiAngelo was at least good enough to ride his brothers' coattails. But recent events suggest the kids are beginning to step out on their own.
The Big Baller Brand eventually met its unsurprising end. His company took months to fulfill orders and even sent some consumers the wrong pair of shoes. The entire enterprise caused trouble in the family, too.
Lonzo scorched the earth for the brand by admitting he had to switch to a new pair of shoes every quarter because they start to fall apart and may have played a role in some of his injuries. To make matters worse, LaVar discovered that his friend and BBB co-founder, Alan Foster, stole $1.5 million from company bank accounts.
All of this ostensibly happened on LaVar's watch, but he refused to take any blame. In an episode of the Facebook reality show Ball in the Family, Lonzo raised the idea of changing the name to give the brand a fresh start. LaVar said "no" in the worst possible way.
LaVar has spoken out less in the last year. But this seems due to his strained relationship with Lonzo more than the idea that he's learned how to behave. He's begun to re-emerge as LaMelo gets closer to the professional ranks.
At this point, it's clear that LaVar speaks to fuel his ego above anything else. His conduct harmed the connection between one of his sons and teams will pass on LaMelo in the draft because of his dad. If he remains incapable of learning, then the past will repeat itself in a few years.