Lawrence Taylor and other NFL Ties to 'The Sopranos'
Let's try and put aside the fact that Tony Soprano never had the makings of a varsity athlete let alone an NFL star. In fact, his Uncle Junior wouldn't let Tony forget it—"Small hands, that was always your problem." Son Anthony Soprano Jr. didn't fare that well either. After a short stint on the defensive line, the younger Soprano's football career fizzled out.
But that's not where football—especially the NFL—intersected with HBO's The Sopranos. There are three instances where pro football personalities made an appearance on the popular series during its run and nearly stole the show with their roles.
Lawrence Taylor
"Sir Lawrence of the Meadowlands," Tony Soprano said as he walks into a poker game hosted by the often-troublesome Feech La Manna. Bowing to the Hall of Fame linebacker, Soprano greets the former New York Giant great and says, "Your highness, how are you?"
In season five, episode four, All Happy Families, Tony Soprano goes on to greet the other guests which include guys from his own crew and the late film/TV producer, Bernie Brillstein. From a sports standpoint, Brillstein produced the Adam Sandler film, Happy Gilmore in which Sandler plays a former hockey player who turns to professional golf, deploying his rather unorthodox playing style.
Tony Siragusa
The former Indianapolis Colt-Baltimore Raven defensive lineman took to the small screen after his playing days were over in 2001. In 2004, "Goose" joined the cast of The Sopranos as Frankie Cortese as a driver and bodyguard for Tony Soprano.
Siragusa appeared in four episodes— Irregular Around the Margins, Marco Polo, Unidentified Black Males, and Long Term Parking.
One of the former nose tackle's more memorable scenes came when Tony's nephew Christopher Moltisanti came into the Bada Bing club brandishing a gun. Siragusa/Cortese made short work of the threat and nearly took the young gangster's arm off in the process. "I'll split your @$%% wishbone," he tells Chris.
Eric Mangini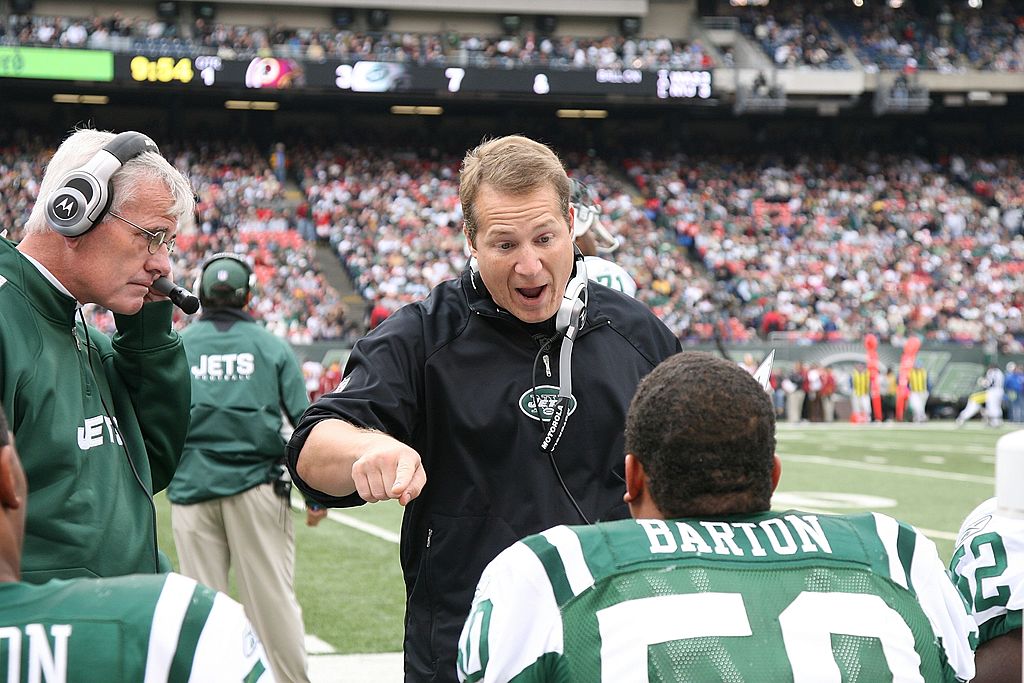 Best known for his two-year stint as head coach for the New York Jets, veteran NFL-er Eric Mangini was named coach of the year in 2006 when he took a stumbling team to a 10-6 record and a trip to the NFL playoffs. Know somewhat sarcastically as the "Mangenius," Mangini was fired after the 2008 season when the Jets bombed out late in the year, missing the NFL playoffs.
Now a TV analyst, Eric Mangini appeared in the episode The Blue Comet (the one in which Bobby Baccalieri dies) while Tony and wife Carmella dine at Artie Bucco's restaurant. Artie informs Tony that Mangini also is eating there, at which point the mobster goes over and pay tribute to the Jets coach. Even with a short cameo, the former coach was glad he had the chance to be on the show.
"I think 'star' would be a little bit too strong a word," Mangini told ESPN after his appearance. "It was just nice to be a part of a show that I've followed for so long. I've liked the show since it started and to have the opportunity to be part of it, especially here at the end, and it was just a great opportunity."