Lawrence Taylor Went From $50-Million NFL Player to 'Sopranos' Guest Star
Lawrence Taylor is one of the most dominant defensive players in modern NFL history. For over a decade, opposing offenses were left confused and furious about how to stop the intimidating New York Giants star.
Taylor was the NFL's highest-paid player throughout his career and totaled roughly $50 million across his 13 seasons. Let's take a look back at how efficient a player Lawrence Taylor was and how his acting career has gone.
Lawrence Taylor is an all-time NFL legend
New England Patriots head coach Bill Belichick's legacy is forever associated with former Patriots quarterback Tom Brady. For a time, Belichick's legacy was going to be forever associated with New York Giants legend Lawrence Taylor.

Belichick coached Taylor for 10 seasons as a linebackers coach and, later, the Giants' defensive coordinator. Lawrence Taylor turned into an NFL great under the tutelage of Belichick and head coach Bill Parcells.

Taylor had 132.5 sacks, 56 forced fumbles, and nine interceptions in 13 seasons. Taylor ranks 14th all-time in sacks and was passed by the likes of DeMarcus Ware, Jared Allen, John Abraham, and Terrell Suggs last decade.
Hall of Fame defensive end Jason Taylor (no relation) and another likely Hall of Famer, Julius Peppers, also passed Taylor in the 2010s.
Lawrence Taylor retired after the 1993 season with 10 Pro Bowl selections and eight First-team All-Pro honors. The 1986 Defensive Player of the Year also was named to the NFL's 75th and 100th Anniversary All-Time Team.
The Giants retired Lawrence Taylor's No. 56 in October 1994. Taylor earned induction into the Giants' Ring of Honor in 2010.
Taylor changed what sacks meant in the NFL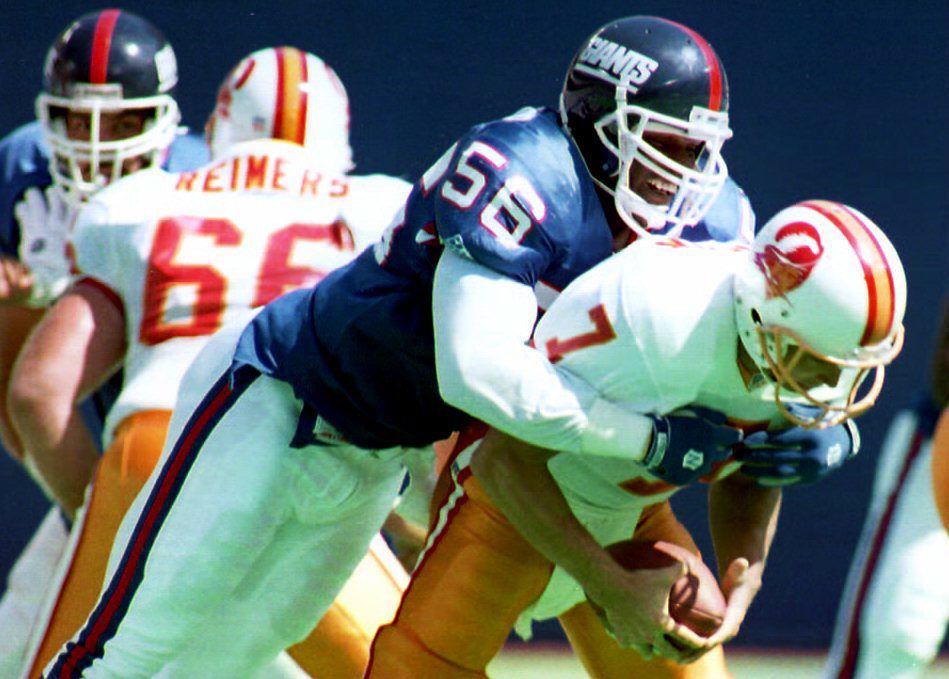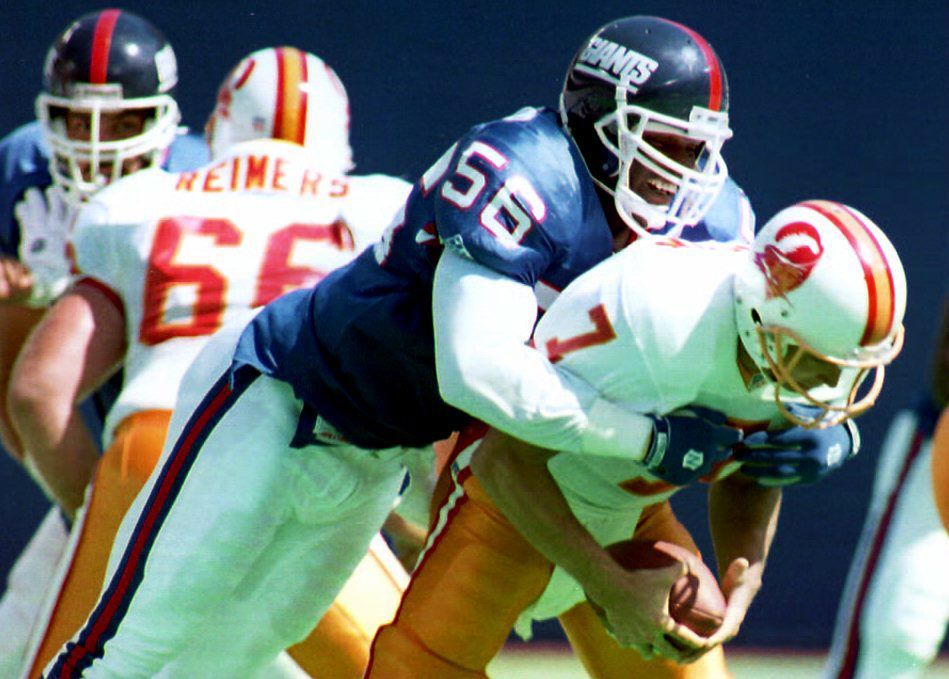 In theory, the sack statistic is still a relatively new concept. The NFL didn't officially track sacks until 1982, Taylor's second season in the league.

Although there were legendary sack artists like Deacon Jones and "Mean Joe" Greene before Taylor, it was fitting the NFL began counting sacks after Taylor's stellar rookie season.
The Pro Football Hall of Fame lists Taylor's all-time sack total at 142 rather than 132.5 sacks. Taylor unofficially had 9.5 sacks as a rookie in 1981.
Taylor had 8.5 sacks in 15 career playoff games. Interestingly, he had zero sacks in the 1986 playoffs, yet the Giants still won the Super Bowl.

Taylor had half a sack in the Giants' 1990 NFC Championship Game victory over the San Francisco 49ers but was held sackless in the Super Bowl a week later.
Lawrence Taylor had a brief acting career after retirement
Many star NFL players pursue coaching careers or analyst roles when they hang up their cleats. Although Lawrence Taylor briefly served as a football analyst on TNT in the mid-1990s, he later went a different route.
Taylor focused on an acting career that netted him spots in Any Given Sunday and The Waterboy, two football movies. Taylor appeared as himself in the latter.
Lawrence Taylor also lent his voice to several video games, Taylor voiced B.J. Smith, a tight end-turned-car dealer, in 2002's Grand Theft Auto: Vice City. Taylor voiced another football player, Quentin Sands, in Blitz: The League and its sequel.
Eagle-eyed fans of HBO's The Sopranos may have noticed the Giants legend in a 2004 episode, 'All Happy Families.' Lawrence Taylor is one of the high-profile players in a mafia-run card game called the "Executive Game." Taylor appeared as himself.

The Sopranos included another New York football personality, then-Jets coach Eric Mangini, in a later episode.
Lawrence Taylor was in five episodes of the 1st & Ten TV series from 1988-91. Other NFL players, including O.J. Simpson and Marcus Allen, appeared on the show in significant roles.